December Senior of the Month – Trinity Palmore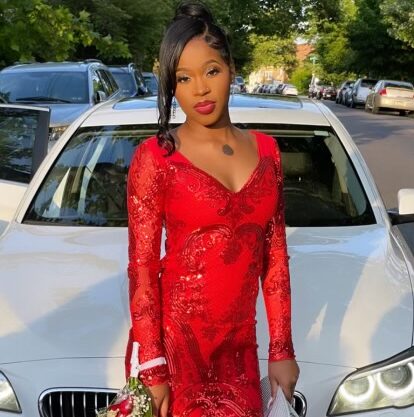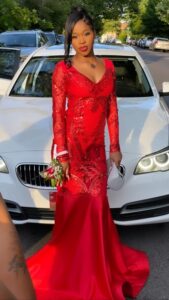 Trinity Palmore is truly one of a kind. Like a growing number of students growing up in 21st century inner cities, she has and continues to face significant hurdles in her life including mental health struggles, lack of family support, and homelessness. Regardless of her age and circumstances, Trinity's fire and tenacity are obvious as soon as she enters the room. It's those qualities that led to her being named the School District of Philadelphia's Senior of the Month for December 2022. In spite of everything that she has endured, Trinity graduated from One Bright Ray Academy (OBR) this past November. "I feel special. Out of all people, I was chosen for this. I didn't expect it, I didn't think that I would be nominated with my background and history," she said. This recent graduate is the embodiment of the quote, "It's not how you start that's important, it's how you finish."
19-year-old Trinity grew up bouncing in and out foster care. Her relationship with her foster mother was not the mother-daughter relationship that one would desire. Her home-life was uncomfortable and stressful — not exactly the loving and nurturing environment that a young person needs in order to thrive. At 16, Trinity made the tough decision to move out in order to build a better life for herself. As a result of moving from pillar to post, maintaining both a job and her grades, Trinity began to deal with severe mental health challenges. Eventually, the pressure became too much and the lack of a quality support system became overbearing, and her mental health declined to the point where she had to drop out of the 10th grade. She would eventually return to school only to be transferred from one school to another because of fighting. "I would fight all the time as a coping mechanism to deal with my depression…I felt like nobody cared, so I just gave up at one point." Due to her behavior, Trinity built a reputation for herself as a mean girl that didn't care about anything, which is far from the truth. "Everybody thinks I'm a mean and nonchalant person and that's really not me. I'm such a sweet and caring person. I have a big heart. I care."
Finishing high school by the time she turned 18 has always been Trinity's goal. Her desire was to accomplish her goal no matter the obstacles that stood in her way. For her final high school years, she enrolled herself back into school at OBR. After battling with her mental health and being kicked out of different schools for fighting, Trinity was determined to finish school. She also wanted to be an example to her younger brother. "…I did it for my little brother," said Palmore. She does her best to be an example to her 16-year-old brother. "I knew for a fact that if I did it, he would be proud of me."
Trinity was nominated by her OBR teacher and mentor, Ms. Allyson Marshall. In describing why she took such an interest in Trinity and nominated her, Allyson said, "I feel like she's misunderstood by a lot of people. It's easy to overlook those things instead of just taking the time to figure out why someone is acting the way that they are. I made it my mission to figure her out. I learned about the things in her life that may have impacted her or caused her to come off a certain way. I saw the way that she interacted with me and realized that there was more than just that exterior. I wanted her to realize her potential, that she's more than just her environment, and that there's more out there for her if she's willing to put in the effort to do it." Although Trinity had enrolled herself back in school, she was still going through a very tumultuous time. Her attendance at school was lacking, and therefore, so were her grades. There was a decline in her self-confidence, and an increase in her self-doubt. Once Marshall began to take an interest in Palmore, she started coming to school more often, and brought she eventually began to get better grades. She found somewhere to live, and found people whom she could confide and trust in to help her work through her mental health challenges.
Although she was still experiencing the aforementioned obstacles, instead of letting them consume her and hold her back, she found ways to work through them and find success in spite of them. Trinity passed all of her classes and met all of her graduation requirements (including Keystone Pathway requirements), and celebrated her Zero Day (final day of high school). Speaking of Ms. Marshall, Trinity said, "She knew that I wasn't the person that other people saw me as…she saw my potential. She understands me more than anybody. Sometimes I would come to school with a frown on my face. I was such a closed-up person. I started to feel more comfortable venting to her and I came out of my shell because of my relationship with Ms. Marshall. Ever since then I just feel like she has been my number one supporter. She checks on me every day and sends me inspirational things all the time letting me know that I'm worth it. She plays a big role in my life." As a District, we are grateful for teachers like Ms. Marshall who take the time to develop genuine interest in, and relationships with, our students.
Trinity has zero plans of slowing down or taking an extended break after graduating high school. In January 2022, she begins her college journey at the Community College of Philadelphia in majoring in criminology and pre-law. Afterwhich she plans to transfer to Lincoln University as she aspires to become a lawyer. When asked why law, she said, "Ever since I was younger, I've seen people get locked up and get an unfair amount of time. I want to be the person to stand up for people that don't have the opportunity to do it for themselves."
We asked where do you see yourself in five years mentally and emotionally, she responded, "I want Trinity to be happy, and unstoppable."
We also asked would you say to that young woman that is discouraged, wants to give up and drop out of school? Trinity's response was, "Do it for yourself, it's not about everybody else. Nobody is creating your future but you, so you have to keep yourself going. Don't let anything stop you. Yes, it's going to be hard, just keep pushing no matter how many people are doubting you. Do what you have to do for yourself."
Once again, congratulations to Trinity Palmore! The School District of Philadelphia wishes you all the best as you continue your education and embark on your journey in law. There is no doubt that you will succeed and overcome every obstacle that comes your way.
We asked Trinity our favorite list of questions:
1. What does being named Student of the Month mean to you? Being named student of the means that I'm special. That's how this honor makes me feel.
2. Why do you think you were nominated for Student of the Month? I think that I was nominated as student of the month because my teacher saw my potential more than anyone/ She has seen me struggle to get through this school year.
3. You were nominated by Allyson Marshall. Explain your relationship with her. Why do you think she nominated you specifically? I feel that I was nominated by Ms. Marshall because she knows how many times I wanted to give up. She pushed me through and guided me every step of the way. Not only is she my teacher, but she is also my best friend and my mentor. She loved me like nobody else did. I know that she nominated me because she knew my potential.
4. What is one thing you'd like to share about yourself that most people don't know about you? One thing I'd like to share about myself that many people don't know is that I struggle with depression and I'm not as strong as I pretend to be. However, I never let anything stop me from being where I want to be in life. No matter what, I'll never stop,
5. What do you enjoy most when you are not at school? What I enjoy most when I'm not at school, is working and doing hair. I've been doing hair since I was about 13 years old. I've never felt the urge to take it seriously, but I think now I'm starting to take it seriously. Most of all, I enjoy making money.
6. In your opinion, what is the best thing about attending school at One Bright Ray Academy? The best experience about attending OBR is the teachers and the structure at this school. The teachers and the staff feel like family. In this building, you feel like a family. I can go into any teacher's class and talk to them. I was really comfortable with all of my teachers. All of my teachers really showed me that they care. That's one of the things that I will miss about being in school.
7. In your opinion, what is one thing that the School District could do to improve our service to students? One thing that the School District can do is provide more structure at the schools throughout the city.