January Senior of the Month – Brady Santoro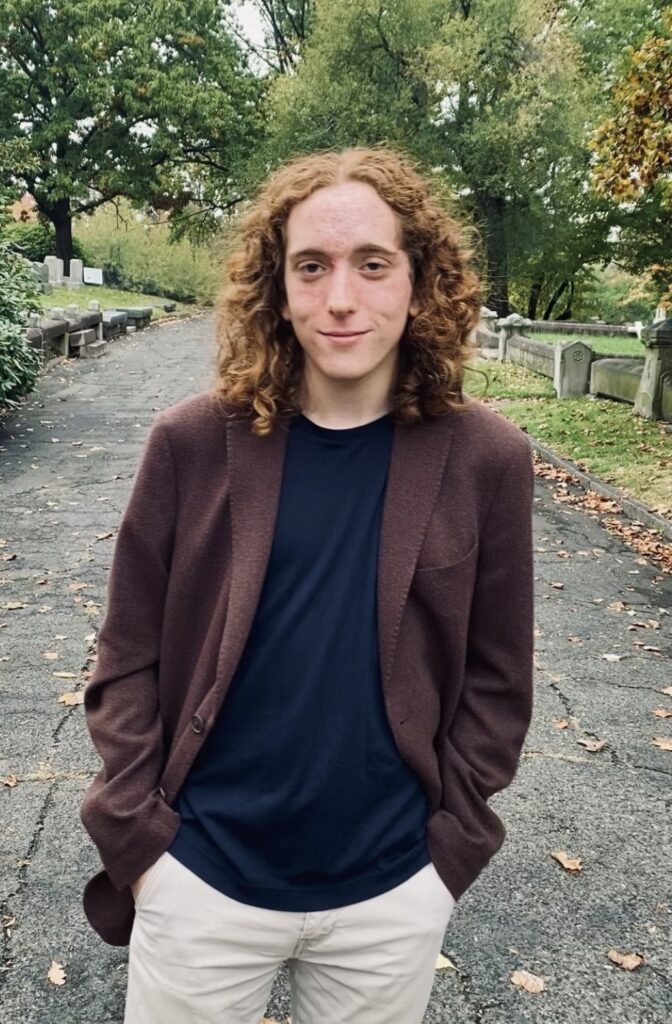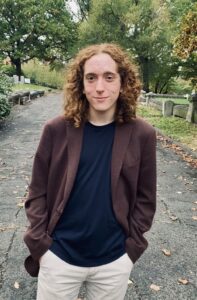 The fun thing that happens when you start talking to Brady is that his genuine enthusiasm for making the most out of every day means you can't begin to anticipate the stories he's about to tell you. From 25-mile walks during the pandemic to hand-deliver crossword puzzles (that HE created!), to the list of 16 instruments he's learned to play, it's hard to imagine how he fits it all in!
Brady hails from West Philadelphia, where community means a lot to him and his family. He comes from a civically minded family; his father is the president of the community association and his mother was on the Board of the Arts League. He has two siblings – a sister at CAPA and a younger brother at Masterman. He really loves living in West Philly; says it reminds him of Masterman in that it's a close community that's very diverse, filled with individuals with a variety of backstories but who are all interested in being part of a strong community.
He's taken advantage of the many opportunities West Philly provides for its neighbors to get to know each other. He's active in his community band, works at the community bookstore, volunteers at community events, and serves as Secretary of a neighborhood committee. He's also a poll worker- he loves being as involved as he can be.
And he is involved! Ms. Marcus, his nominator and school counselor, says in glowing terms: "Brady genuinely and enthusiastically pursues such an unbelievably broad spectrum of interests, some of which are not typically pursued by high school students. Brady has played in our school's Jazz Band since he was in fifth grade and is currently the lead soloist. He mentioned that his involvement and his teacher have shaped how he thinks about and plays music. Brady plays 15+ instruments, and recorded an album during the summer after ninth grade, playing almost all of the instruments on the recordings. He also enjoys and plays klezmer music. Brady is a Leader of the French Club, and is proficient in the French language. He's the main Editor and a writer, in French, for our schools' French newspaper, managing and encouraging the members to write articles and participate in events.
During the pandemic Brady volunteered at a community bookstore, learning how to work with the public, taking inventory, problem-solving, coming out of his shell, speaking for hours with his following of loyal customers, and reading books during his downtime. Fascinated with people's lives and experiences, Brady decided to start interviewing older people in his community to preserve their stories and share them with future generations so they would be heard."
But wait, there's more. He's also a library assistant, a newspaper columnist, participates in the SLAM poetry team, and is head of the joint philosophy and Scrabble clubs which meet at the same time!
How does he juggle it all? "It's all about prioritizing and organizing my time. I do all my homework in school so I can go home and get to everything else. I know I can't waste time because I only have so much. I have to budget it. It's my prerogative to make the most of it."
Brady has been accepted to the University of Chicago, where he plans to study to become a professor of religious philosophy. He knows he'll miss Philadelphia; on a recent trip to visit Chicago, he was aware of the differences and the things he'll miss about home. The gritty hard-scrabble Philly mentality for one, the trolleys, the mummers, his community… even the dysfunctionality and the local jargon. "No one will know what jawn means. I'll be a fish out of water for the first time in a while."
We asked Brady to share his thoughts on our favorite list of questions:
1. What does being named Student of the Month mean to you? 
To me, it means representing the entire senior class of the School District of Philadelphia and representing my school at a district level, for which I am very honored. I am proud to share my accomplishments with the rest of the District but wish there was also recognition for the accomplishments of others that have got me to where I am today.
2. Why do you think you were nominated for Student of the Month?
I believe that I was nominated for Student of the Month as a result of my advocacy work in school for student elective interests and for the breadth of activities that I do. I am a committed club leader, especially for the French Club as a student advocate for foreign language instruction, and passionately participate in many activities in school and in my community.
3. You were nominated by Ms. Marcus, the school counselor. Explain your relationship with her. Why do you think she nominated you specifically?
The entire time I've been here, from fifth grade to senior year, she has been an academic advisor and advocate to me and a staff member that looked out for me, from when I was a fifth grader struggling to adapt to a new school environment to a senior applying for colleges.
I think Ms. Marcus nominated me as a result of my work with her as a student leader and as someone who has a long working relationship with her and other staff members to effect positive changes in the school.
4. What is one thing you'd like to share about yourself that most people don't know about you?
I enjoy going for long walks throughout Philadelphia (starting from West Philadelphia) and taking pictures of the city. I make the crossword for the school newspaper and during the pandemic, I hand-delivered the paper crossword to my classmates and would walk over 25 miles once a month around all corners of the city. The idea was to show that there was still a way to have personal connections, still fun to be found, and the city was empty so it was a great way to just enjoy the city. I'd leave at noon and not be back till 7:30 pm. Some friends lived too far away so I'd mail some of the puzzles. Now that the pandemic is less severe, I still go for long walks every once in a while. I don't want anything like the pandemic to happen again but I'm a little nostalgic for those walks.
5. What do you enjoy most when you are not at school? 
I enjoy writing classical music and going for bike rides. I also play 16 instruments. I am an avid reader and work in a community bookstore in my free time. I also teach fifth-grade history in Sunday school.
6. In your opinion, what is the best thing about attending school at Masterman?
The greatest thing about attending school at Masterman is the diversity and character of the student body. We are a very tight-knit community with so many different and converging backgrounds with a shared love of learning and a variety of lived experiences. I feel very fortunate to have been part of this community.
7. In your opinion, what is one thing that the School District could do to improve our service to students?
The School District needs to listen to students and families and put the safety and well-being of its students ahead of policy and theory. When the District respects and trusts its students and provides them with opportunities and the conviction to learn and excel, then students will thrive in District schools. Towards the end of the previous administration, I think the District was less and less representative of students and parents. Like the proposal to change the bell schedule; that didn't work for everyone, but they'd never asked the community. The lottery process was made with very little transparency and community input and ultimately it didn't achieve what they wanted.
The new administration seems to be taking its communities more seriously. There's more communication, and more willingness to engage with the principals at schools. I think the change is good.
Congratulations again on your nomination Brady – and best of luck to you in Chicago and the many new opportunities you will surely be jumping into next!