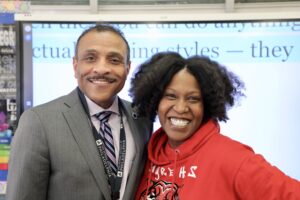 Congratulations to January's Teacher of the Month, Shamia Neal! Shamia is a 9th-grade English Teacher at Sayre High School – the teacher that 9th-grade students seek out every morning upon arrival just to say hi. Her classroom is a space of validation and appreciation; where students value the differences that each person contributes to the classroom community. She's built this learning environment by being vulnerable about her own identity and experiences in her life that have made her who she is today. By modeling such vulnerability, she has trusted students to appreciate her uniqueness and her life experiences. But more than that, she inspired students to be more vulnerable themselves and take a risk by trusting their classmates to respect and appreciate their own identity. Ms. Neal leads every conversation with personal reflection. She uplifts the positives from class but she is also honest about her shortcomings and eager to develop solutions.
As we surprised Ms. Neal in her classroom, it was very evident that she's earned her student's respect and that she has made a positive impact on them. Her students hugged her, told her they were proud of her and cheered her on.
Thank you, Ms. Neal, for your dedication and commitment to our students. Congratulations…this honor is well-deserved!