March Senior of the Month – Adrian McRae-Woodruff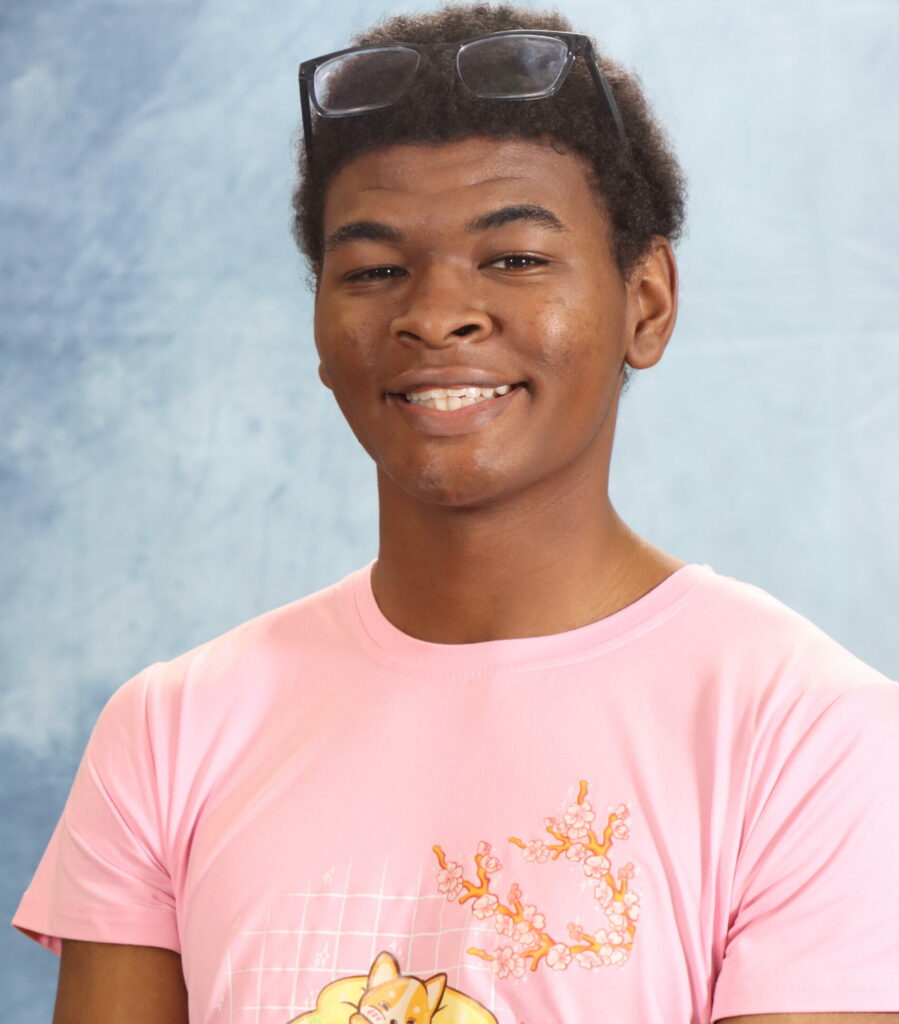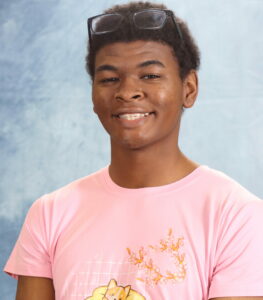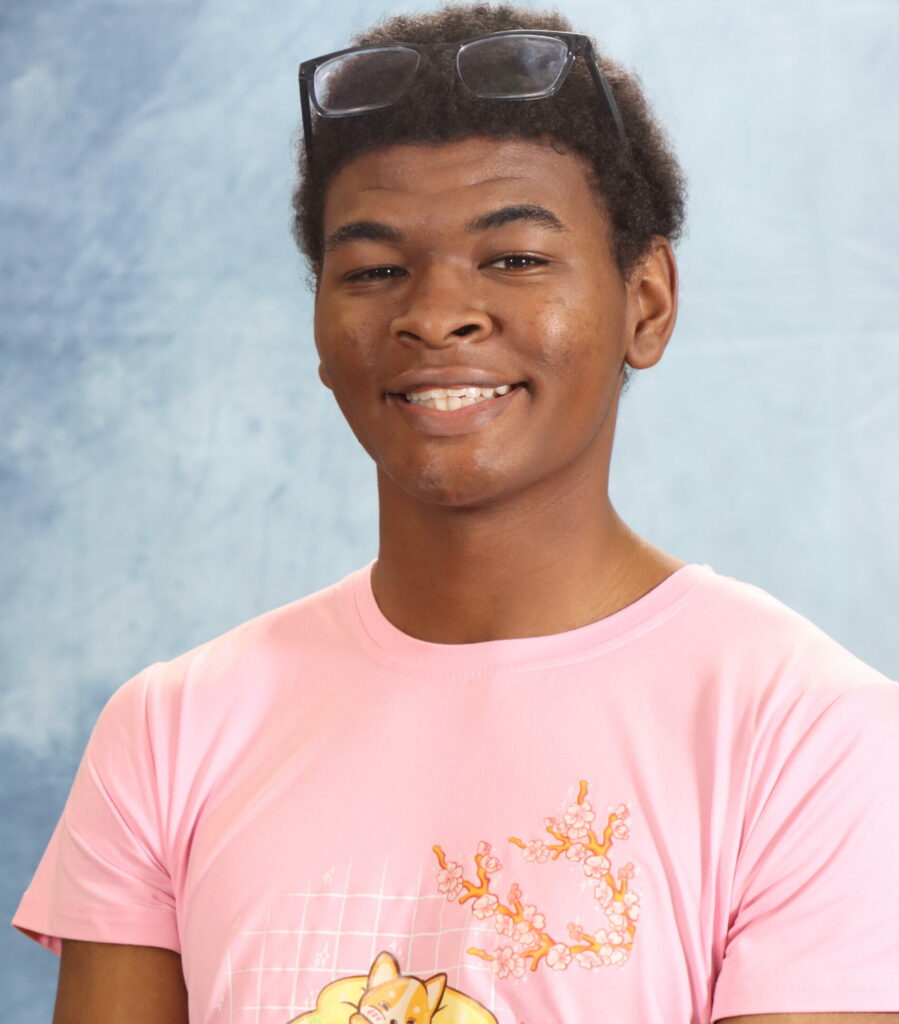 When you meet Adrian you're struck immediately by his positive energy and a sense of maturity, in that he has a great sense of himself, what he likes, how to pursue his interests, and where he's going next. Adrian lives in Mt. Airy with two siblings; an older sister and a younger brother.
During the high school selection process, he got accepted to all of his choices. He was interested in Academies at Roxborough because of the Pathways. Two, in particular, intrigued him, The Academy of Visual Arts Production (Film and Video Production & Graphic Design), and The Academy of Health Sciences and Research (Biotechnology & Kinesiology). He's dedicated; like many of our students, he takes 2 to 3 buses a day to get to and from school.
As a kid, he spent a lot of time outside, doing the usual imagination activities like crafting forts, and play fighting and he believes that set the stage for his interests today. Based on all that outdoor activity and playing a variety of sports (including baseball and ice hockey), he was interested in how the body worked and the Kinesiology pathway specialized to Rox. really caught his interest. He was also curious about Film, as he saw his imaginary play as a kid very much like acting and he's also a fan of animation. He ultimately decided on Kinesiology, and sometimes he wonders what would've happened if he'd chosen the film path. In fact, he still plans to include acting and/or animation in his college coursework.
"I've really enjoyed the Kinesiology pathway. Kinesiology is basically the study of the human body and the study of body movement. So we have the regular learning and studying out of a textbook and then we have workouts. It's really fun. The teacher is awesome. Mr. Kerrigan has taught me so much. It's been a peak in learning, for me, at Roxborough. And the community – everyone there is motivating. The space is cool – it's a former locker room renovated into a lab, with workout equipment, Roman chairs, weights, and a section for traditional classroom stuff. It's my first class of the day, every day, and it motivates me to be on time."
He also keeps himself active in other aspects of his high school. "I was super excited about clubs even before I got to high school. I wanted to join every single one! I do a lot; I'm barely home. Baseball right now takes a lot of time. Then there's the Gender Sexuality Alliance and the Art Club, plus I juggle a job (he's a host at a local restaurant). Then there's a new program at the YMCA (it's one of the city's out-of-school time (OST) programs). It's super awesome so far; I wish more kids would join. We've done worksheets that ask us about ourselves, so the idea is kids can find their own talents and abilities and then they'll help us figure out how to pursue them. They also give you a free membership to the YMCA.
Next, he'll be representing Roxborough in the Philly Youth Voices: Candidates & Elected Officials Listening Session that will take place in April. His nominator, Ms. Arnold, knew he'd be a great fit for this. "Adrian is always engaged, responsible and respectful. And his social sciences teacher and African American studies teachers rave about him; he's a good civic studies student. He will be perfect for this; he is eager to meet with mayoral candidates and share his perspective on issues in his/our community. He also pointed out what a wonderful networking opportunity this event will be."
Adrian is known as an asset to the community and is always willing to help out in any way; the teachers lean on him to help out. He's seen as a good friend and a good listener by his teachers and peers, and he really takes pride in this attribute.
After graduation, he's got plans. In his pathway, there's a test that if you pass you get a certification to be a personal trainer and he's going to jump right in, possibly at the YMCA where they have a program that allows him, with his certification, to shadow a personal trainer. That would be awesome to see how it all works. My mom works at Temple so there's tuition coverage, so I'd like to go there, and major in Exercise Physiology with a minor in Acting.
We asked Adrian our favorite list of questions:
1. What does being named Senior of the Month mean to you? 
It means that I have more talent and potential than I had previously realized. As someone who is completely shocked by this award, I now find myself feeling more capable about things in general.
2. Why do you think you were nominated for Senior of the Month? 
I believed that I was nominated Senior of the Month because of my all-around charisma. I like to talk to everybody and I have a tendency to make myself known (even if not intentionally). At the very least, I've been quite exceptional in school (I've had the honor roll for two quarters now).
3. You were nominated by Ms. Arnold. Explain your relationship to him/her. Why do you think s/he nominated you specifically? 
Funnily enough, Ms. Arnold was never my teacher or counselor (in fact, I didn't even know that she was a teacher). As far as I remember, I met Ms. Arnold through a mixture of my charismatic personality and my good grades. I suppose that Ms. Arnold had seen my potential and wanted to help me realize it, but that's just my theory. Ms. Arnold has always been kind and supportive and has helped me in numerous situations so in a way she's kind of like a mentor. I believe that Ms. Arnold nominated me because I'm a little bit of a unique person as it pertains to my school's general populace.
4. What is one thing you'd like to share about yourself that most people don't know about you? 
I can't say for sure. I don't have too much that goes unnoticed when it comes to people that I meet. I just would like to be recognized for my achievements but I feel as though most people would agree with that. It's possible that people don't realize how interested I am in being in the film industry and specifically acting…
5. What do you enjoy most when you are not at school? 
I enjoy being outside for the most part. In fact, due to a lot of my after-school activities, I'm always home after 7 pm or 8 pm.
6. In your opinion, what is the best thing about attending school at Roxborough? 
The best thing about attending Roxborough is the opportunities that it has to offer. By this, I specifically mean the pathways. These pathways are an additional class that goes over things that someone might want to do in the future (for example, film or business). I attend a Kinesiology class (which is the study of human movement and anatomy), and that has easily been my personal favorite thing about Roxborough.
7. In your opinion, what is one thing that the School District could do to improve our service to students? 
I believe that the funds that go to the schools should be spent all throughout the different aspects of the school. For example, the Kinesiology pathway doesn't get funding although I strongly believe that the pathway rightfully deserves funding.
His nominator wrote: Adrian is an asset to our school community, always willing to help out in any way. He will surely be missed upon graduation but I am confident he will represent us well as he moves on to college and into his chosen career. Adrian, we couldn't agree more – we wish you the best of luck at Temple, and beyond!