Principals honored with award ceremony and each will receive a $20,000 stipend to benefit their school communities
The School District of Philadelphia and the Christian R. and Mary F. Lindback Foundation of Philadelphia presented seven District principals with the 2023 Lindback Award for Distinguished Principals at an award ceremony Tuesday night at the Philadelphia Film Society. The award, which has been generously funded by the Lindback Foundation since 2011, recognizes school leaders for their dedication to District students. Recipients also receive a $20,000 award to be used in their school community.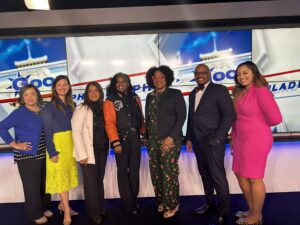 The 2023 Lindback Award for Distinguished Principals are: Crystal Edwards, Ed.D. (William D. Kelly); Alphonso Evans, Sr., Ed.D. (Allen M. Stearne); Diana Garcia (Frances E. Willard); Lillian Izzard (Thomas Alva Edison); Kahlila Johnson, Ed.D. (Overbrook); Amanda Jones (Hon. Luis Munoz Marin); and Heather Mull Miller (William H. Hunter).
Each year, the award recipients are celebrated during a reception, and this year's ceremony is the first time back in-person since 2019. The event featured congratulatory remarks and student performances.
"It is a privilege to celebrate these distinguished principals. We know our principals are the backbone of our schools, and every day we see their commitment to their staff, students and families," said Tony B. Watlington, Sr., Ed.D., Superintendent for the School District of Philadelphia. "I'm grateful to the Lindback Foundation and its trustees who understand the impact a great leader has on our school communities and honor that work with recognition and financial support."
Members of the community were able to nominate principals from District schools. Seven principals were then selected from the pool of nominees by the Lindback Foundation's Selection Committee based on their leadership and humanitarian contributions to their respective school communities.
"The principals we are honoring today all exhibit outstanding leadership and motivational skills," said Sheldon Bonovitz, a trustee of the Christian R. and Mary F. Lindback Foundation. "They are highly effective individuals who work tirelessly to get maximum effort from the teachers and students they serve."
The Foundation also honors teachers with the Lindback Award for Distinguished Teachers. A total of 60 teachers will be honored at the Lindback Award for Distinguished Teachers Ceremony at the Philadelphia Film Society on May 23. Each teacher honored will receive a $3,500 award.
For more information, visit https://www.philasd.org/cso/about/lindback-foundation-awards/.
Check out some of the local coverage:
ABOUT THE CHRISTIAN R. AND MARY F. LINDBACK FOUNDATION:
The Foundation was initially established by a testamentary gift in trust under the will of Christian R. Lindback. The Foundation's individual and corporate trustees were given broad discretion to support charitable purposes within the territorial United States. Educational goals and the support of distressed individuals in the City of Philadelphia through existing charitable organizations were given emphasis. The trustees have focused discretionary grant attention on the Greater Philadelphia area, including South Jersey. Since 1961, the Foundation has been recognizing outstanding faculty members at colleges and universities in Pennsylvania and New Jersey with the Lindback Award for Distinguished Teaching. Currently 52 institutions of higher learning are participating in the program. Peruse the curriculum vitae of Lindback Award recipients and you will note that the award is mentioned proudly and prominently, attesting to the universal prestige associated with the honor.