Kensington High School Students Advance to Nationals
Kensington High School Students Win States at SkillsUSA, Advance to Nationals 
Kensington High School students captured first place at the SkillsUSA State Leadership and Skills Conference, making history as the first time a District school took home the highest placement in this state competition. Seniors Angela Ramos, Jean Rivas-Rodriguez and Sammy C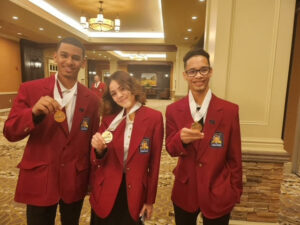 anela will represent Pennsylvania at the national SkillsUSA competition in June in Atlanta.
More than 3,000 Career and Technical Education (CTE) students throughout Pennsylvania, who advanced from their district competition, competed in the state competition, which showcased students' leadership and career development skills. Students participated in individual and team contests of technical knowledge and know-how that covered everything from Advertising Design to Welding and World Skills competitions.
Angela Ramos, Jean Rivas-Rodriguez and Sammy Canela are part of Kensington's Computer Supports Systems Technology program, a CTE program that prepares students to apply basic engineering principles and technical skills in support of professionals who use computer systems. The program of study launched seven years ago however, this was the first time that Kensington High School competed at the district and state level.
"I am so incredibly proud of these students," said Shanelle Lockhart, Kensington High School teacher and SkillsUSA advisor. "Kensington isn't a CTE school, rather a comprehensive school with three CTE programs and this puts us on the map. It's a big deal and it means everything. I'm still in shock taking it all in."
Students captured the first-place gold medal for the Career Pathway Showcase in the field of Business, Management and Technology. Students showcased their knowledge of their career pathway by presenting how it relates to the program they are part of and how they can obtain a career in IT. Ramos wants to be an Informatics Nurse Specialist, Rivas-Rodriguez wants to enter the military and then become a videogame designer and Canela wants tobecome a web designer.
"This recognition validates the work and dedication from our students and educators and shows how our schools are preparing students for success beyond our walls," said the School District of Philadelphia's CTE Executive Director Michelle Armstrong. "This is a huge deal and shows the impact that these types of programs can have on students and school culture."
Beyond earning industry certifications, students in the District's CTE programs also gain additional career awareness, leadership opportunities and recognition through the Career Technical Student Organizations (CTSO). These student organizations extendthe classroom and provide students with the opportunity to apply their academics and skills to real world experiences.
One of those CTSOs is SkillsUSA, a national organization of students, teachers and industry representatives who work together to prepare students with the necessary skills to pursue careers in technical, skilled and service occupations, including health occupations and for further education. SkillsUSA was formerly known as VICA, the Vocational Industrial Clubs of America. According to SkillsUSA, research shows that among CTSO students, extracurricular activity participation was positively associated with gradesand educational aspirations and participation in competitive events positively affected grades, academic engagement, SCANS-type academic/job skills and career self-efficacy.
While Kensington High School is the only district school to place first at the state level, the District had several other schools with students qualifying for nationals in their respective organizations. Abraham Lincoln High School, Franklin Learning Center (FLC) and Kensington Health Science Academy also had students qualified for Nationals through PA HOSA, the state chapter of HOSA-Future Health Professionals, an international student organization endorsed by the U.S. Department of Education and the Health Science Education (HSE) Division of Association for Career and Technical Education (ACTE). During this state competition, Lincoln students placed second and fourth, FLC had students place third and KHSA students placed third in their respective categories.
To help support Kensington High School students as they head to nationals, please visit their fundraising page.