April Senior of the Month – Iya Nealy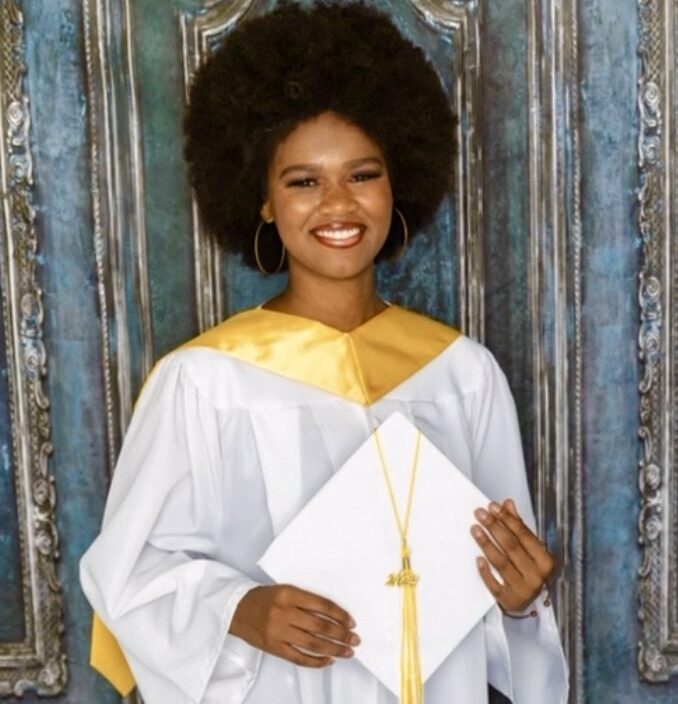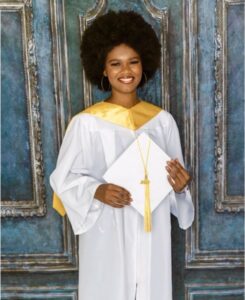 A native of Lake City, South Carolina, Iya Nealy moved to Philadelphia in the middle of her 8th-grade year. It was a decision that her parents made for her because they wanted her to have the best education, specifically for her high school years. They knew that this would grant her the opportunity of a more well-rounded, rigorous curriculum, which would increase her chances of receiving the best college education. After living with her father and grandmother in Lake City, Iya moved to Philadelphia with her mom and older brother. Accustomed to small-town living and education, Iya transitioned to big-city living and learning when she moved to Philadelphia. "Philadelphia is very diverse, it's liberal, and there are so many opportunities here. It's very different from South Carolina. It's very different from Lake City where everybody looks the same. There's not a lot of diversity in regards to other cultures so it's hard to learn about other people. So when I moved here it was a culture shock – but it was a good one. I'm learning about new things I've never seen before," said Nealy.
The transition to a new city, new school, and a new home was not an easy process for Iya. As Iya settled into Philly in the middle of her 8th-grade year, the school selection process had already started. She was told that it was too late to apply and that she should just go to her neighborhood high school. Fortunately, her mother didn't take no for an answer. She applied and was accepted into Philadelphia High School for Girls for her freshman year of high school and has been a Girls High girl ever since. Her freshman year of high school was challenging as the curriculum at school was more challenging than she was used to, she had to wear a uniform at an all-girls school and become accustomed to a new life in a new city. With all the changes happening in her life, leaving friends in Lake City, and trying to make new ones in Philly – Iya threw herself into her school work her focus was to get good grades. Fortunately, Iya made friends rather quickly and gained a support system at Girls High that would last all four years of high school.
When Iya speaks, her enthusiasm about school, education, accomplishing her goals, and making her family proud shines through her conversation. Upon meeting her, you realize that Iya is a pleasant, humble, and well-mannered young lady. One notices right away that she is bright, intelligent, and a go-getter. Even though she started a new school for her 8th-grade year, she finished 8th grade on the honor roll and received an award for her perseverance through a hard time. She chose to focus on her education and not her problems. Iya carried that same mentality into high school where she's remained on the honor roll – all four years of high school. "I threw myself into my work as a destruction from the transition, the pain, and the trauma that I was going through. I could have thrown myself into negative things but I figured since I was struggling with school (the new curriculum) why don't I just get into that." Iya's attendance for all four years was near perfect and exhibited great academic performance. She even maintained an A average in physics. Her excellent performance is a direct result of her hard work, determination, and focus. It's no surprise that she has the respect and admiration of teachers and students alike.
Iya is a true leader. She is the President of the Media Club, the Debate Team, and the African-American Student Union. She is also the Stage Manager for the school's production of The Wiz this year. Iya has been instrumental in the school's Project SAFE initiative, to help make the City safer for all residents. She presented to City Council and led the workshops. Iya is a great role model and mentor for younger students. She works tirelessly for Girls' High, her fellow students, and her fellow citizens. She is an outstanding young woman who works hard to support other students to complete class projects, labs, and other collaboration activities.
Iya has plans to attend college to major in film and television production. Her desire is to work in film and television. Nealy explains, "I want to thrive in whatever I do. I know I want to go into film, television, and production. It's a high-pressure situation but I love seeing something come from nothing. I feel like it's very inspirational." She was accepted into 11 out of 12 colleges. She is leaning towards Indiana University of Pennsylvania. "I have many desires, I have many things that I'm passionate about…" said Nealy. We know that whatever college Iya chooses, it's certain that she will be laser-focused and successful in all that she does.
Congratulations to Ms. Iya Neal. We are so proud of your tenacity and hard work throughout the years. Your excellence has paid off and we wish you all the best in your college years and beyond.
We asked Iya our favorite list of questions:
1. What does being named Senior of the Month mean to you?
Being named senior of the month means that I will be honored. I'm excited because there is so much I have done in my high school career, and I love feeling acknowledged for it. I was so happy to tell my family because this award is for them as well. Without them cheering me on I'm not sure where I would be. This award gives me a chance to sit with my accomplishments and actually celebrate them. I'm so blessed to have all of my friends at Girls High to support me. The staff and faculty at Philadelphia High School for Girls have been there for me since day one of my freshman year.
 2. Why do you think you were nominated for Senior of the Month? 
I honestly think I was nominated because of the relationships I made with my teachers and staff at Girls High. They have supported me and helped me accomplish my goals. Whether it was sending an opportunity my way or helping me with homework during their break. I can't thank them enough.
3. You were nominated by Elisabeth Dalessandro. Explain your relationship with her. Why do you think she nominated you specifically?
Mrs. Dalessandro is my club sponsor for the Media Club at Girls High. She also was my teacher for instrumental music in my junior year. I have so much respect for her. She helped me whenever I needed help with playing the bass. She supports my photography in and outside of school. She trusted me enough to be the President of a club that she holds dear. She is such a hard worker, and when she commits to something it gets done. I'm proud of her, and can't wait to hear what she accomplishes next. I'm very grateful that she nominated me.
4. What is one thing you'd like to share about yourself that most people don't know about you?
Sometimes I push myself too hard. When I get stressed it's usually because I'm worried about something that I shouldn't be. I try my best at anything I put my mind to. Therefore, when things don't happen exactly how I want them to, I worry. I'm currently working on not doing that and giving myself credit for what I do.
5. What do you enjoy most when you are not at school? 
I enjoy spending time with my family and friends. I am family oriented, so I love their company. No one supports and understands me as they do. When I need a shoulder to lean on I have so many people to help me. I also enjoy my Job. I work at Philadelphia Mills Mall on the weekends. Talking to different people every day and hearing their take on life is an experience I wouldn't trade. I have worked at my job since January 2021. It is my first job, and I'm still there. My co-workers and managers have changed over the years. I still love working where I work through it all.
6. In your opinion, what is the best thing about attending school at Philadelphia High School for Girls? 
Philadelphia High School for Girls is a place that I will never forget. From amazing events like prom to networking opportunities, I am proud to say I'm a Girls High girl. The connections that I have made at this school will hopefully stay with me throughout my adult life.
7. In your opinion, what is one thing that the School District could do to improve our service to students?
The school district should get the opinion of the students more often on a personal level. Surveys are okay, but I believe there should be actual people coming to schools. Each school should be able to say they feel heard. I also think that there should be a librarian and more school counselors in the schools. Personally, my school counselor Ms. Lewis is amazing. She is there for me when I need her and has helped me so much. To think that other students around the school district don't have that same opportunity makes me sad.