May Senior of the Month – Anika Afrin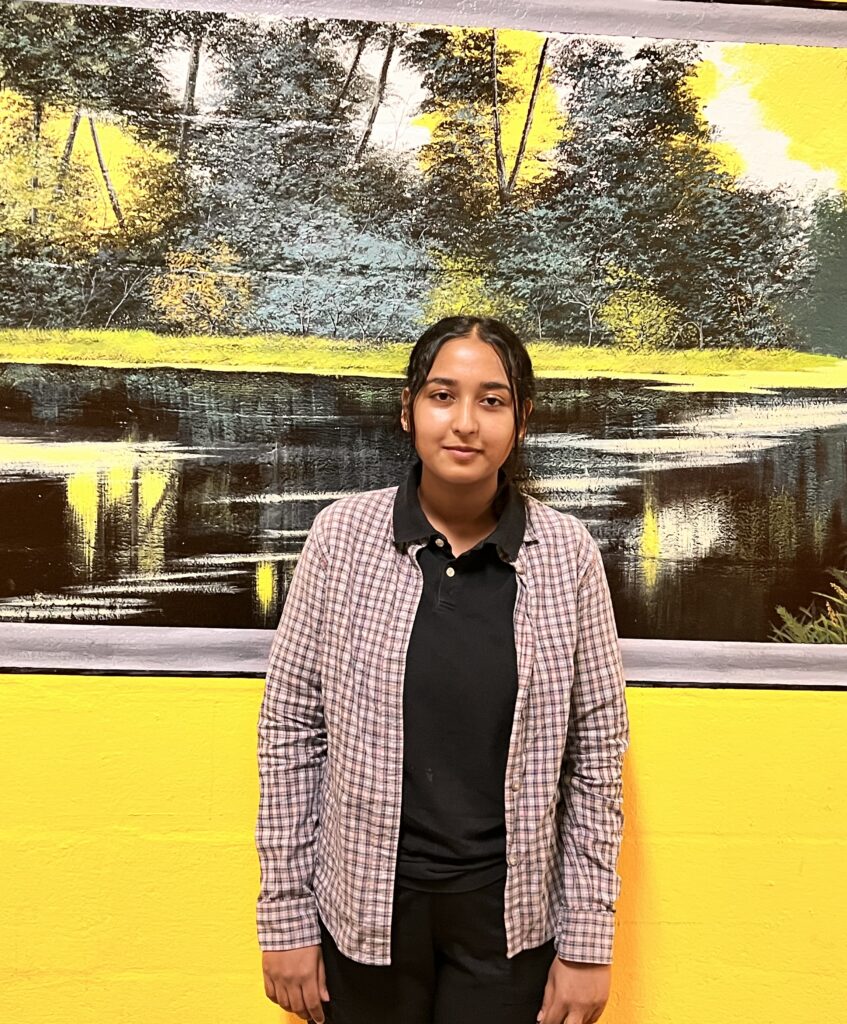 Kind, passionate, and talented, Anika Afrin transferred to Sayre High School from Bangladesh in 2022. To be named Senior of the Month after only such a short time in the United States is remarkable. She has overcome the obstacles and challenges associated with moving to a new country in an amazing way.
Anika moved to the United States three years ago to live with her father, stepmom, and two sisters. Surprisingly, her two older sisters attended and graduated from Sayre High School. So it was no surprise that she made Sayre her choice after they both encouraged her to attend.
Naturally, her English wasn't the best when she first arrived in the United States. However, over the past 3 years, her English has improved dramatically. "My teachers always try to help me understand every single word." She has handled moving to another country, learning a new language and way of life, meeting new students, and adjusting to a new learning environment with grace. The calm in her voice, when she speaks about the transition, is inspiring. She talks only about the good experiences, like how her teachers and classmates have helped her along the way, and the fascination with learning something in the U.S. every day.
Anika has demonstrated balance and time management while maintaining a 3.697 GPA, working part-time, and participating in several school activities. Anika is in the National Honor Society and has served as the Student Government Association Vice President. She helped organize over 5 fun events for the students of Sayre. She completed various community service tasks and is always looking for ways to help. Anika also helped address concerns with Administration. Her efforts aimed to reduce bullying, improve diversity, and facilitate peace among students. She has served as a mentor to freshmen students. Anika has a wonderful, respectful, passionate, and kind demeanor that is respected by all of her peers and cherished by all staff.
Anika also develops gorgeous art. She is known as the Sayre Artist as she made two beautiful morals in the hallways, and two morals in classrooms/offices. In addition to individual canvas paintings for several staff members. Her artwork has provided serenity and enhanced the environment at Sayre. As one gazes at the artwork Anika has created, it's evident that art is not just a hobby for her. She is truly gifted and talented. Anika also works a part-time job at Giant Supermarket in the bakery department. Her manager took notice of her artwork and asked to be the decorator for the cakes and cupcakes for the store.
When asked about what motivates her, without hesitation she said her mom. Her mother is still in Bangladesh and is expected to move to the U.S. this year. "I always feel motivated when I talk to her. She always tells me you can do this." She also says that nature motivates and calms her. When looking at her artwork, one can see how nature influences her as many of her pieces are depictions of the world all around us.
Being named Senior of the Month means a lot to her but it's only a motivator for Anika."I feel like this is the beginning of my journey. I have a lot to do to achieve my goals." Aside from her art, Anika loves math and business. She plans on majoring in business at Chaney University in the fall. When she's not painting, working at her part-time job, or participating in her many activities in school, Anika enjoys hanging out with her sisters, watching tv, and playing with their pets. She is also an advocate for students in her school who deal with bullying. She says, "Everyone is equal don't treat people differently…I like to help it doesn't matter what the problem is. I just go there and I try to do my best to help them."
Her nominator, Ms. Anika Afrin exceeds the expectations of a student. She is truly a delight to all who have encountered her. She will truly be missed by everyone in our school. However, she has left an outstanding legacy that will always be remembered."
We asked Anika some of our favorite questions: 
1. What does being named Senior of the Month mean to you?
Being named Senior of the Month means a lot to me, it is an honor! I am excited and proud at the same time. Being recognized for the May Senior of the Month motivates me to keep going forward, and to continue to work hard towards dreams and goals. Graduating high school is just the beginning of my adult journey. Being named Mat Student of the Month is a great segway into me starting the journey of my future.
2. Why do you think you were nominated for Senior of the Month?
There must have been a lot of competition. I think that I stood out because I am a hard worker and I do not give up. I do not just think about me. I am mindful of others and I try to be of service to the staff and students at my school.
3. You were nominated by Ms. Pickett. Explain your relationship to her. Why do you think she nominated you specifically?
Ms. Pickett is my teacher, and I was surprised that she nominated me. I think that Ms. Pickett nominated me because she has noticed that I am helpful to everyone in the building. She sees that I am a hard worker and dedicated to my academics, and to my hobby, which is painting. I have painted a few murals on the school walls to make the school feel more inviting. I think that Ms. Pickett has identified my leadership skills and knows that I will achieve my goals.
4. What is one thing you'd like to share about yourself that most people don't know about you?
Most people do not realize that I am an emotional/sensitive person.
5. What do you enjoy most when you are not at school?
When I am not in school I paint and spend quality time with my family. I have many paintings on canvas that I have made for my teachers and other staff members.
6. In your opinion, what is the best thing about attending school at Sayre High School?
Attending Sayre I have learned something new every single day. I have been exposed to things that I was unaware of.
7. In your opinion, what is one thing that the School District could do to improve our service to students?
I think that the School District should create more opportunities for all of the students so that students will have all of the support that they need to achieve their dreams. This would look like more funding to cover the cost of school buses for trips, additional staff, and more supplies.