District Partners with Organizations to Provide Students with Access to State Required Student Immunizations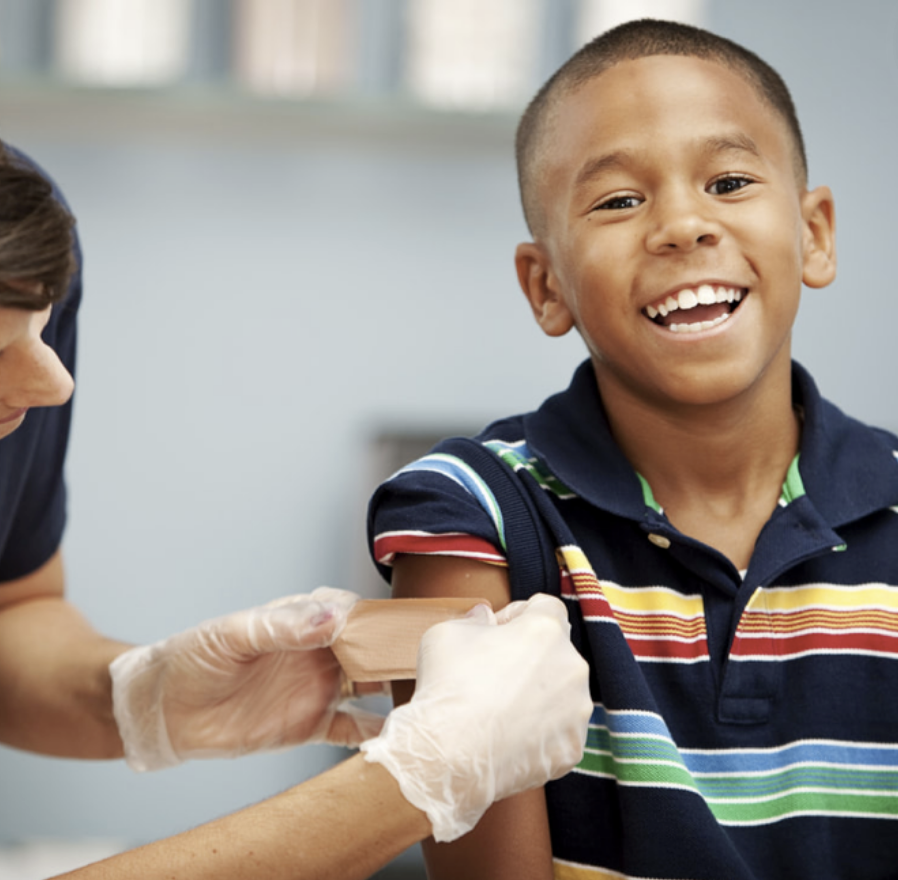 To support student attendance on the first day, the District hosts summer opportunities for student immunizations throughout the summer 
PHILADELPHIA, PA — More than one thousand School District of Philadelphia students received vaccinations and physicals through District events, in partnership with Delaware Valley Community Health, Inc. (DVCH), CityLife Health and the Dr. Ala Stanford Center for Health Equity (ASHE). As National Immunization Awareness Month closes, the District will host some final opportunities for families leading up to the new school year.
"As school approaches and families are checking their vaccination records to make sure they are up-to-date, we are proud to partner with families and community organizations to provide local opportunities for families to access free, timely, state-required immunizations to protect their children's health and ensure students are meeting the state requirements to be in school for the first day of school," said Tony B. Watlington, Sr., Ed.D. "These partnerships overall protect students' health, remove access barriers and reduce absenteeism and missed class time."
Remaining events include:
August 22, 2023 – Maria de los Santos Health Center (401 W. Allegheny Avenue) – 9 a.m. until 5 p.m.
August 28, 30, 31, 2023 – School District of Philadelphia Headquarters (440 N. Broad Street) – 8:30 a.m. – 3:30 p.m.
September 5, 6, 8, 2023 – School District of Philadelphia Headquarters (440 N. Broad Street) – 8:30 a.m. – 3:30 p.m.
Throughout the past school year and through August, the District has held 75 vaccination and physical events in partnership with CityLife Health, Delaware Valley Community Health and Dr. Ala Stanford Center for Health Equity.
In addition, the District provides free in-school immunizations, sports physicals and  school physicals throughout the school year for sixth through twelfth grade students at schools with higher rates of vaccine non-compliance. This multi-tiered effort, in addition to the diligent work of the District's school nurses, has resulted in the District having a vaccine non-compliance rate in June of 3.3 percent for enrolled students ages 18 and under.
"During the COVID-19 pandemic, we saw a national decline in the percentage of children receiving their routine vaccinations. In an effort to improve access to vaccinations required for school attendance, we have intentionally partnered with multiple organizations to provide vaccination opportunities to families for their children, regardless of their insurance status," said Kendra McDow, MD, MPH, FAAP, medical officer at the School District of Philadelphia.
CityLife Health offered students, including those who are uninsured and undocumented, the opportunity to receive these immunizations at summer school locations, on the District's Back-to-School Bus Tour and at their clinic locations. DVCH is providing back-to-school immunization clinics at the Maria de los Santos Health Center. ASHE offered students back-to-school immunizations and sports physicals during their Student Health Week.
"Healthcare organizations are increasingly seeking to meaningfully partner with community organizations to better address community needs and priorities," said Kimberly Allen, MSN, RN, CPHQ, FACHE and Chief Quality & Innovation Officer at DVCH. "At Delaware Valley Community Health, we prioritize strategies to advance health equity. We believe it is particularly important to acknowledge the critical perspectives that community partners and families can bring to inform program design. Delaware Valley Community Health's vaccine partnership with the School District of Philadelphia highlights how cooperation between our two organizations enables us to empower patients and students alike."
As required by the Pennsylvania Department of Education and the Pennsylvania Department of Health, students are required to follow their local and state vaccination schedule to enroll in schools. Medical, religious and philosophical exemptions are available. By law, any student who is out of compliance with the state-mandated vaccination requirements will not be allowed to attend school until the requirements have been met.
August is National Immunization Awareness Month (NIAM), an annual observance by the Centers for Disease Control and Prevention (CDC) to remind people of all ages about the importance of vaccinations. Research shows that childhood vaccinations are critical to help protect children from life-threatening diseases, like polio and tetanus, and that vaccines are safe, effective, and save lives. To help ensure students are healthy and ready to learn, the District and health partners like DVCH, City Life Health and ASHE are working to reach children who need to receive routine vaccinations.
To learn more and register, visit philasd.org/vax and philasd.org/ringthebell. If you have any questions, please contact your school nurse.