Right to Read Film Screening Sheds Light on Early Literacy Crisis and Sparks Discussion in Philadelphia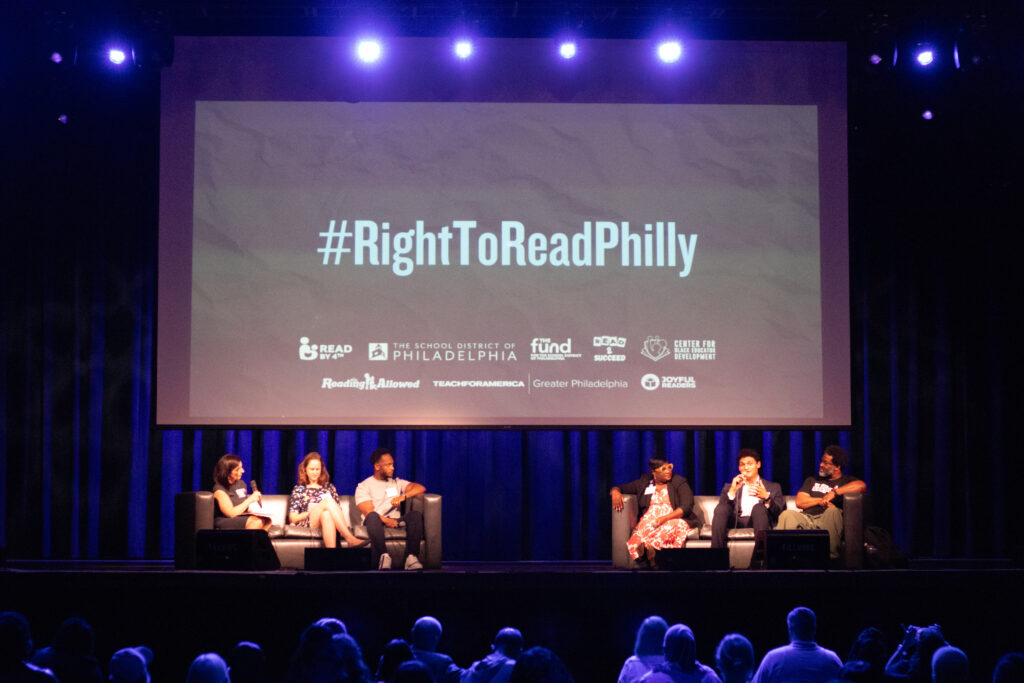 PHILADELPHIA – In partnership with Read by 4th, the Fund for the School District of Philadelphia, Read 2 Succeed, Center for Black Educator Development, Reading Allowed, Teach for America, and Joyful Readers, the School District of Philadelphia presented the highly anticipated film screening of The Right to Read to a 1200+ crowd at the Fillmore Philly Tuesday night.
"We cannot improve student academic outcomes without prioritizing reading and literacy in the District, especially in our earliest learners," said Tony B. Watlington, Sr., Ed.D. "Literacy is the foundation of all learning, which is why proficient reading by the end of third grade is so critical. We are thrilled to be partners in this screening, one that we hope inspires future conversation, action and engagement so we can collectively invest in Philadelphia's youth."
The Right to Read provides a deep exploration of the nation's early literacy crisis. Through compelling narratives and interviews, the documentary sheds light on the science of how children learn to read as well as the complex history of evidence-based reading instruction. By amplifying the voices of activists, educators, and families, the film underscores the urgency of reading as one of the greatest civil rights issues of our time.
"Everyone has a role to play in growing stronger readers," said Jenny Bogoni, Executive Director of Read by 4th. "This screening of The Right to Read documentary is set to inspire thousands of loving parents, community advocates, and education leaders to join Philly's early literacy movement. As a city, we must commit to doing whatever it takes to ensure our children become the strong readers they deserve to be."
Following the film screening, there was a panel discussion to delve into the insights gained from the documentary, discussing how the literacy crisis is impacting Philadelphia, as well as how shifting policies, community-driven innovation, and partnerships are fueling local solutions. Panelists included Dr. Nyshawana Francis-Thompson, School District of Philadelphia, Sharif El-Mekki, Center for Black Educator Development, Laura Boyce, Teach Plus, Angel Osorio Pizarro, Teach for America, John Butler, Philly Reading Captains and local author, and Angela Marks, Reading Allowed. Panelists also answered questions from the public.
"I'm so excited for the collective effort of the city of Philadelphia to ensure that all of our young people are able to read," Dr. Nyshawana Francis-Thompson, Chief of Curriculum and Instruction, for the School District of Philadelphia. "So what we're optimistic about in the School District of Philadelphia is that our children are getting better. We are increasing the number of students that are reading at or above grade level, as well as decreasing the number of students that require intensive intervention. But we are not done yet. We still have to roll up our sleeves because we have a lot of work to do."
The film further supports Accelerate Philly, the District's new five-year strategic plan to accelerate student achievement. One of the strategic action items to accelerate academic achievement involves implementing standards-aligned core instructional resources for English Language Arts (ELA), with a focus on the Science of Reading (in partnership with teachers, school leaders, and parents and guardians).
This free event was for Philadelphia residents, educators, policymakers, and community members.