School District of Philadelphia Mourns Beloved Education Advocate Constance E. Clayton, Ed.D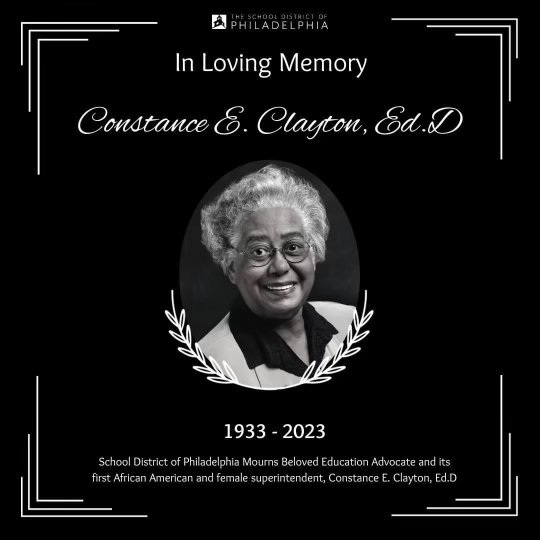 Constance E. Clayton, Ed.D., who served as the School District of Philadelphia's Superintendent of Schools from 1982-1993 passed away on Monday, September 18, 2023. She was Philadelphia's first African American and female Superintendent of Schools. Clayton was a true Philadelphian, who was born and raised in the city, attended Dunbar Elementary School, Philadelphia High School for Girls, Temple University and the University of Pennsylvania. She started her career in the District as a fourth-grade teacher.
"I had the honor of getting to know Dr. Clayton during my time here in Philadelphia through both mentorship and friendship," said Superintendent Tony B. Watlington, Sr., Ed.D."She embodied a true educator and humanitarian through her dedication to improving the lives of children in education. Her legacy of service to Philadelphia's children and the School District will be memorialized and I extend my heartfelt condolences to her family and friends."
During her tenure with the School District of Philadelphia, Clayton served in multiple roles, with a focus on curriculum development. Prior to serving as the superintendent, she designed the Social Studies curriculum and headed the District's African American Studies program. Clayton was especially proud of the African American History curriculum she introduced to classrooms across the District. Building on Clayton's commitment to this subject matter, Philadelphia became the first District to make African American Studies a requirement for graduation.
As superintendent, Clayton demonstrated strong leadership and was known for tackling the district's challenging budget without removing student services, through her fiscal responsibility, balanced budgets, standardized curriculum across schools, and ability to negotiate and collaborate with all stakeholders. She engaged local businesses to support schools with better resources, and established schools as the center of their communities.
"Dr. Clayton was a friend and mentor, but more importantly, she was the best superintendent who has ever served Philadelphia," said Jerry Jordan, the President of the Philadelphia Federation of Teachers. "Her passion for the students and their families was unparalleled, as she ended every speech reminding us that the children come first. She was also committed to empowering everyone in the field of education, including school-based staff, teachers, administrators, and Central office staff, ensuring we all had the opportunity to succeed."
"Dr. Constance Clayton was an iconic figure, not only in the School District of Philadelphia, but across the City of Philadelphia as whole," said Robin Cooper, Ed.D., President of CASA, the Philadelphia principals' union. "She was a staunch advocate and champion of students, teachers, principals, and the surrounding community.  She believed in mentoring principals to support their professional growth, and continued her mentorship well after retirement. CASA honors the loving, historic memory of one of its own members, one who rose through the ranks from a teacher, to principal, to becoming the first Black and first female superintendent in Philadelphia's history."
Clayton was known for her no-nonsense leadership style, as well as her fierce advocacy for the students in her care whom she loved dearly. Her dedication to improving the lives and education of children went beyond her work in the school district and public schools of Philadelphia, as she served on numerous boards and commissions locally and nationally. Touted in 1994 as the "pre-eminent educator in the country," Clayton received honorary doctorates from several colleges and universities. As a testament to her work, the University of Pennsylvania, under the leadership of Marvin Lazerson and Gloria Twine Chisum, established the Constance E. Clayton Chair in Urban Education.
Clayton was also a major influence in the arts community in Philadelphia and supported African American art and culture throughout her life. Clayton served on the Board of the Philadelphia Museum of Art, and founded its African American Collections Committee in 2000. A Clayton Curatorial Fellowship was established in her  honor  at the Philadelphia Museum of Art to increase the representation of people of color within the arts community. She also donated pieces from her personal collection to the Pennsylvania Academy of the Fine Arts and Schaumberg.
Clayton was a member of the Delta Sigma Theta Sorority, Inc. and served as the president of the Philadelphia Alumnae chapter from 1959 -1961, truly a  champion for women's leadership. United States Pennsylvania Senator Robert Casey called Clayton a trailblazing figure whose career in education positively impacted the lives of countless children in Philadelphia when honoring her in 2017 during Black History Month.
Funeral services for Clayton are pending.
###