Two District Teachers Receive State Honors

Two School District of Philadelphia teachers have been recognized by the state of Pennsylvania and are now being considered for Teacher of the Year at the regional, district, and national levels. Todd Corabi, an educator at Arts Academy at Benjamin Rush High School, will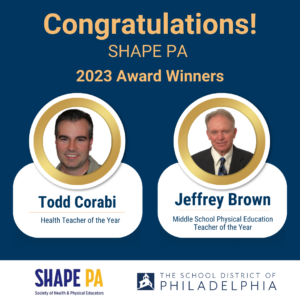 be presented with the 2023 SHAPE PA Health Teacher of the Year. Jeffrey Brown, who retired from Baldi Middle School in June, was selected as the 2023 SHAPE PA Middle School Physical Education Teacher of the Year. This is the first time that the District has had educators receive these awards.
"Teachers inspire our students daily to realize any future they desire, and our health and physical education teachers are vital to helping students achieve and maintain a physically active and healthy lifestyle," said Jermaine Dawson, Ed.D., Deputy Superintendent of Academic Services. "Congratulations to these individuals for this recognition, which demonstrates their commitment and dedication to our students and school communities. We are proud to have these outstanding educators and coaches represent our District at the regional level."
This prestigious recognition comes from SHAPE (Society of Health and Physical Educators) PA, the state chapter of the nation's largest membership organization of health and physical education teachers. SHAPE PA recognizes the work of outstanding educators in Pennsylvania and honors teachers at four levels: elementary, middle school, high school, and university. Recipients are recognized for their leadership, dedication, professionalism, and service to their school and community.
Corabi came to the School District of Philadelphia in 1997 after graduating from Temple University. Beginning his teaching career at Central East Middle School (later to be renamed Feltonville School of Arts and Sciences), Corabi taught 13 years before joining the faculty of the Arts Academy at Benjamin Rush High School in the fall of 2010. Beyond teaching Health & Physical Education, Corabi is also the school's Athletic Director, Girls Soccer Coach, Co-Ed Bowling Coach and Softball Coach.
A previous recipient of the Lindback Award for Distinguished Educators, Corabi also received the Philadelphia Coaches Association Athletic Director of the year Award.
"It is exciting and I feel very blessed to be recognized for my consistent and time consuming hard work with our students," Corabi said. "Many teachers who are really high quality Health and/or Physical Education instructors have very thankless jobs where they put in 20 + hours outside of school for planning, grading, etc. on top of their other required responsibilities. […] Though I stay humble, it is really nice to have someone notice the dedication and effort that goes into teaching."
Brown came to the School District of Philadelphia in 1979 after a year in Camden City School District. Also a Temple University graduate, Brown retired last school year after 45 years of teaching. He spent his last fourteen years at Baldi Middle School, where he also served as the athletic program coordinator for its 13 interscholastic school teams. He also coached Field Hockey, Girls Basketball and Girls Lacrosse and served as a Morning Fitness Program Coordinator, ARC First Aid and CPR Instructor and Healthy Schools Program Coordinator. Prior to Baldi, he was a teacher at Bache-Martin for twenty-one years.
Brown also received the William A. Stecher Award for Outstanding Service to the Profession of Physical and Health Education and the Pennsylvania Elementary Teacher of the Year from Pennsylvania State Association for Health, Physical Education (PSAHPERD).
"I am extremely humbled to receive this award," said Brown. "Teaching the students of Baldi Middle School and Bache-Martin Elementary has not only been a career, but a passion. In my 45 years of teaching, I have been blessed to have such a wide array of professional experiences and the freedom and support to nurture and engage my students in ways that reach far beyond the curriculum. I am eternally thankful for the support and encouragement from the outstanding teachers, administrators, and the community of Philadelphia."
Both will be honored at the Teacher of the Year Award Celebration at Spooky Nook Sports on Thursday, October 26, 2023.