Honoring Hispanic Heritage Month: Employee Spotlight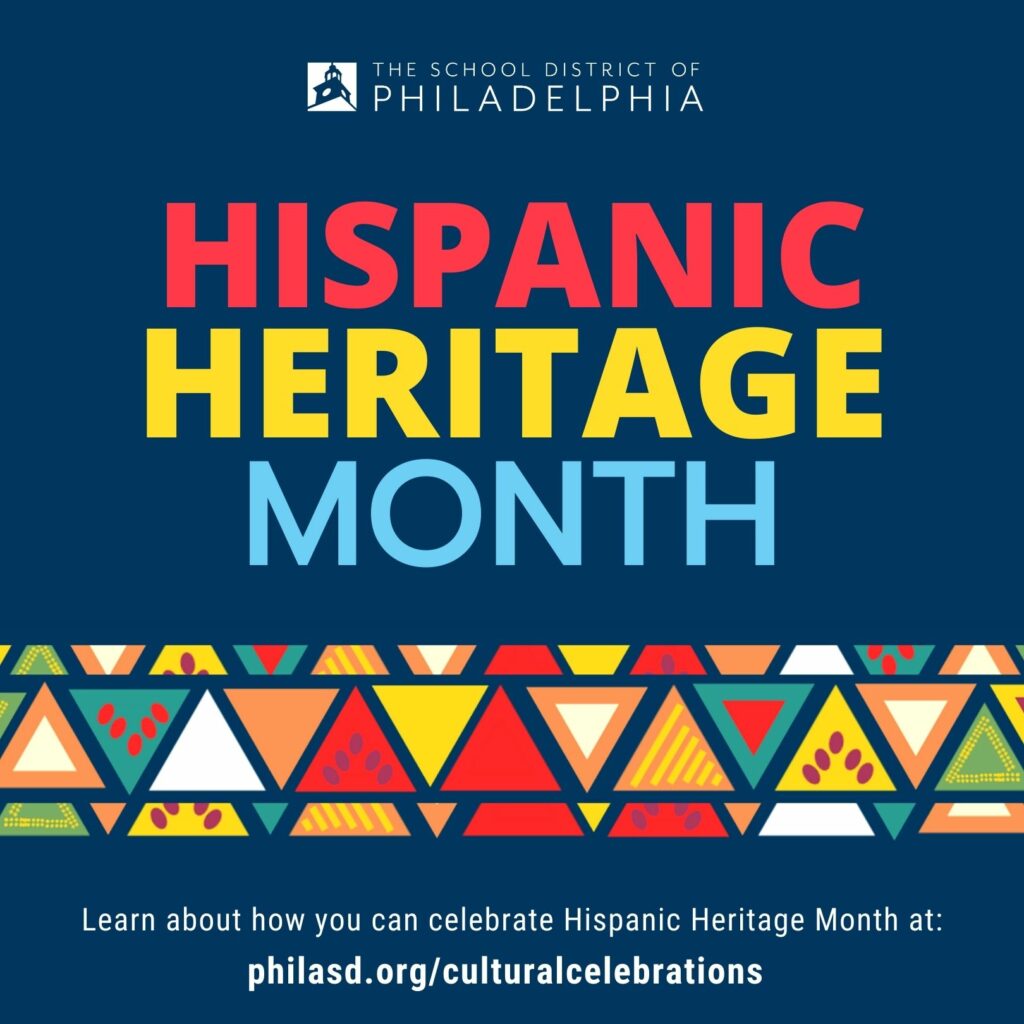 Joann L. Mercado, Bilingual Secretary at Southwark School
Share a little about you (how long you've been in the District, other schools/ positions, why you went into education): Upon walking my son to school every morning, I was approached by the school principal Mr. Lukov and was asked if I ever thought about working for the School District. Needing a change, here I am years later. I've been with the Philadelphia School District going into my 7th year at Southwark School. I started off as an SSA-Supportive Service Assistant and now I'm a Bilingual Secretary.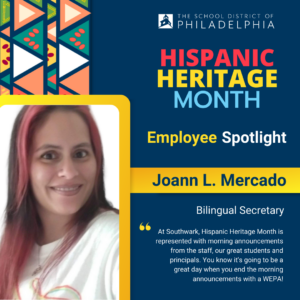 What are the joys of being a Latinx/Hispanic in the District? The joy of working at Southwark School is being able to work with my amazing colleague Rose, whom I get to speak Spanish with all day. I've never worked alongside someone of the same nationality. I get to share all this with two of my children who also work for SDP. At Southwark, Hispanic Heritage Month is represented with morning announcements from the staff, our great students and principals. You know it's going to be a great day when you end the morning announcements with a WEPA!
What are the challenges you've overcome as a Latinx/Hispanic in the District or in general? On my way to work, I was insulted with racist remarks but I did not let that stop me. This was something I chose to ignore and not get caught up in because clearly, this person needed some education on different cultures.
How do you honor your heritage and culture inside or outside of work? By keeping the traditions going, and speaking the language that was taught to me by my parents. I am grateful for this because I am able to help out families with translations.
What is your favorite thing about your culture/heritage? The joys of being Hispanic is speaking the language and getting to celebrate holidays in different ways like Halloween, Dia de los Muertos, Christmas, Dia de los Reyes and huge family events. Also, my favorite thing about my culture is definitely the food – not only the food but the music. You can't cook Spanish food without Spanish music. When you have music playing while cooking, that's when you know the food is going to be good. WEPA!
Anything else you want to add? Enjoy and embrace your culture. Thank you to our principals and staff, you're the best!
Thank you, Joann, for your 7 years of service to the students and families of the School District of Philadelphia. You are greatly appreciated!