District Teachers Complete Seminars for Yale National Initiative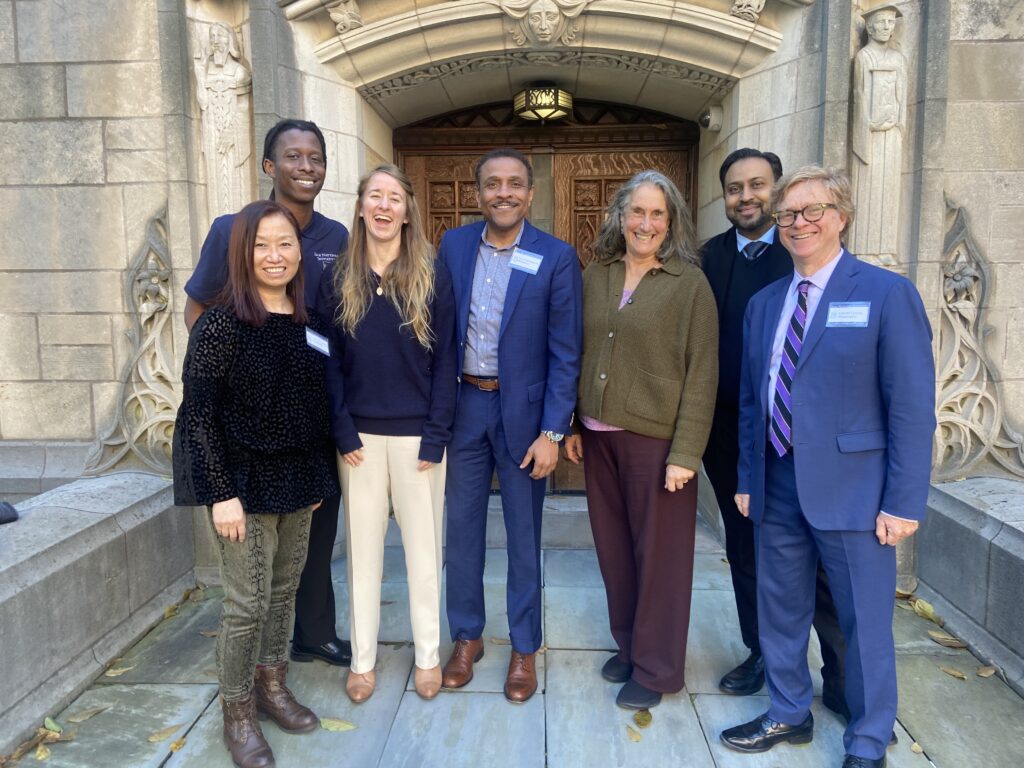 This past weekend, four School District of Philadelphia teachers completed their seminars for the Yale National Initiative, an intensive and sustained collaboration among Yale faculty members and public school teachers across the country to strengthen teaching in public schools. Superintendent Tony B. Watlington, Sr., Ed.D. also attended the conference.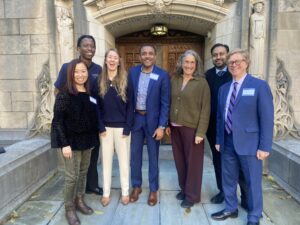 "It was an honor to join four District teachers at the Yale National Initiative (YNI) Annual Conference this past weekend to hear about their seminars and their work to strengthen their teaching," said Watlington. "High quality, effective teaching is the most important factor when it comes to student learning and academic growth, so I applaud these educators for honing their craft through this intensive professional development opportunity. I look forward to visiting their schools and witnessing first-hand the impact that the Yale National Fellows program has on student engagement and achievement."
District teachers and their curriculum unit titles include:
Chloe Glynn, Horace Furness High School, "On the Border of Life: Bacteriophages and Biodiversity"
Anna Herman, U School High School, "Growing a Sustainable Future"
Tyriese Holloway, Overbrook High School, "Racialization: Past and Present"
Lisa Yuk Kuen Yau, Frances Scott Key School, "Money, Money, Money: Decimal Fractions in $ and ⊄"
"My unit investigates how the social construct of race is developed over culture and time, and the roles that the 'Other' has in literature and history," said Holloway, an English educator. "I hope that this unit expands students' understanding that people who are marginalized socially (and in this case, visually) often have an important role to play in the context of their environments."
Herman was intrigued by the unique opportunity provided by the Yale National Initiative to work with teachers from around the country, and with Yale faculty, have a chance to deepen their knowledge and develop more curricular resources for the program.
"This unit creates opportunities for students to explore personal and community health issues, food justice and sustainability issues and to explore a range of food and agriculture career pathways," said Anna Herman, an Agriculture, Food & Natural Resources Management Educator. "One of the biggest takeaways [from this program] is the first hand experience of what research has shown; teachers who are offered opportunities to develop and deepen their content knowledge in supportive collegial environments have a deep and lasting impact on each other, their students and their school communities. This work matters."
Lisa Yuk Kuen Yau wrote her math unit under the expert guidance and kind support of her seminar leader, Roger Howe, Professor Emeritus of Mathematics at Yale University.
"I strongly believe that my math unit on decimal fractions using U.S. coins can help students learn about geography in a more engaging way while bridging their understanding of whole numbers' place value in relationship to those of decimals, fractions, and percentages. My goal is to better cement the arithmetic-to-algebra transition from concrete to more abstract thinking for my fifth graders before they enter high school."
These teachers are part of forty-one public school teachers from across the nation who are part of this professional development opportunity that provides public school teachers with deeper knowledge of the subjects they teach and first-hand experience with the Teachers Institute approach to high-quality professional development. The Yale National Initiative is now in its nineteenth year. Teachers from participating school districts apply to participate as Fellows in national seminars held at Yale.
"I joined this program because I love learning and love sharing that joy with young people," said Glynn, an Environmental Science educator for 9th graders and English Language Learners. "I am teary-eyed grateful for the Furness administration and community for giving so much love amidst so much need. There are so many people lifting me up to be a better teacher and a better human."
"By taking into account a range of personal as well as professional factors, the YNI's program has helped educators like me to design effective curriculum units that we can implement with effective teaching strategies while at the same time promoting student innovations and improving educational outcomes," said Lisa Yuk Kuen Yau.
Teacher Institutes are educational partnerships between universities and school districts designed to strengthen teaching and learning in a community's high-need public schools. Evaluations have shown that the Institute approach exemplifies the characteristics of high-quality teacher professional development, enhances teacher quality in ways known to improve student achievement, and encourages participants to remain teaching in their schools.