National Apprenticeship Week Feature: QTEL Apprenticeship Program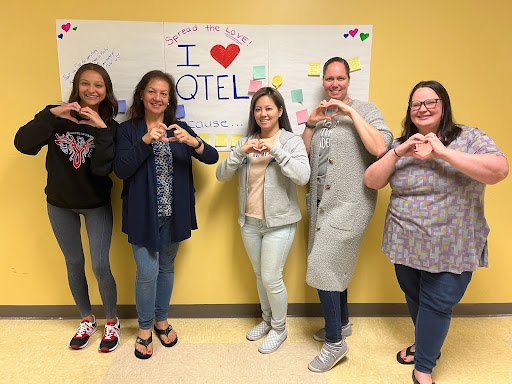 November 13-10, 2023 is National Apprenticeship Week!  The School District of Philadelphia's is celebrating National Apprenticeship Week by showcasing different apprenticeships.
As the number of English learners (ELs) in the School District of Philadelphia continues to grow, the need for teachers who are trained in high-quality instructional practices has grown with it. To meet this need, the District's Office of Multilingual Curriculum and Programs (OMCP) has partnered with Quality Teaching for English Learners (QTEL) at WestEd to offer a two-year QTEL apprenticeship for District staff to become local facilitators of QTEL professional learning.
This program involves 16 District teachers and staff — six teachers and two OMCP staff members will complete their apprenticeship in  September 2024, and four teachers and four OMCP staff members will begin their apprenticeship in 2023-2024 and complete their apprenticeship in  September 2025.
The apprenticeship includes studying sociocultural and sociolinguistic learning, facilitation, planning professional learning for adults and creating original exemplars. The exemplars are unit plans that incorporate learning of language and content. The 16 apprentice facilitators  will enable the School District's Multilingual Office to provide specialized professional learning for K-2 and 3 – 5 grade teachers, and 6 – 12 teachers of disciplinary content (mathematics, science, social studies, English and English Language Development for newcomer English learners).
"QTEL has completely changed the way I approach teaching in general, not just math classes with ELs. Students are interacting with each other, participating in  partner and group work," said Christina Kelly, Lincoln High School. "Far more students are engaged because it is more interesting to them. The structured tasks provide ways for students to interact, especially in mixed language groups, which enables them to learn language and content."
Some of the teachers and apprentices who have completed this QTEL training series had their classroom instruction recorded for the District's video library, which supports teachers in honing their skills in a particular area.
Currently, 240 K-12 school district teachers are engaged in QTEL program, a year-long professional learning experience. The next QTEL series will begin this coming summer, with applications opening in January, for teachers who would like to participate in either the QTEL program or as an apprentice, if they have completed the QTEL program previously.