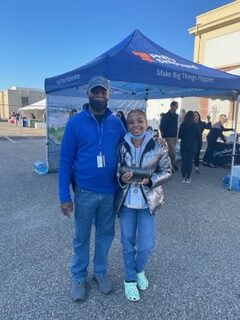 When Randolph Technical High School senior Ahjhane Blackwell was named the winner of a recent welding competition, she was originally shocked by the news.
"I really couldn't believe that I won," Ahjhane said. "This was not only the first time I ever participated in a welding competition, but it was also the first time I actually had to read blueprints and put pieces together.
"I was just excited to be in the competition itself, but to actually win was just amazing," she added. "It was definitely the best day of my life."
Ahjhane, 17, won Project MFG's first maritime-focused student competition at the Philadelphia Shipyard training facility in the U.S. Navy's Pennsylvania Workforce Pipeline Project career discovery event.
During the event, students had to race against the clock to weld a design by the Navy. The day concluded with an awards ceremony recognizing the top students in welding.
In addition to Randolph, Benjamin Franklin High School, Jules Mastbaum High School, Swenson Arts and Technical High School and Thomas A. Edison High School.
Accelerated Training in Defense Manufacturing, Bucks County Community College, Community College of Philadelphia, Delaware County Community College, Thaddeus Stevens College of Technology, Williamson College of Trades and Father Judge High School also participated in the event.
"We had two hours to finish our metal submarines and I think I finished under two hours," Ahjhane said. "During the competition they had people walking around and watching what we were doing.
"In addition to winning the competition itself, I also won a raffle," she added. "The prize for the raffle was $500."
Randolph welding instructor David Poe said he was proud of what Ahjhane accomplished during the competition.
"We had a few students from Randolph participate in the competition," Poe said. "Each team from each school had to pick one person to do the welding.
"She was on camera during the competition, so we could actually watch her while she was welding," he said. "Ahjhane did an amazing job.
"She has such a good welding hand and she follows directions really well," he added. "I knew she would be a perfect selection to represent the school with three guides."
Ahjhane is among a group of 44 students that participates in Randolph's welding technology program.
During the program, students are prepared to perfect both small and large scale welding techniques that are used in various forms of construction.
Poe, who has been at the helm of the welding program for the last two years, teaches sophomores, juniors, and seniors.
"I teach three different types of welding, so that way if the students can't do one they can do another," Poe said. "I want them to have options and the best way for me to make sure they have that is to teach them as much as I can about welding.
"What I'm trying to do as their teacher is prepare them for a career," he added. "I want them to have a good foundation, get the certifications that they need so that they can get the job that they want."
Ahjhane praised Poe as her teacher and said she wouldn't have been able to accomplish what she did at the competition without him.
"Mr. Poe is an amazing teacher," Ahjhane said. "I've learned so much from him in the short time that I had him as a teacher.
"He believed in me from the beginning and he gave me the foundation and support to be in my first welding competition," she added. "It's because of him and the welding program at Randolph that I'm thinking about a future in welding."