What is System of Great Schools?
Each year we gather and review data to better understand when, where and how we can ensure our students have access to high-performing schools across the District. To guide annual decision making the District uses four processes: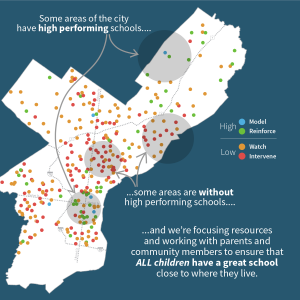 Open new schools
Transform existing schools
Expand high-performing schools
Close or merge schools
Why a System of Great Schools?
Philadelphia is home to over 200,000 students – each of whom has unique talents, interests, and academic needs. To deliver on the right of every child to a great education, we must remain active in identifying and expanding great learning opportunities for students.  We must also act with urgency to provide resources and supports to our schools and students who need them the most.