Ring the Bell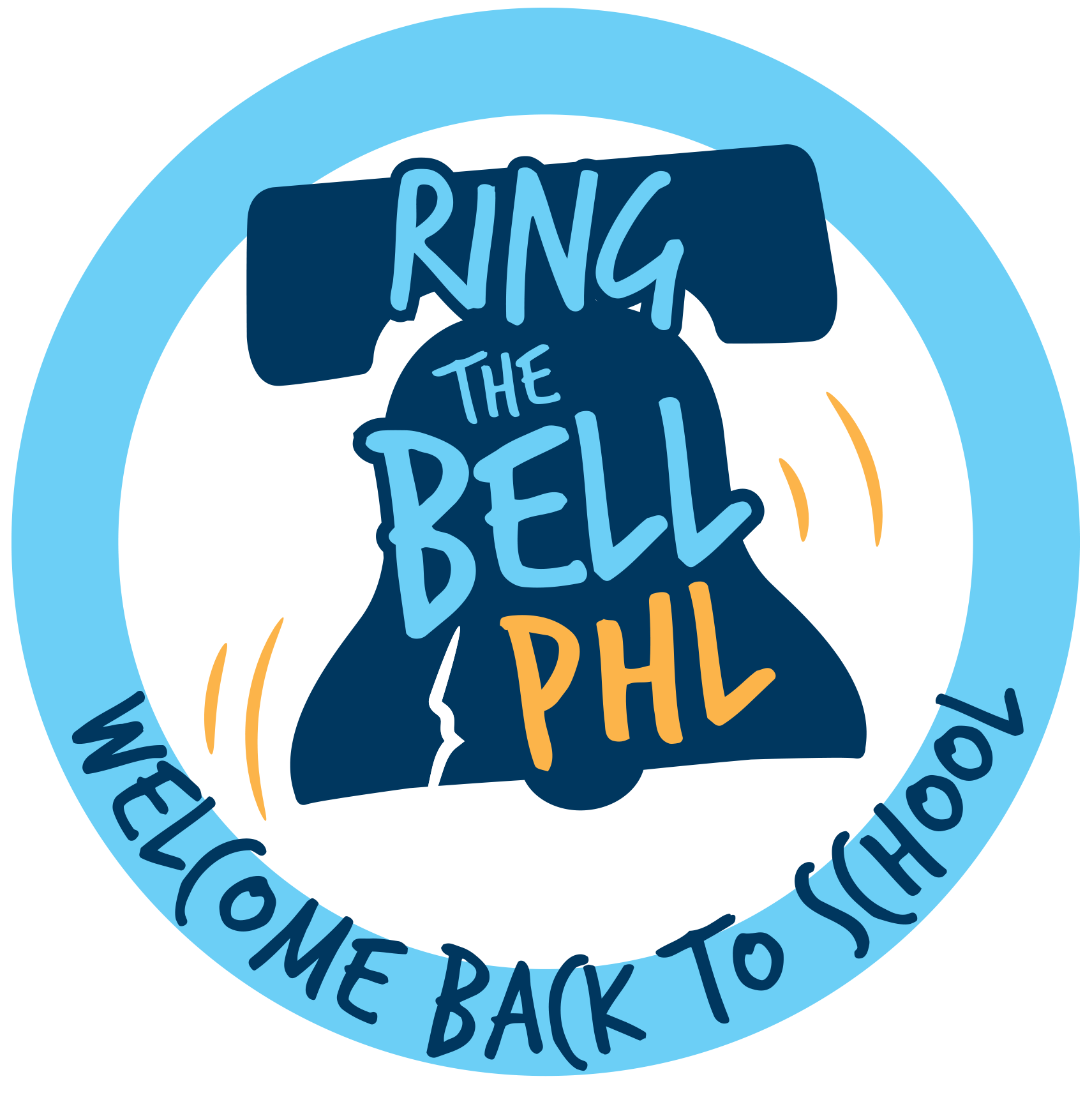 WELCOME BACK! SCHOOL STARTS TUESDAY AUGUST 31st!
We are excited to Ring the Bell on a full return to in-person learning starting on August 31st, the first day of school, with all PreK-12 students attending five days per week and receiving instruction from teachers in their enrolled school.
Information, updates and resources will continue to be added to this page as we approach the first day of school. Please visit this page often to see what's new!
2021-2022 School Year: What to Expect
The School District of Philadelphia is excited and ready to safely welcome all students back to school for in-person learning, some for the first time in more than 18 months. We believe that welcoming students back to our classrooms in person and surrounding them with caring educators and critical supports is the best way to help them heal, grow academically and re-engage in the learning and social environments that are critical to their development. (Subject to change based on COVID-19 conditions)
Learn More: SHQIP | عربي | 汉语 | ខ្មែរ  | Français | Português | Pусский | Español | Việt
First Day of School – Tuesday, August 31st for all grades
Learning Format – Full day, in-person instruction 5 days per week. Kindergarten will be dismissed 3 hours early from Aug 31 – Sept. 8 to accommodate kindergarten interviews. Schools closed Sept. 6 & 7
Attendance – All students are expected to attend class on time, every day.
Health Screening – Staff and families are asked to assess that they or their children are symptom-free before they come into schools and District offices.
Masks & Facial Coverings – Required for vaccinated and unvaccinated students and staff; provided by schools
Touchless Hand Sanitizer Stations –  Maintained in every school
COVID-19 Testing

Students: Testing available onsite for students who present with COVID-like symptoms during the day.
Staff: Continue testing every employee once a week; may adapt throughout the year.
Students & Staff: Individuals identified as close contacts with a positive case of COVID-19 must quarantine at home for 10 days. However, they may end quarantine after day 7 and return to work on day 8 if they remain asymptomatic and receive a negative COVID-19 test between days 5 and 7. Vaccinated, asymptomatic close contacts do not need to quarantine. Positive cases must isolate for at least 10 days.

Athletics/Performing Arts –Test to Play/Perform (grades 6 through 12): Athletes who play high risk sports and students participating in select performing arts (band and choir) will be tested 1-2 times a week. Vaccinated athletes/performing arts students may opt out of weekly testing with proof of vaccination.
Confirmed Positive COVID-19 Cases

Communication: impacted schools and families informed
Person Testing Positive: in-home isolation required for at least 10 days
Classrooms or School Closures: only if advised by the Philadelphia Department of Public Health
Continuity of Education – Students who are quarantining or isolating will receive instructional support while at home
Social Distancing – While 3 feet of distance will be encouraged where possible, the priority from both the CDC and PDPH is the full return of students with multiple layers of safety in place
Air & Surface Purifiers – In all instructional spaces, gyms, cafeterias and offices
Cleaning & Sanitizing – Schools cleaned and sanitized before Aug. 31st and throughout the day, every day after schools reopen
Student Supports

More supports to help students deal with trauma, transition back to a more structured school day and advance socially and academically
Starting the first day, all schools will focus on relationship building, and creating safe and welcoming school environments for everyone

Extra-curricular Activities & Sports –  All activities will return in person. Spectators limited to outdoor games only
Student Transportation – All school buses and vans cleaned between runs. SEPTA Student Fare Cards instead of Weekly Transpasses
Remote Learning Options – Offered through the School District of Philadelphia Virtual Academy. 100% independent learning. Deadline to enroll is August 13th. philasd.org/pva
School Uniforms – Questions about School Uniforms? Contact your school or click here!
Student Registration – Need to register for school? ALL GRADES can register using our easy online registration portal. Click HERE.
Health & Safety
Learn more about steps we are taking to support Healthy & Safe in-person learning.
We have also updated our health and safety protocols. To see them, visit our student health website HERE.
This dashboard includes information about COVID-19 testing and confirmed cases for SDP students and staff in 2021-22.
Air and surface purifiers
We are installing air and surface purifiers in every instructional space in every school. These state-of-the-art purifiers use NASA technology and dramatically reduce surface and air contaminants. Click here for more details.
Cleaning and sanitizing every school
We are cleaning walls, floors, furniture, doors, windows, bathrooms, fixtures and dispensers, railings, light switches and more in every school.
Testing hydration stations
We are testing the 1,070 touchless hydration stations in schools to be sure that they work and comply with safe drinking water regulations.
Maintaining touchless hand sanitizer stations
We are refilling stations and ensuring supplies are available at every school to support frequent handwashing.
Removing asbestos from schools
We have removed more than 20 miles of asbestos-containing materials from schools since last summer. Now we are removing more material from 35 schools with environmental and capital projects.
Investing more than $160 million to improve school buildings
We are replacing roofs, upgrading electrical systems, improving classrooms, replacing heating and ventilation systems, and more.
Why In-Person Learning Matters
At a time when students deserve a high-quality education more than ever, in-person learning matters most.
In-Person Learning Better Helps Children Form Healthy Connections with Others

There is a sense of community within a face-to-face classroom that just can't be recreated online.
Studies show that socializing and developing friendships helps children learn more about themselves, build empathy, and better handle stress.
"Connections formed through in-person interaction are crucial to the social and
emotional development of children. This especially applies to children with behavioral or other developmental needs." – Centers for Disease Control & Prevention

In-Person Learning Provides Greater Access to Resources – "Children get much more than academics at school. They also learn social and emotional skills, get healthy meals and exercise, mental health support and other services that cannot be easily replicated online." – American Academy of Pediatrics
In-Person Learning Provides Necessary Routines – Attending school in-person each day provides a daily routine and structure that helps students
In-Person Learning Better Supports Different Learning Styles – Being together in a classroom better enables teachers to guide students according to their unique learning styles and abilities.
NEW BELL SCHEDULE
One important change we are making together is phasing in a standardized approach to daily school start and end times District-wide. This year all bus schedules will be aligned with one of three uniform bell times, likely affecting your child's transportation and daily bell schedule.
BELL SCHEDULE FAQs
We know families have ongoing questions around the changes to the bell schedule. We will be adding additional FAQs as information becomes available.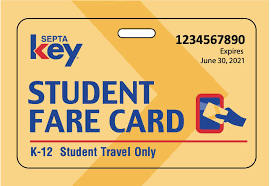 SEPTA is phasing out the weekly Transpass and replacing it with a SEPTA Student Fare Card for all eligible students.
What is it?
It is a reusable chipped card used by students to board a SEPTA trolley, bus, or subway. Unlike the disposable weekly Transpass, students will be able to use the SEPTA Student Fare Card for the entire school year.
Regular Fare Cards are free to District students. Cards can be upgraded to be used on Regional Rail for an additional fee.
Eligible students will receive their Fare Card on the first day of school (all SEPTA buses, trains trolleys and subways will be free to students on the first day of school).
The Office of School Climate & Culture supports positive, equitable learning environments in which all students can experience belonging and fully engage with academic and social-emotional learning.