Class of 2020 Senior Stories: Faheemah Russell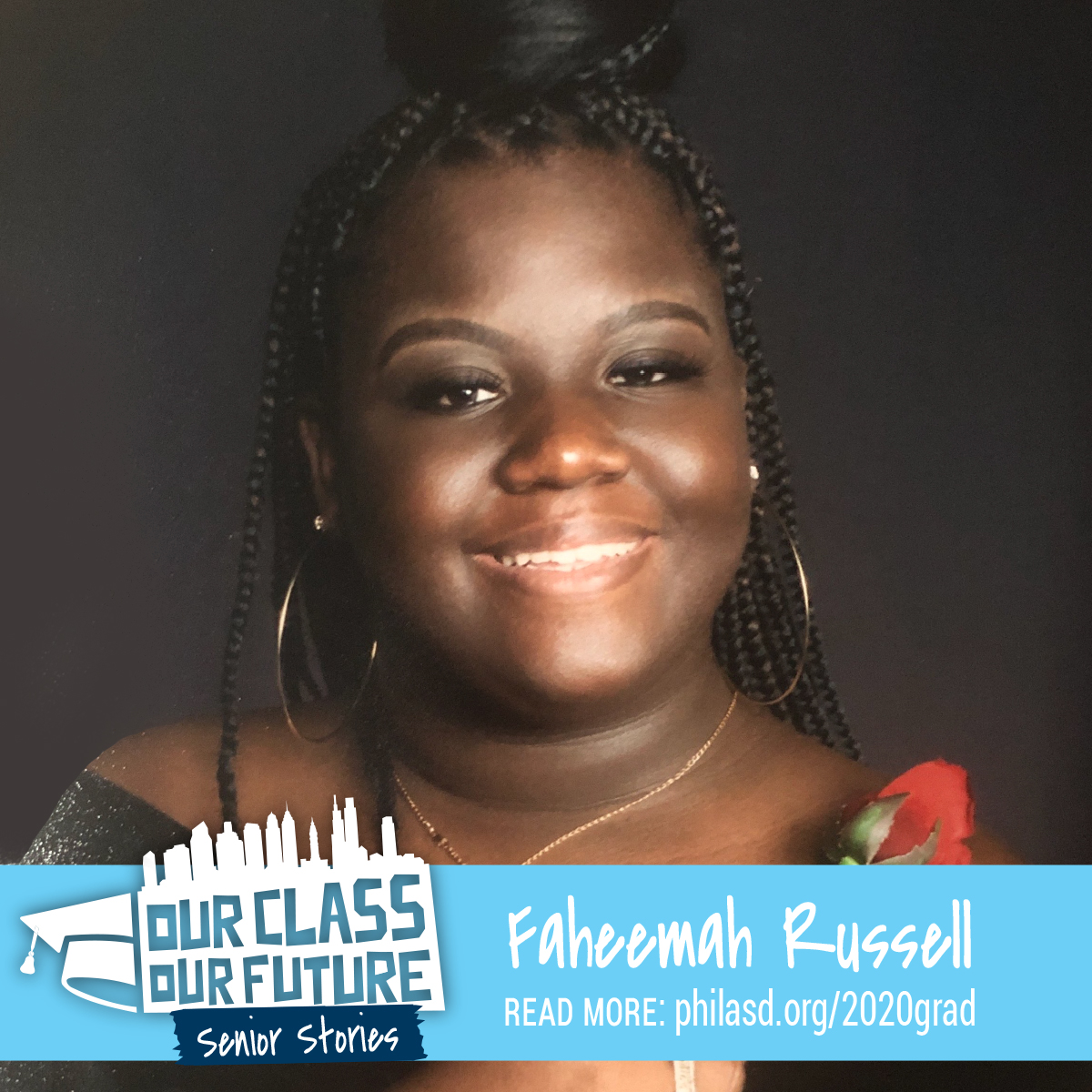 School: Parkway Center City Middle College High School
Nominated By: Michelle Ludlow – School Counselor
"Do you know who I am?!" exclaimed Faheemah Russell, as we discussed why graduation means so much to her – her passion and pride emanating through Zoom. "Do you know who I am?" is the phrase she wishes that she could scream from the graduation stage as she picks up her diploma and flips her tassel. Instead, graduation will be virtual. And though Faheemah might not be able to tell her story in person, we are happy to act as her bullhorn. We want you all to know Faheemah Russell.
As a freshman, Faheemah was a pedestrian victim of a car crash. She suffered physical injuries from head to toe, as well as internal injuries and severe brain damage. That she survived the crash is a miracle. She remained in a coma for two weeks. When she awoke, the doctors said she would no longer be able to perform high school level math. That was just the beginning – she had five months of physical and mental rehabilitation ahead of her. She couldn't walk, talk or eat solid food. All signs pointed to a very long and difficult road to graduation with the possibility of it not happening at all. But Faheemah faithfully believes in miracles.
"My great-grandmother prayed over me non-stop during the coma and recovery," said Faheemah. "That prayer, my parents and my 6 siblings coming together to support me, gave me the motivation I needed to prove the doctors wrong and come back stronger." With the help of her siblings, parents, attentive doctors and caring teachers and counselors at Parkway Center City, Faheemah did come back stronger. In June, she'll be graduating with a higher G.P.A. than anyone predicted. She's been accepted to twelve colleges and will be studying Criminal Justice before moving on to law school.
Faheemah not only credits her family, but also her IEP Case Manager Ms. McLendon, Special Education 1:1 Ms. Sheila, her two counselors Ms. Racca and Ms. Ludlow for her preparation for and success in getting into college. "I got really close to my counselors, especially when I started the college process because I really needed help," Faheemah said. "But they've all been by my side the entire time, giving me advice and shoulders to cry on. I can ask them anything or call them anytime and they will respond."
When asked about how she hopes her story will impact other people, Faheemah says she hopes to be an example to her siblings and classmates. She wants them to know that nothing can stop them unless they let it. Work hard, focus, get good grades, and you can overcome anything and accomplish whatever you want. She added though, the importance of confidence. To her younger siblings and classmates, she says "Be who you are today, so you can be who want to become tomorrow! There's a lot of people who try so hard to be someone else. It's worth being yourself now, so you don't waste time trying to find yourself when you're older. You can focus on what you want to be!"
Now you know Faheemah Russell! Congratulations on your graduation Faheemah!