Class of 2020 Senior Stories: Naderia Johns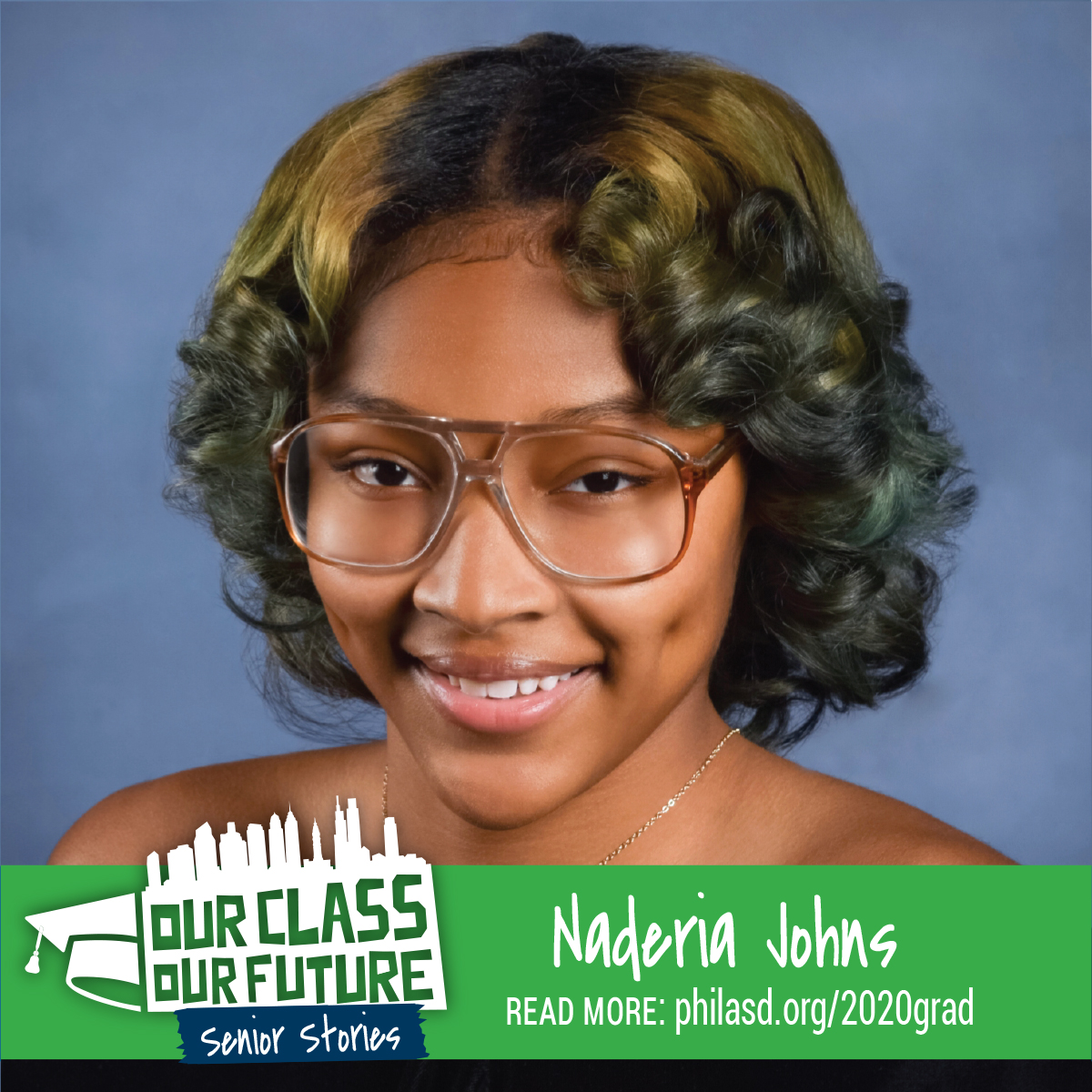 School: West Philadelphia High School
Nominated By: Crystal Little – School Counselor
Some strength is derived from outside circumstances, while some is innate. The strength that Naderia Johns has displayed through her high school years – derived from life's circumstance and from within – might put her in Wonder Woman's league. Naderia has had to rely on that innate strength for a while now. Her large family – Naderia is the youngest of 10 – shrunk by two after both her parents passed away several years ago. Since, she's been living with one of her older sisters while she finishes high school and competes competitively on both the track and basketball teams at WPHS. She credits sports and her coaches, particularly her head basketball coach, Frank Steed, for helping her get through everything. "Since I came into West Philly High in 9th grade, they helped me through everything," she said. "If I didn't have them I don't know where I'd be, honestly."
As Naderia explained everything she'd been through in high school, it was hard to believe she's also accomplished so much. She's a decorated student-athlete who, against all odds, has excelled at nearly everything she's attempted. She believes that she was nominated because she has displayed an incredible strength to fight through the pain, anxiety, depression, and against the naysayers who didn't believe she would make it. But Naderia understands that for every naysayer, there was a person standing next to her, supporting her and walking through life with her. Those people include Coach Steed, and her nominator Crystal Little. Those same people are counted among the external factors from where Naderia derived some of her strength. They provided her basic needs when she couldn't get them, and even offered their homes when Naderia didn't have one.
She plans to stay in touch with all of them when she goes to college at Mary Baldwin in West Virginia. She'll need their advice, love and support because she'll  be playing basketball and running for the track team, while majoring in criminal justice and maintaining her obligations to the Virginia Women's Institute for Leadership (VWIL) – the Nation's only all-women cadet corps. Sounds like a lot – but it's not much to Naderia. "I've been through a lot of stuff by myself," Naderia explained. "My story is strong and most don't even understand how I got through it. But I fought through it and kept up with my sports. And I've got something to prove."
As if she hasn't proven herself enough already, she'll have a chance to continue proving herself both in class and on the court – in a place she's never been (she's never visited anywhere outside of Philly) and with blessings she never expected (she continues to receive academic scholarship offers and awards). Naderia is not nervous about the challenges, she's used to those.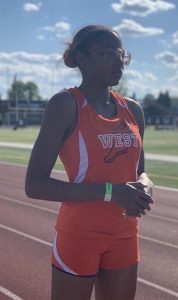 For now, she expresses deep gratefulness to the adults at her high school for never giving up on her, for continuing to push her forward, and for being her biggest supporters. "It was hard for me being the youngest kid out of 10 and not having anybody to go to. Sometimes I would have breakdowns and be scared to even explain what I'm going through," she said. "My teachers, counselors and coaches always had my back. No matter what I needed, they went above and beyond to help me."
Naderia wants to remind her peers to never, ever give up and never be afraid to ask for help. Don't freeze, keep pushing, find people who support you and believe in yourself.
Naderia, your strength is inspiring, we can't wait to see you shine! Congratulations on your graduation!