Class of 2020 Senior Stories: Izaz Mahmud

School: Widener Memorial School
Nominated By: Joseph Brazino and Aimee McCann – Teachers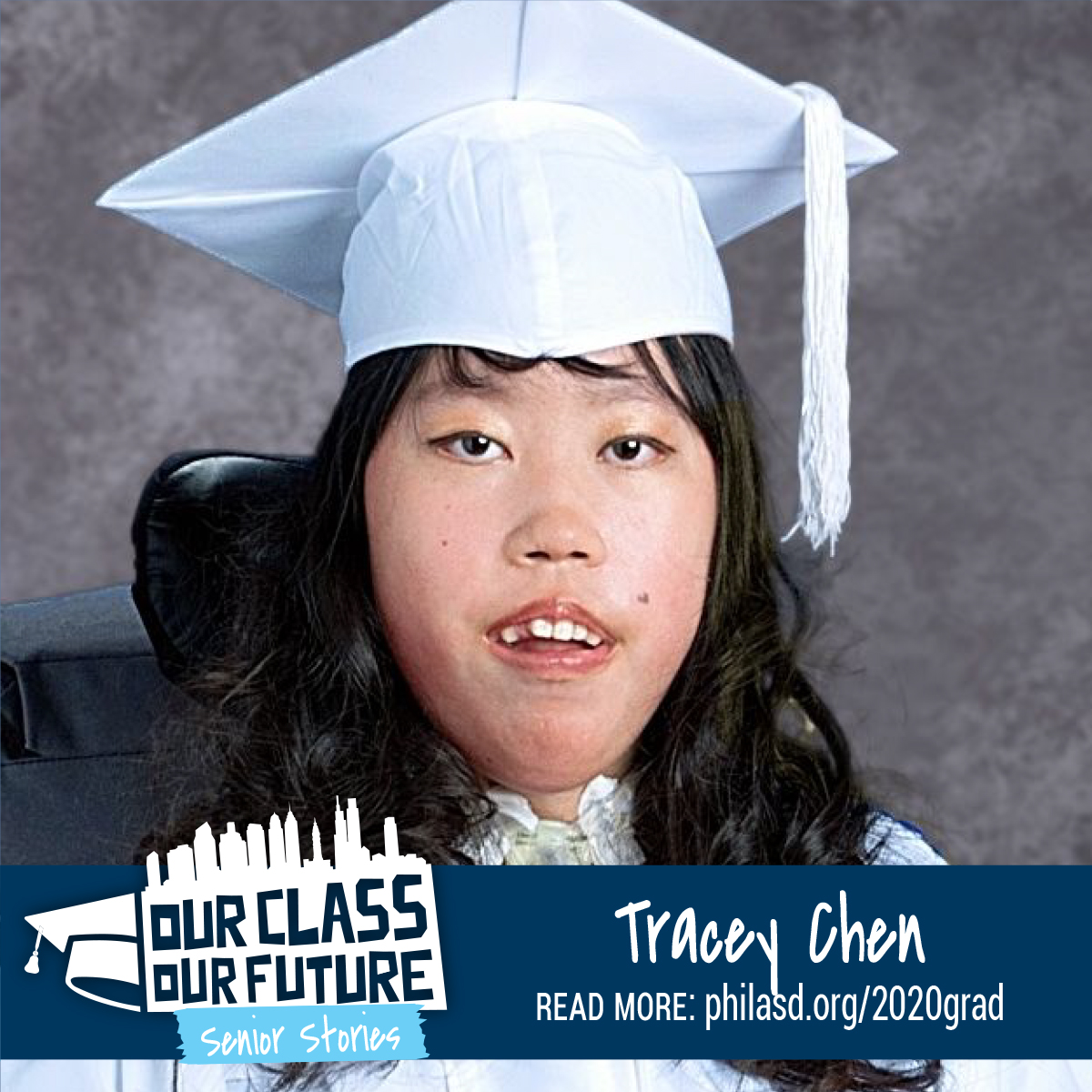 Tracy Chen has always had to work harder than the average kid. She was born with a neuromuscular disorder, and needs a ventilator to help her breathe and a power wheelchair to help her get around. She's lived in a group home since she was born, along with five other kids who need nursing care. Her family visits every Sunday, and she enjoys simple pleasures like playing games with her brothers and sitting outside when the weather permits.
She's never let her physical challenges stand in the way of her pursuing a complete high school experience, and that's exactly why her homeroom, Math and English teacher, Mr. Brazino, nominated her. He commends Tracy for being a hard worker who, despite her health challenges, gets her work done while also participating in activities like ballroom dancing and student government. She's never let her condition steal her joy — which she finds in good music, creative videos and art projects. She also takes piano lessons and had a successful recital two years ago.
Her long-time nurse, Margaret McKelvey, affirms that Tracy is very resilient and determined, always pushing herself to be the best she can be and never giving herself enough credit for her hard work, commitment and optimism. Ms. McKelvey enthusiastically explained how hard Tracy works to learn about her own care, and then takes what she learns and teaches the other kids in the group home in a big-sisterly fashion.
Tracy has a lot to look forward to. In the fall, she and her family will be moving into a house built specifically to accommodate her needs. She's also looking forward to deciding between an extra year at Widener to do job or college training, or jumping right into college to study cosmetology. But first, she gets to graduate. "Graduation is special because I feel that I accomplished something important," says Tracy. "I feel like I had some challenges when I started high school but I think I have been successful thanks to the help of my teachers."
As she leaves her younger classmates, Tracy encourages them to always try their best, "even if you're different and it means you have to work a little harder." She also thanks Mr. Branzino and the rest of her teachers at Widener for recognizing her potential and supporting her throughout high school. "We're all just really very proud of her and all she's accomplished." said Ms. McKelvey. "A lot of us have taken care of her for years and we aren't surprised."
Congratulations on your graduation Tracy!