Class of 2020 Senior Stories: Zanett Davila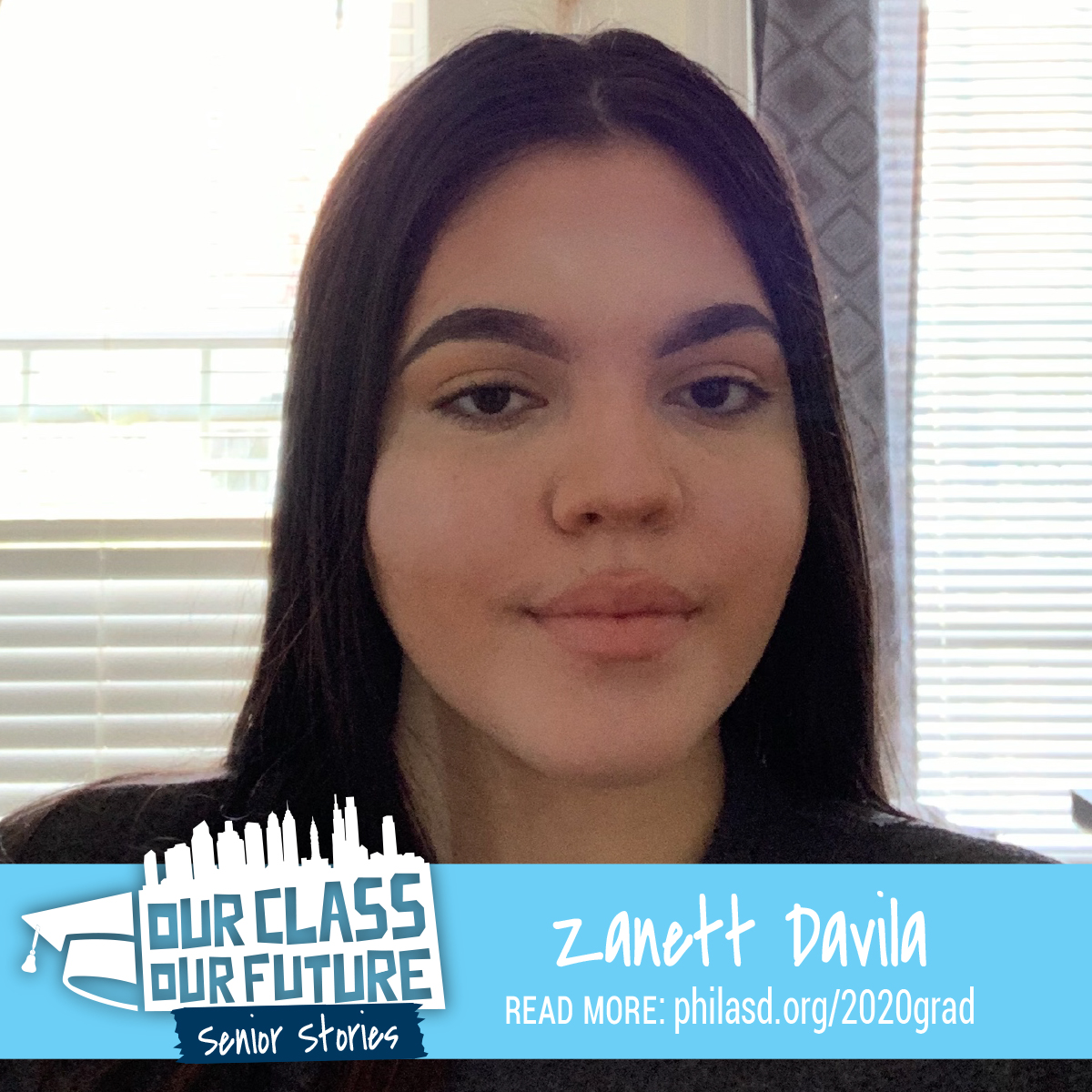 School: Philadelphia Military Academy
Nominated By: Kalomo Vanterpool – School Counselor
A typical conversation with Zanett Davila would not reveal that she is a senior in high school. She possesses wisdom and boldness that belies her age, and has a clear vision for her future that many parents would love to see in their own children! She is motivated to work hard, determined to take advantage of all possible opportunities, and diligent enough to consider all options in order to choose a career that will take her down the path she envisions.
Zanett is familiar with struggle, so she's determined to create a successful life and be able to provide for her family. Daily, she sees how exhaustively her father — an immigrant from Puerto Rico who did not graduate high school — and her mother, who holds two jobs, work to care for her and her siblings. The gratitude that their grit has inspired serves as extra motivation.
Not only does Zanett want to be personally successful, she wants to see our world be successful as well. She wants to attend medical school but first she's interested in a degree in Environmental Science. Her time in science classes at Community College of Philadelphia showed her the importance of taking care of the planet. "Environmental Science that has changed my view on everything. It has really opened my eyes to things happening in the world today, and changed my lifestyle completely. Now I try to be more sustainable, and I realize that we have to take pollution down a notch," she said. "No only that, but medical schools like students who understand how these environmental issues connect to illnesses and conditions and medicinal alternatives."
Another way Zanett is pursuing success? Not letting her physical environment define her. The Kensington neighborhood, where Zanett and her family live can be tough. She feels that it lacks inspirational dreamers and role models to look up to. "You don't see a lot of doctors around here – just the ambulances that come for overdoses." So she takes it upon herself to seek out role models, examples and positive experiences. "I've taken some internships to expose myself to different careers." She also loves talking with her co-workers at the National Constitution Center. "At the Center there are a lot of people who have done a lot of different things throughout their careers and lives – some were lawyers, some were doctors, it's very diverse. I like to talk to them and hear their stories."
Growing up in a low-income family, college didn't always seem like it was in the cards. To add to that, she didn't get a lot of support from her peers — many of them told her she wasn't going to amount to much. But she's found valuable friends and mentors in the adults at Philadelphia Military Academy who have pushed her towards success. They encouraged her to participate in the CCP program even though she felt initially that she wasn't a perfect fit. She's grateful to have been given the chance, and hopes that others like her can be given the same.
To her fellow classmates, she gives some simple advice: "Stop playing! Stop taking everything for granted. Don't complain about the work — one day it's going to pay off! More options will be available to you if you are determined. If you're not determined in school then what are you determined about?"
Zanett we aren't worried about your determination! We wish you luck in your studies to save the planet and the lives of your future patients. Congratulations on your graduation!