Francis Hopkinson School Receives Philadelphia Eagles Hometown Grant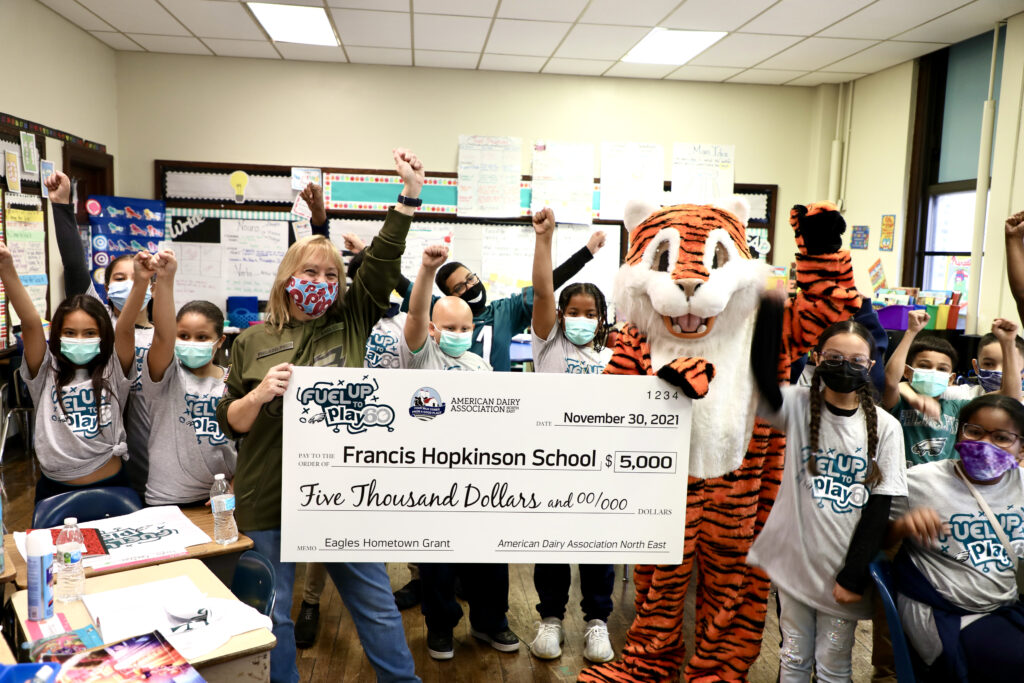 Francis Hopkinson School Receives Philadelphia Eagles Hometown Grant
PHILADELPHIA, PA — Yesterday, the Philadelphia Eagles, in partnership with American Dairy Association North East, awarded the Francis Hopkinson School with an NFL Hometown Grant. The Philadelphia Eagles hosted a virtual pep rally, educating students on the importance of healthy eating and living an active lifestyle through physical challenges, player features and Q&A.
Philadelphia Eagles safety Anthony Harris and  Eagles Cheerleader Corinne and Eagles Cheerleader Ariana joined mascot SWOOP and the Hopkinson Eagle to participate in activities with third through sixth-grade students. Students received Philadelphia Eagles t-shirts and swag.
"On behalf of the Francis Hopkinson School, I would like to thank the Philadelphia Eagles and American Dairy Association North East for their generous donation to our school," said Francis Hopkinson School principal Margaret Shriver. "We know that healthy eating habits and lifestyles play an important role in student success, and the Philadelphia Eagles are helping to champion this for our students."
Following the pep rally, the school was presented with a $5,000 Hometown Grant. The School will use the grant to purchase a new refrigerator, leakproof breakfast bags for breakfast in the classroom and gym equipment.
"We would like to congratulate Principal Shriver and the Francis Hopkinson School on this well-deserved honor," said Julie Hirshey, Vice President of Community Relations, Philadelphia Eagles. "Through their participation in the Fuel Up to Play 60 program, the students and faculty have clearly demonstrated their commitment to living a healthy lifestyle by maintaining a balanced diet and being physically active. On behalf of American Dairy Association North East, we are proud to present the Francis Hopkinson School with an NFL Hometown Grant."
Fuel Up to Play 60 was created by the National Football League and National Dairy Council, along with America's dairy farmers. It is the largest in-school health and wellness program, empowering students, educators and parents to work together to build healthier schools and communities. The program encourages youth to get active for at least 60 minutes a day and to eat nutritious foods – including dairy, fruits, veggies, and whole grains.