William Rowen School Opens New STEAM Lab focused on Quantum Information Science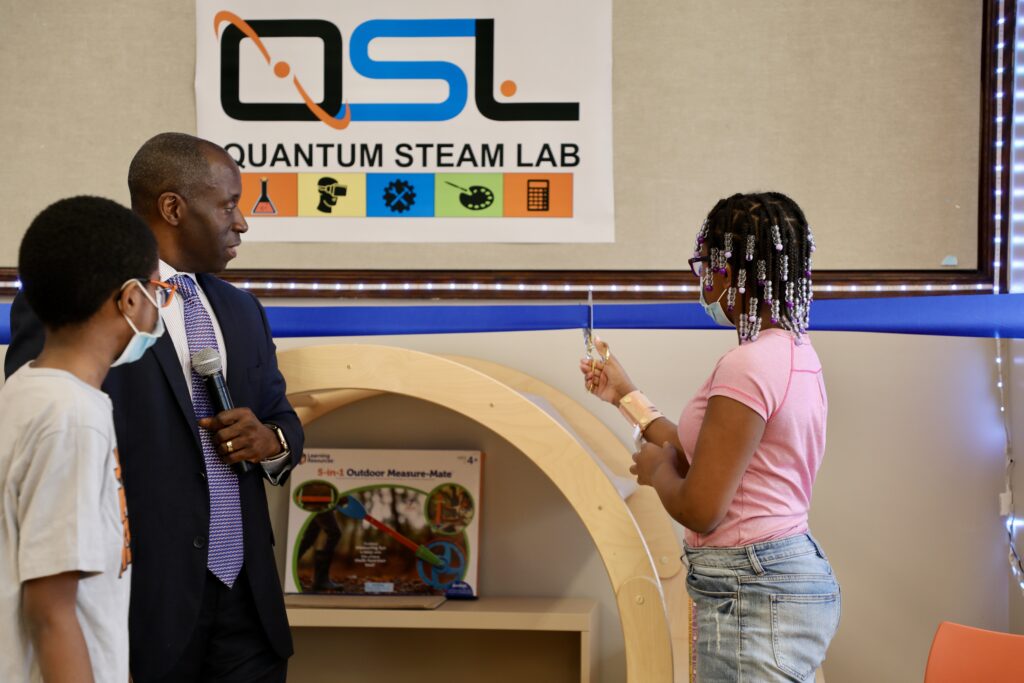 The William Rowen School brought its students one step closer to preparing them to be leaders in the growing quantum workforce.
Through a special dedication ceremony on Thursday for its new Quantum STEAM Lab (QSL), the Rowen School announced its new partnership with Howard University's Quantum Biology Laboratory and Awbury Arboretum to expose students to immersive learning experiences in both quantum biology and food science.
"We are excited for these new partnerships that have helped us to launch the Quantum STEAM Lab, the first step toward a nationwide school movement integrating immersive learning experiences and cutting-edge science," said James Murray, Ph.D., principal of William Rowen School. "It is my passion to see children of color have access to future college and career goals in quantum physics. If we are going to encourage this type of growth, it needs to start at the elementary level."
Rowen's new QSL will host two new curricula. The first is in partnership with Howard University's Quantum Biology Laboratory (QBL), utilizing Howard University's physicists to serve as expert consultants and provide Rowen students with early exposure to ​​quantum science education. Through a second partnership with Awbury Arboretum, the room will also host a food science curriculum to teach students about the earth's natural resources and how these resources support life in all its forms. The food and science work will be incorporated into an after-school program, which will include planting food gardens around the school.
"The dedication of the Quantum STEAM Lab marks the coming into fruition of a dream, one held since my time as a math teacher in North Philadelphia and now carried as a physicist orchestrating international teams of researchers," said Philip Kurian, Ph.D., principal investigator and founding director of the QBL. "Howard University's support of the quantum sciences and the Quantum Biology Lab has been a catalyst for this transformative impact on K-12 students. We eagerly await the harvest to come, from our young colleagues at William Rowen."
"Preparing our future leaders to manage our natural resources and agricultural assets is imperative for a healthy society," said Heather Zimmerman, Executive Director at Awbury Arboretum. "Connecting and empowering youth with the knowledge of our food systems and the beauty of the Earth will help to support their health and the health of our planet. We look forward to our continued collaboration with Rowen Elementary School and applaud the leadership of Dr. Murray for all he does for his students and our community."
Quantum information science is one of 10 priority areas promoted by the National Science Foundation that will revolutionize life, work and thought in the years to come. As a strategy for creating a quantum-smart workforce, the National Strategic Overview calls for quantum science education at an early stage, including elementary schools. Rowen students will learn about light as waves or particles, atomic particles including quarks, the double-slit experiment, Schrödinger's cat, quantum entanglement, and more.
This room was supported through the Christian R. and Mary F. Lindback Foundation of Philadelphia. In 2020, Rowen School principal Dr. James Murray was awarded the Christian R. and Mary F. Lindback Award for Distinguished Principals, which includes a $20,000 stipend for the school community. The stipend was used to fund 3D printers, 3D scanners, virtual reality headsets and a green room, which will all be in the new QSL.
For the 2021-2022 year, the Lindback Foundation will award 60 distinguished teachers and seven principals from Philadelphia public schools who demonstrate excellence in promoting learning at the highest levels. The teacher award recipients will be chosen based on their activities that improve the intellectual and character development of students. Teacher Nominations are due March 14, 2022.