George Washington High School's Competitive Cheer Makes History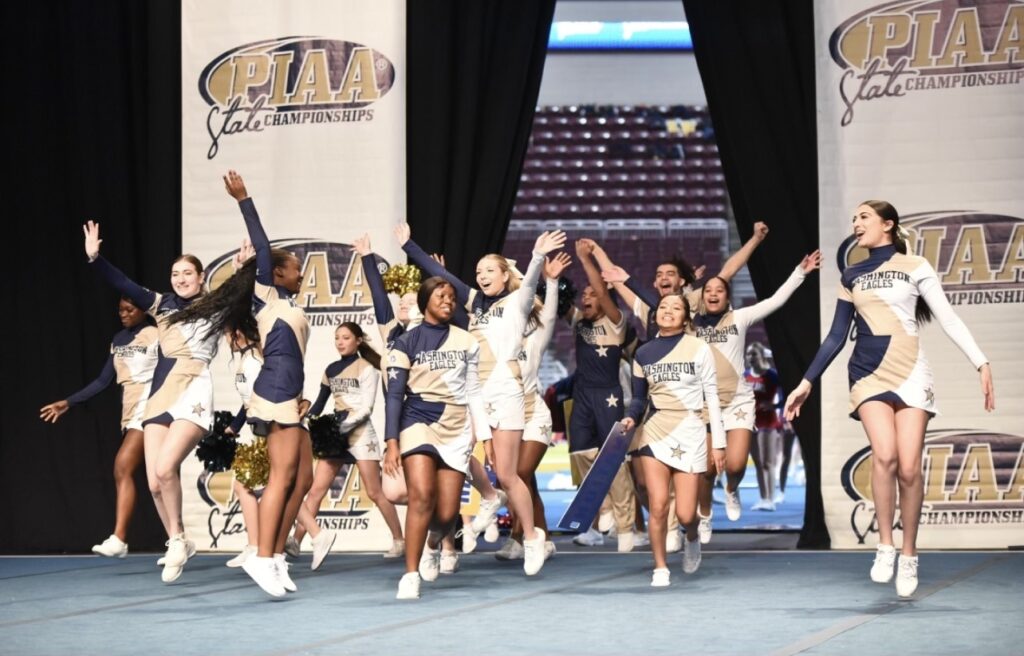 George Washington High School's (GWHS) Competitive Cheer team is making history, becoming the first team in the School District of Philadelphia to make it to National Cheerleaders Association (NCA) High School Nationals, the largest all star cheerleading competition in the world.
Three-time reigning Pennsylvania Interscholastic Athletic Association District XII Public League Champions in the Co-Ed Division and four-time Competitive Spirit State Qualifiers, the GWHS competitive cheer team made history this Winter as the first team from the District to be named PIAA State Semi-Finalists in the Co-Ed Division.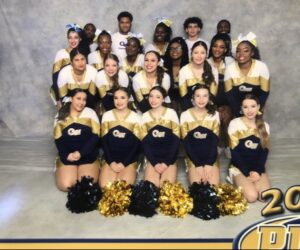 "That's where the Varsity representatives came to us and said, 'Who is George Washington and where have you been? Why haven't you been in the national circuit?' That's when Veronica and I realized it was time to take it to the next level," said Michele Socki, co-cheer coach and math teacher at GWHS. "This opportunity isn't about just setting it up for George Washington, it's about setting up the opportunity for all teams in the Philadelphia Public League to be able to go."
A proud graduate of George Washington High School's Class of 1999, Socki is in her twentieth year coaching, her sixth year coaching competitive cheer at GW.
"To see that Veronica and I have taken a sideline cheer team into something that has grown so much in a short amount of time is just an amazing feeling," she said. "To give kids the opportunity to compete on a national level and be recognized is so meaningful for us."
For students, the feeling is mutual.
"Our whole team is so excited for this, it's something we are really looking forward to," said Adamaris Lopez, a senior cheer captain at GWHS. "We are really looking forward to showing the world the work we've put into this and inspiring other schools to go out and make history themselves."
"For me this is very exciting," said Irsida Kola, a senior cheer captain at GWHS. "We went from doing sideline cheers for football to having the opportunity to perform on the national level and have our community stand behind us with their support and encouragement as the first team in the Public League to attend Nationals. It's very exciting, it's a great opportunity."
NCA High School Nationals will take place in Dallas, Texas in January 2023. Students are currently fundraising to support their trip, aiming to raise nearly $30,000 by November for accommodations and registrations.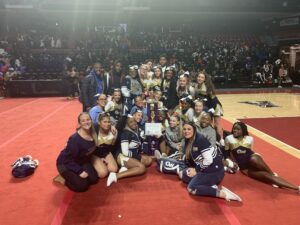 Individuals can support students with a gift in any amount through the Fund for the School District of Philadelphia. The team will also host a fundraising event on September 7 at Chipotle located on 9173 Roosevelt Blvd. Families who go from 5 p.m. until 9 p.m. and mention George Washington will have a portion of their proceeds go back to the school. The team will also be participating at CHOP's 21st Annual Buddy Walk, an event supporting individuals with Down syndrome, on October 9.
"Just to put George Washington on the Board like this, it's just extremely rewarding already," said Veronica Hayes, co-cheer coach and a health and physical education teacher at George Washington. "People need to see the School District of Philadelphia and all of its amazing students for what it is – this school, this team, they deserve to be put into the spotlight like this."