February Senior of the Month – Dave Barnes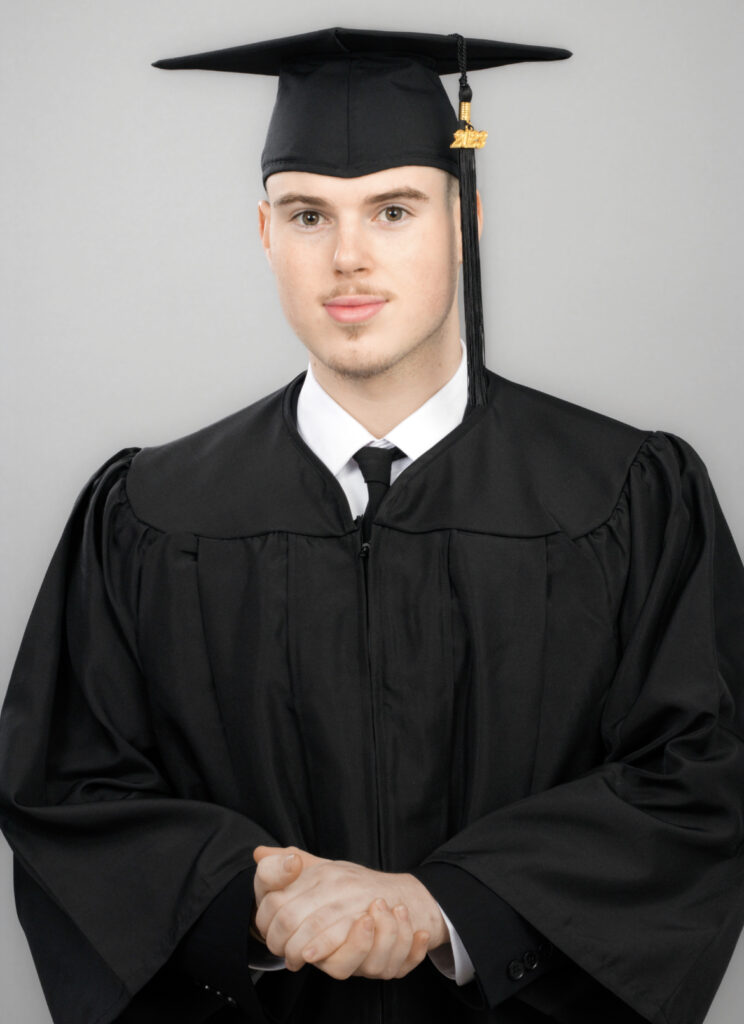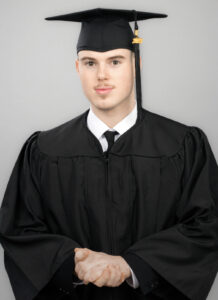 Dave's story is one of exceptional resilience. At every turn, he has consistently overcome continual personal challenges with determination and perseverance. And through it all, Dave remains incredibly positive and dedicated to his studies, his family and his future.
Dave grew up in his grandmother's home in southwest Philadelphia, in a neighborhood he describes as hard and rough. He knew school was part of the path out to better things and took school seriously. As the oldest of five, he carries the responsibility level of an adult when it comes to taking care of his brothers and sisters. "One of the most important things to me is taking care of them; making sure they're 'good'." He also takes care of his grandmother, and to a degree, his cousins, as many of the other adults in the family simply aren't available to help. He accepts this with a simple "It's family though, right? That's what you do."
Earning his high school diploma has been a long road filled with detours. Things got off to a shaky start in 9th grade; he was only a few days into his first week of high school when his father died. Dave struggled through the rest of that school year. He repeated 9th grade, and did much better, but had a dip again in 10th grade due to depression and the pressure to work to support himself. He left school, and his grandmother's house, which led to a period of housing instability, couch-surfing with various friends. He initially found CCP through a mentor from a landscaping job, but when COVID hit, he lost momentum and disengaged.
It was at this time, while he was working in construction, that he was told he would need a high school diploma to continue working. He turned again to his mentor, who he credits with being there. His mentor gave him a place to live and helped him re-engage with school, and Dave has maintained Honor Roll ever since. He considers himself very fortunate to have had the opportunity to come back to CCP, even after struggling initially. When he graduates, he'll be the first in his family to achieve a high school diploma.
CCP's program allows students to graduate high school plus start to accumulate college credit. From the get-go, Dave enjoyed the college coursework. "I liked my classes – especially Criminal Justice and Sociology. I enjoy learning about the way the world works; why we do things the way we do. It makes you think and I like that. I love learning, furthering my mind – I think it's the best thing you can do. That's why I'm excited to keep going."
He's interested in Temple University, and Florida State University (he lived there when he was younger), but his dream school is NYU. "I love New York. There were so many people, so much energy, so much life; everyone was smiling. It felt totally different. I liked the vibe." His current thoughts on a major include Criminal Justice, but he has a hard time making his mind up as he's interested in so many things. "I know I want to help people; I think that's my purpose here. And, I want to travel. You only get one life here and I want to do everything!"
1. What does being named Student of the Month mean to you?
It means I'm being noticed in a positive way. I work really hard at a lot of different things and for someone to notice me, how hard I really am working…I really appreciate it. It means I'm proving everyone who doubted me wrong; everyone who thought I would amount to nothing. It's one more step to achievement, to becoming everything I want to be, to be successful. It shows I'm doing everything I'm supposed to be doing.
2. Why do you think you were chosen for Student of the Month?
I think I was picked because I didn't give up when times got tough, academically and personally. I stayed strong and kept fighting for everything I wanted and I think people admire that. I beat the odds and the way my cards were dealt, I was never supposed to win.
3. You were nominated by the Director of your program, Ms. Monifa Young. Why do you think she nominated you?
Ms. Monifa and I grew up in the same neighborhood. So I feel like she already knows the struggle – she's seen first-hand how hard it can be to live in, and get out of, that environment. She also knows my background history and how far I've come. So I feel like she saw it build, and it made her really proud. I think that's why she nominated me.
Ms. Monifa added: "I just think he's the epitome of overcoming barriers and a testament to why programs like ours work. When he came back, we had a real conversation about this being his last opportunity, and so for him to come back after being off track, coming back and getting straight A's, that was confirmation for us why we need to give kids another chance. His first pass through here wasn't a demonstration of his true potential; he was struggling with housing insecurity, lack of family support, responsibility for his siblings, a history of bullying – most 17-year olds only have one of those challenges. I'm just so impressed with his ability to overcome those barriers and not just survive, but thrive in our program."
4. What is the one thing you'd like to share about yourself that most people don't know about you?
I'd like to save the world, one person at a time. If I were rich I'd build homes for the homeless, I'd give back to all the poor communities that don't have much, and help the kids who are like me who have the ability to be great but don't have the ability.
5. What do you enjoy most when you're not at school?
I love working out and listening to music and zoning out for a little. I like hanging out with my friends and taking a break from thinking about stuff; just laughing and having fun. I like working hard and making money – it's a good feeling earning that check and then being able to do what I want with it. I've always worked – since I was 13 years old, I've bought all my own school supplies.
6. In your opinion, what is the best thing about attending school at CCP?
The best thing is getting to learn – I like to learn something new every day. And you get to work with people and meet new people that might be able to relate to you. Everyone at Gateway and senior Seminar are all really great. Relatable, nice.
7. What is one way the School District can improve service to our students?
They can improve the way they support programs and shine more light and show more appreciation on things like the Gateway program which practically saved my life. If it weren't for the staff and program here… I would be completely lost. They are saving and helping and guiding so many young students like myself to become something and have a future none of us could have imagined. It's literally beyond words how much they're helping people here. They're saving people.
Dave, congratulations again. With your dedication and determination, we know you'll be successful wherever you go next!