March Senior of the Month-Stephen Lawson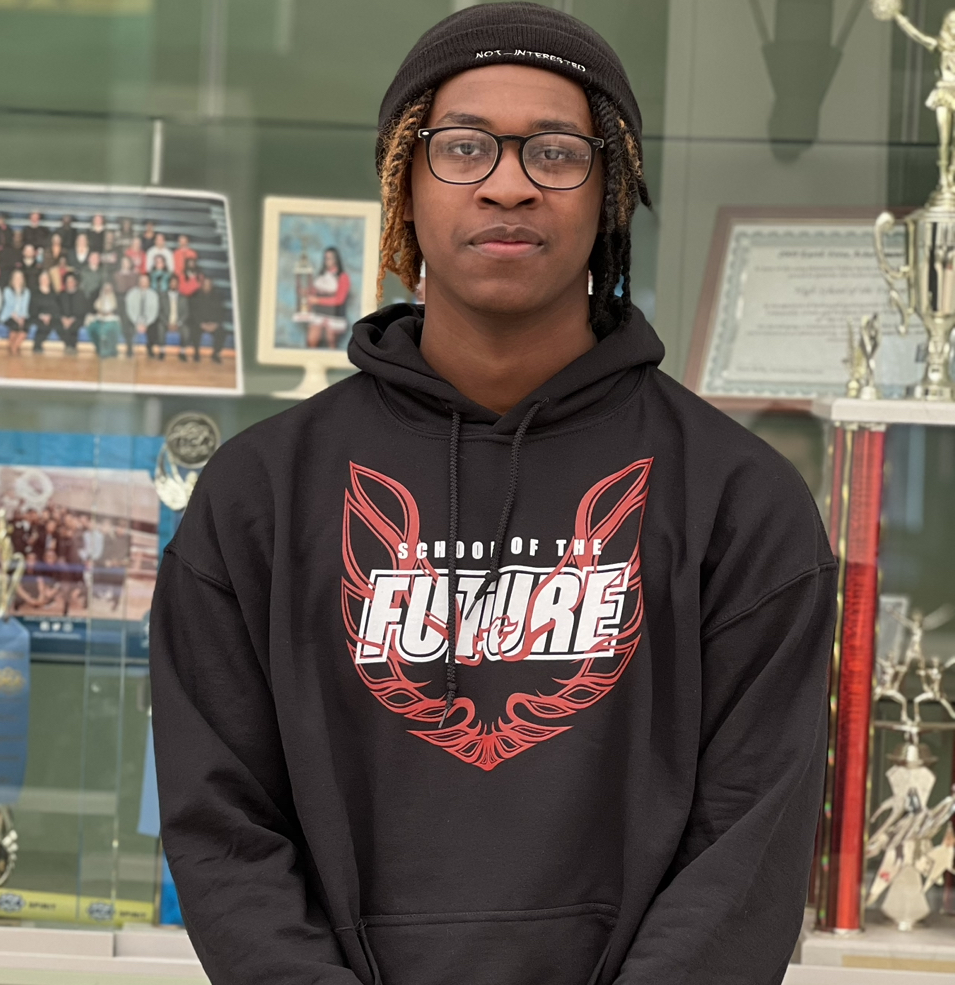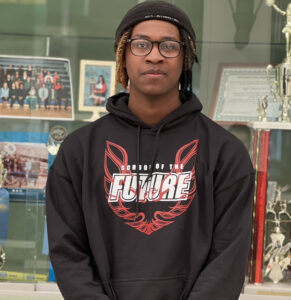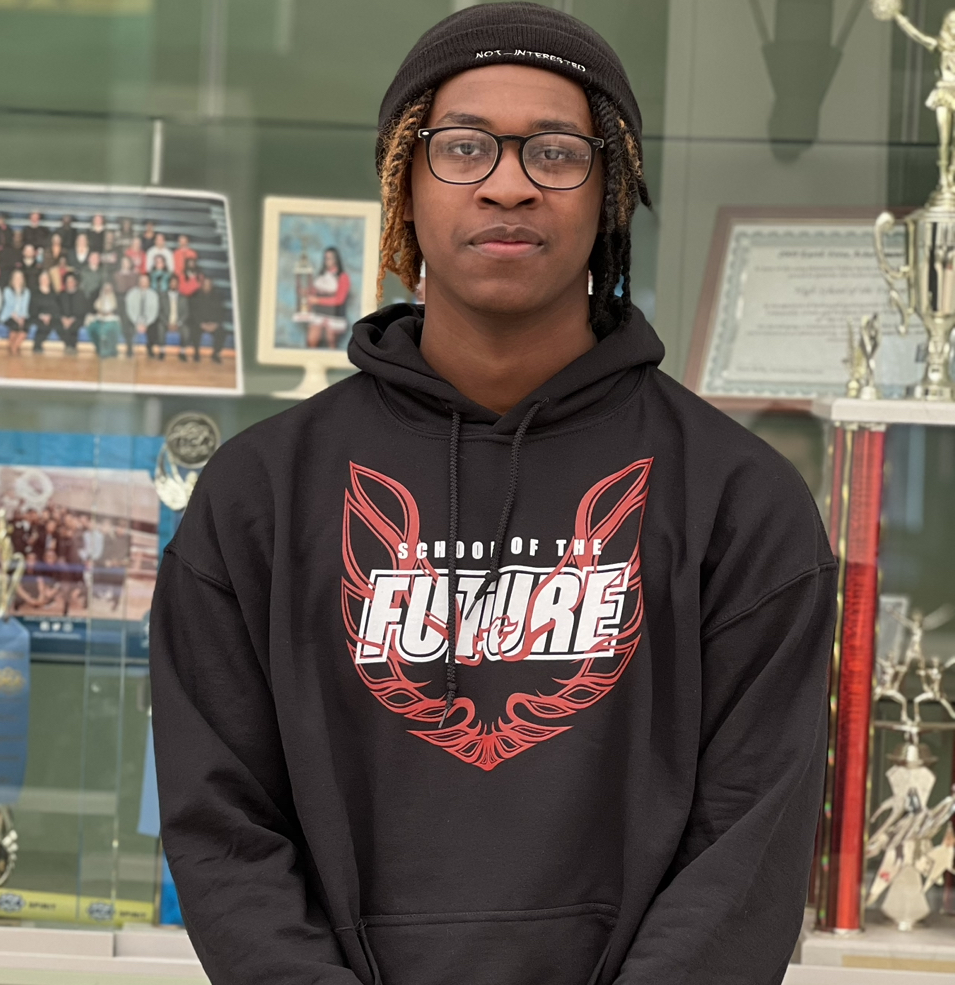 Congratulations to Stephen Lawson, a senior at School of the Future. A seemingly humble and quiet young man, Stephen Lawson is grateful for his nomination. His demeanor is polite and respectful.
A Philadelphia native, Stephen has lived in Philadelphia and surrounding areas most of his life. Stephen finally settled in North Philadelphia along with his 3 siblings, after his mother's recent marriage.
Stephen was nominated by the 9th-grade Principal at Future, Thomas Murtaugh. According to Murtaugh, "Stephen Lawson is one of the most original students at School of the Future. He is extremely comfortable in his own skin." A self-described Harry Potter nerd, he looks forward to continued publishings and films in the Harry Potter universe. Stephen is quite a businessman as he's been investing in the stock market for the past year. He continues to do Warren Buffet-style stock picking; analyzing PE ratios, etc. He is also a dual varsity student-athlete in bowling and volleyball where he will be returning as captain this spring.
Although Stephen has a lot on his plate, he still finds time to assist and tutor other students. "I don't want anyone to go through what I had to go through in 10th grade. The first half of the year was painful and stressful," said Lawson. Speaking about the pandemic, Stephen admits to having a hard time with the transition from in-person classroom learning to virtual. "During the pandemic, 10th grade was all virtual. It was harder than usual because it was virtual. The transition of being in the 9th grade and then we had to just leave. It was a struggle because I didn't have the help that I needed at the time – until my mom helped me. My mom had to drop some work to help me. I ended up getting straight A's. It all worked out in the end."
Growing up, Stephan has always been a role model, particularly in middle school. "I always got straight A's, consistently came to school on time, and was always prepared to do what I had to do to get to where I am now." He credits his mother for teaching him core values and instilling the drive in him to succeed. "My mom taught me: don't give up too soon. That's just wasting all the years that you've been working on yourself and trying to get to where you need to be."
When asked what advice would he give to another senior that may be struggling to finish school, Stephen replied, "It's ok to struggle. Because everybody does. Sooner or later you'll have to struggle with something. That struggle might be school. Whatever it is, it's okay to talk to friends or family, or someone close to you and get an opinion on the situation. If you hold things in and to yourself, it's going to impact you. Just talk to someone."
As for the future, Stephen is planning on taking a gap year to spend time traveling. He plans to travel to Canada and eventually attend school there. He also plans to continue investing in the stock market for the next few years so he can get to see the world. In five years, he sees himself living in Europe or France with a degree in Cyber Security.
Stephen is looking forward to the future as he graduates and moves into the next phase of his life. The future for this young man certainly is bright. We'll be watching. Congratulations again, Stephen!
We asked Stephen our favorite list of questions:
Principal Dr. John R. Smith Jr. Quote: It proves learners can step up and be exceptional when given the opportunity This young man has gone through a lot and he has proven that he's Philly tough. Because of that Philly toughness and grit, he's going to be successful in life and that's what we do. We take learners for the future and get them ready for the future. I'm just enamored by this young man."
1. What does being named Senior of the Month mean to you?
Being named Senior of the Month means a lot to me. It proves that I have been doing the right thing and shows that I am being recognized. Working hard in school for the past four years, I have been looking to my future independence and starting college and studying cyber security. Earning this senior of the month recognition out of the entire School District of Philadelphia is a big accomplishment that surprises me because out of all the graduating seniors, I am honored that I was chosen. Being chosen means a lot to me and I am happy to have earned this award.
2. Why do you think you were nominated for Senior of the Month?
I think I was nominated for Senior of the Month because of the examples I set on school grounds and how my peers may see me as a role model. I feel as though some may see me as a leader inside the school including the teachers and these leadership qualities it led to me being someone that was nominated to earn Senior of the Month. I try to be helpful to my classmates and lead by example by making the right choices.
3. You were nominated by Mr. Murtaugh. Explain your relationship to him/her. Why do you think s/he nominated you specifically?
I was nominated by Mr. Murtaugh. My close friend was the one that suggested to Mr. Murtaugh that I should be nominated. Mr. Murtaugh and I do not have a close relationship besides him being a principal at my school, but I do think that he was able to see that I was someone who was hardworking and someone that just wanted to do the right thing all the time. I think he saw a real story in me and my friend also suggested me as a candidate. That is the reason he decided to submit me as a nominee for Senior of the Month and I thank him for giving me this opportunity.
4. What is one thing you'd like to share about yourself that most people don't know about
you?
One thing I'd like to share with people about myself is that I am not the perfect student nor am I a perfect person. I have made mistakes, but I don't like to give up. I think giving up is just another excuse for an easy way out which isn't the route I like to go. I am a very introverted person, and I don't talk very much, but I like to help people whenever I can. This forces me to step out of that introverted personality and speak up or do things to help other students or friends. Whatever the case may be. I'd always be willing to step out of my comfort zone and lend a helping hand.
5. What do you enjoy most when you are not at school?
When I am not at school I enjoy being out with my friends or playing video games with them. Honestly, the thing I enjoy most is just being able to spend that time with them no matter what we may be doing. If I am with my friends, then I could be one of the happiest people in the world. My friends bring me a lot of comfort and they help me to become a better person every
day. I couldn't thank them enough even if I tried. It is very enjoyable when the people closest to you are able to spend time together and have fun and I wouldn't want anything different.
6. In your opinion, what is the best thing about attending school at School of the Future?
I think the best thing about attending school at School of the Future would be being able to see the people I care about when I get there. There are so many more options with what you can do later on in life when you can plan things together with friends or family that go to the same school as you and hopefully have these people in your life all the time. I think another good thing about attending my school would be all the extracurricular activities that you could be involved in during or after school like sports which we have a wide variety of, clubs like anime club or gaming club that welcomes all, or even joining the dance or step team and being able to perform in front of the other students. I started the anime club with 3 other friends and appreciate Japanese culture and anime. I expect this club to continue after I graduate. I am also currently playing volleyball and serving as the captain of the team. We have a well-organized team and we expect to win most of our games this season.
7. In your opinion, what is one thing that the School District could do to improve our service to
Students?
I personally think that there's one thing the School District could improve on and that's the students well being or mental health. I think a lot of us students would love it if they had someone in the school that they would always be able to talk to and actually listen to them. When you can see that someone is having a bad day or doesn't seem like themselves, I think
it's always a good thing to go try and talk to them or comfort them, because some people go through a lot more than they show. Most people could use someone that would listen to them or even if they don't want to talk about it just being there for them helps a lot more than you might think. I know personally when I'm going through something, I like to reach out to someone close to me and maybe get some advice or just some comfort and that's a person that every student could use.
Quote from Pamela Lawson (Stephen Lawson's mom) "I am so proud of my son. Since he started school I knew that he was destined for greatness. He is always exemplary to his peers, leading by example. He is an example at home as well, always willing to lend a helping hand around the house and with his siblings. Thank you for seeing in him everything that I told him I
saw in him. My student of a lifetime!"