In celebration of Autism Acceptance Month, the School District of Philadelphia hosted its 13th Annual Autism Expo. More than 35 vendors attended to provide insightful information about services and programs available to students with special needs and their families.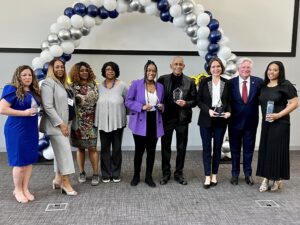 Now sponsored by the Office of Special Education and Diverse Learners, the Autism Expo began through a conversation between one of the District's former Autism Support teachers, Ms. Mona Cohen, and the Office of Special Education to create a citywide initiative with providers who specialize in resources for students with Autism.
The District provides services to more than 3,700 District students with an autism diagnosis.
"These students work tirelessly each and every day to overcome barriers and achieve academic success," said Superintendent Dr. Tony B. Watlington, Sr. "Today's expo is just one way the District works with students and their families to offer support and help create pathways for students on the autism spectrum."
"Autism can be a socially isolating disability. Families often feel further isolated as they seek help and services so this expo is intended to provide an additional opportunity for support," said Sonya Berry, Interim Chief, Office of Special Education and Diverse Learners, School District of Philadelphia. "Our district has expanded its services to account for this large growth as we continue to support best practices for educating students with autism by developing partnerships through a variety of collaborative programs."
The Honorable Dennis O'Brien served as this year's Keynote Speaker and the event featured a program that included student presentations, as well as naming the awardees for:
The Dennis O'Brien Civic Leadership Award, created in honor of the former Pennsylvania Speaker of the House & City Councilmember and recognizes an individual who has worked hard to impact the autism community and have made positive changes in the lives of individuals with autism. This year's award was presented to U.S. Senator Robert P. Casey, Jr.
The Mona Cohen Excellence in Autism Education Award, which recognizes two teachers that exhibit outstanding work and implementation of evidenced-based practices as it relates to teaching students with autism. This year's awards were presented to Edison High School teacher Evgeniia Mokhova and Greenberg Elementary School teacher Lisa Orlando.
The Exceptional Employee Impact Award, which recognizes an individual's contribution to the Office of Special Education and Diverse Learners. This year's award was presented to Diamond Zhane Cheaton, a 2019 graduate of Hill-Freedman World Academy and a graduate of Project Search, a District program that provides job training and real-life work experience to high school students with disabilities.
The Lifetime Achievement Award, which recognizes an individual who has made a significant impact in the lives of our students and families within our school district. This year's award was presented to Michael W. Andrews, a former Intensive Interagency Coordinator (IAC) in the District's Office of Specialized Services. Andrews retired after 23 years of service in the District and after serving  on numerous city-wide committees in order to build the necessary bridges with stakeholders and child service system partners.
National Autism Acceptance Month celebrates the unique experiences of students with autism. The month highlights the increasing number of individuals identified with Autism Spectrum Disorder and connects the Autism community with the necessary support and resources available.
To nominate an individual for next year's awards, please contact Nicole Sabatino, Co-Coordinator for Autistic Support Services at nsabatino@philasd.org. For more information about the Office of Special Education and Diverse Learners, please visit its website.