District Named a Best Communities for Music Education for Fifth Consecutive Year

For the fifth year in a row, the School District of Philadelphia has been named a Best Communities for Music Education from The National Association of Music Merchants Foundation (NAMM). Now in its 24th year, the Best Communities for Music Education designation is awarded to school districts that demonstrate outstanding achievement in efforts to provide music access and education to all students.
The School District of Philadelphia received the Best Communities designation based on funding, graduation requirements, music class participation, instruction time, facilities, support for the music program and community music-making programs, which w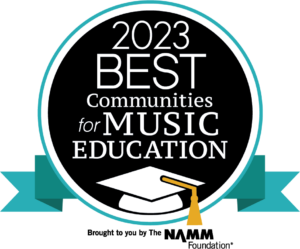 as certified by The Music Research Institute at the University of Kansas.
"This national recognition is an incredible testament to the hard work of our music educators and administrators, and the ongoing collaboration our District has with music industry and cultural partners," said Tony B. Watlington, Sr., Ed.D, Superintendent for the School District of Philadelphia. "This recognition from the NAMM foundation is an important indicator that the School District of Philadelphia is continuing to make gains towards increasing student access to high quality music education. We are honored to have Philadelphia associated with the NAMM brand, one that is so well-regarded throughout the music community."
Since the passage of the Every Student Succeeds Act (ESSA) in 2015 and a stated emphasis on a well-rounded education, many school districts have re-committed to music and arts education programs. During the pandemic, music and arts programs were a vital component to keeping students engaged in school. ESSA provides designated funding for well-rounded educational opportunities through Title IV Part A Student Academic Success and Achievement grants. NAMM Foundation research has revealed that these grants are being widely used by school districts to address instructional gaps in access to music and arts education.
The School District of Philadelphia has more than 220 music educators and more than 50 music community partners. The District offers all students in K-8 opportunities to learn instrumental music, and all middle school and high school students have opportunities to participate in All City Choir, Band, Orchestra and Jazz Band. Additionally, opportunities for summer enrichment in instrumental music continue to expand with ensembles focusing on orchestra, concert band, jazz band, and drumline.
The District's music education program is highly integrated within the city's musical heritage and modern landscape, exposing students to music industry and careers, including recording, production, songwriting, DJing and modern band. In 2021, the District developed a student residency program that connects all-star Philly DJs, producers and musicians with the next generation of talent. Students perform alongside their mentor on Monday nights at JG SkyHigh in the Four Seasons Philadelphia. The District is proud to have artists known around the world who are alumni of the School District of Philadelphia, including Will Smith and DJ Jazzy Jeff, Ahmir "Questlove" Thompson and The Roots, Jill Scott, Boyz II Men, Jazmine Sullivan, Meek Mill, Schoolly D, and many others.
For more information, please visit www.philasd.org/arts/programs/music/.