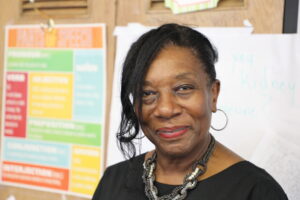 Congratulations to Audrey Nock! Mrs. Nock has been a Special Education Teacher at South Philadelphia High School for 40 years! We are so proud to name her Teacher of the Month for the month of May. If anyone is deserving of this honor, it's Mrs. Nock.
Mrs. Nock was nominated twice, by fellow teacher, Lorraine Rivera, and Assistant Principal at South Philadelphia High School, Joseph Tobasco. According to her nomination, "Ms. Nock possesses an excellent connection and rapport with students, parents, and the community at large." Mrs. Nock's platform of specific developmental strategies continues to lead to the improved academic, social, and emotional development of students. She works specifically with students ranging from ages 18-21, but her impact and influence reach those from a variety of ages and backgrounds at South Philly High.
She has been supportive, understanding, and progressive in her ability to work with staff, parents, and students. The learning community greatly benefits from her presence, excellence, and determination. For instance, Mrs. Nock took the initiative to meet the concerns of parents with graduating students by developing a transition booklet to support students' next steps. The booklet details an organization for specific programs geared toward students identified as autistic, as well as the process for their next steps. She made it her priority to organize the South Philadelphia High School Majorettes Team for the school's special needs students. Mrs. Nock continuously goes above and beyond for her students.
She also designed in-house transition experiences for students to learn on-task real-life skills and work experiences such as working in the staff mailroom, organizing the school's Community Closet, and food distribution programs. She is a true asset to the students and the South Philadelphia community.
Audrey Nock is the recipient of over 15 educational grants that support school programs and activities at South Philadelphia High School. We are grateful to have teachers like Mrs. Nock serve in our district for so many years. Her dedication and commitment to our students is an example to us all. Congratulations Mrs. Nock, well-done!