Fall Health Update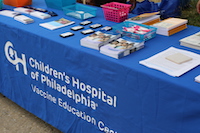 October 10, 2023
Dear School District of Philadelphia Families,
Welcome back for the 2023-2024 school year! As we prepare for the cold and flu season, we wanted to share some information and announcements that will help support you in staying healthy this fall.
School District of Philadelphia Benefits Navigator
Last month, the School District entered into a partnership with BenePhilly to have a permanent Benefits Navigator assigned to the District Central Office. Students and families currently enrolled in the School District can now visit the School District of Philadelphia Welcome Center at 440 N. Broad Street to meet with the Benefits Navigator, Stacie Brown, and get one-on-one support with applying for health insurance, loan assistance, disability benefits, food assistance, utilities benefits and more. Appointments for currently enrolled District students and their families are available on Wednesdays from 9:00am to 3:00pm. Schedule an appointment here.
If you cannot make it to the Welcome Center, you can reach out to the City of Philadelphia's BenePhilly program at 833-270-7943, Monday through Friday 9am-5pm to find a Benephilly Center near your home. You can also visit the City of Philadelphia's website to find additional locations and hours.
COVID-19 Updates
While cases in Philadelphia remain low, we encourage everyone to be careful and make healthy decisions, especially as we enter the Fall and Winter seasons. While masking remains optional for students and staff, it is beneficial as a precautionary measure to protect yourself and others.  Any person exposed to COVID-19 should wear a mask for 10 days after their last exposure. Any person who tests positive for COVID-19 must remain home for 5 days and then can return to work or school wearing a high-quality mask on days 6-10.
Testing remains a critical measure to reduce the spread of COVID-19. Testing sites are available throughout the city, find a location here. At-home tests are available at every school location. The federal government is also delivering free at-home tests – four per household – upon request. Visit covid.gov/tests to place your order.
Of course, the best way to protect yourself from COVID-19 and to keep healthy during this season is by getting vaccinated. The updated COVID-19 and Flu vaccines are now available for anyone 6 months and older. Talk to your doctor about getting vaccinated.
We hope this information will help you and your family have a happy and healthy fall semester!
Sincerely,
Dr. Kendra McDow
School District Medical Officer
Office of Student Support Services