Honoring Hispanic Heritage Month: Employee Spotlight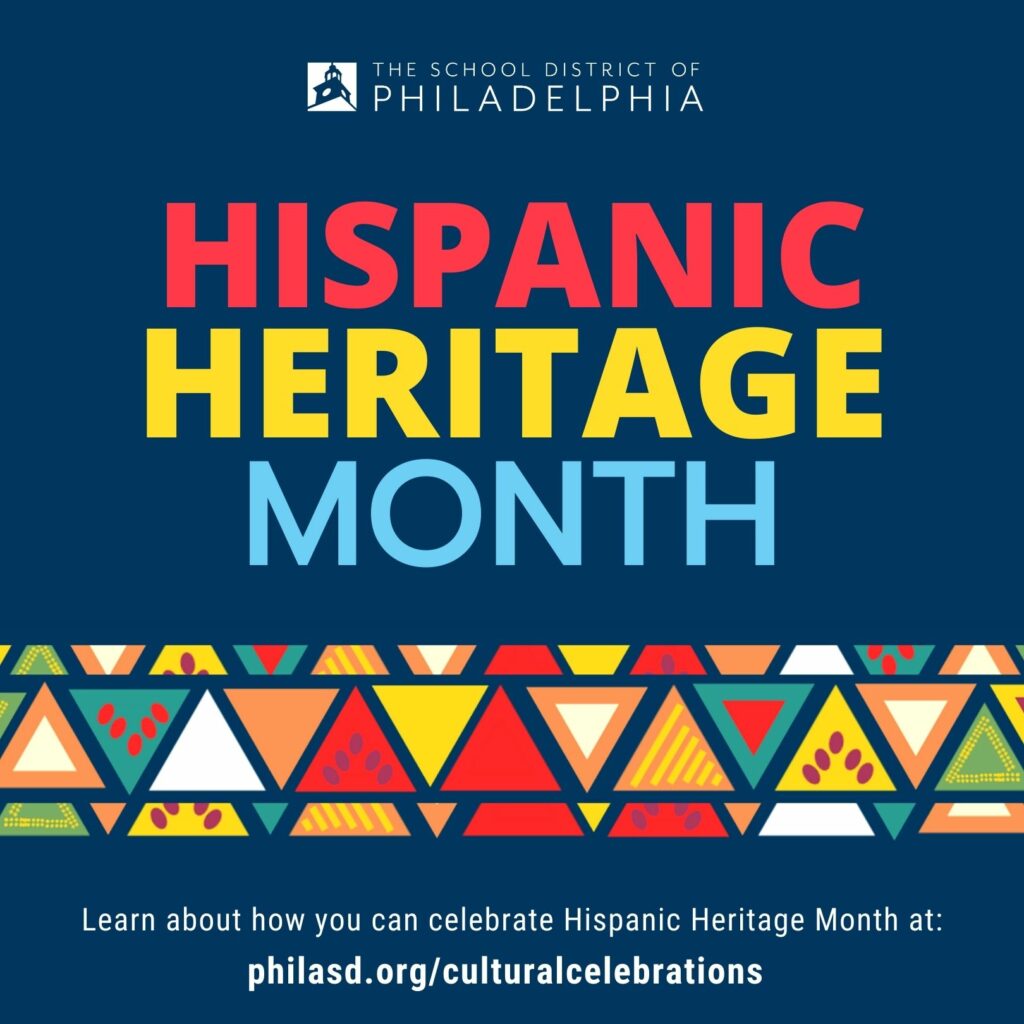 Luis Garcia, Principal
Mr. Garcia is a product of the School District of Philadelphia and an alum of Alexander K. McClure School. He began his career journey as a Learning Support/Emotional Support teacher in the School District of Philadelphia in 1988. After leaving the District to teach similar positions in other school districts, he returned to Philadelphia.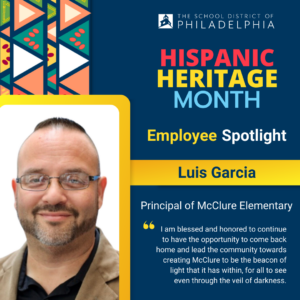 Working as as Special Education Lead followed by multiple years as an Assistant Pricnipal at Antonia Pantoja Charter School, he was able to land back at SDP and given the opportunity to be the Assistant Principal at Hon. Luis Muñoz Marín School under the leadership of (now Assistant Superintendent) Ariel Lajara.
Mr. Garcia had the privilege to participate in the first cohort of the Principal Residency Program, serving at Alexander K. McClure School, his "original home". He was named Interim Principal in December 2021 and was given the honor being named Principal. Throughout his journey as an educator, and now as a Principal, everything he has done has been rooted in giving back and paying it forward.  To this day, he walks the halls of his school and reminisces about the similar walks as a Kindergartener, remembering the great teachers that supported him with the foundation that allowed me to develop into the person he is today.  When Mr. Garcia looks in the mirror, he sees his students, staff, and  stakeholders, which are "his reason and why" in its purest form.
"I am blessed and honored to continue to have the opportunity to come back home and lead the community towards creating McClure to be the beacon of light that it has within, for all to see even through the veil of darkness."
–Mr. Luis Garcia, Principal
We asked Mr. Garcia some of our favorite questions: 
What are the joys of being a Latinx/Hispanic? 
The joys of being a Latino is that I am a part of a very diverse and complex culture that is rich in history. It is not about just the arts and food; it's about the innate ability to face and overcome adversity with rhythm and swagger.
What are the challenges you've overcome as a Latinx/Hispanic in the District or in general? 
The challenges that I have had to overcome as a Latino in the district is an interesting question.  I believe in the beginning of my career, there were not many opportunities available to grow as an educator and as a future leader.  However, over the years, especially since I came back, I believe that the district has (and continues to) offer opportunities for one to take advantage of.  This included the Aspiring Principal Academies, multiple PDs available, and even the hiring practices towards the AP and Principal pools.  Most specifically, the opportunity to gather feedback.  There will continue to be issues and pitfalls, but I can't really say that the struggle was very difficult as opportunities are now starting to appear.
How do you honor your heritage and culture inside or outside of work? 
To honor my heritage and culture is to continue to be my authentic self and give zero apologies about it.  I continue to operate with passion and energy from the spirit of my ancestors.
What is your favorite thing about your culture/heritage? 
My favorite part about my culture is the love and the passion that my family had instilled in me from the day I was born.  And to now share that with my scholars and community is a blessing that I do not take for granted.  Of course, the food is amazing too!!!!
Mr. Garcia, thank you for your service to the School District of Philadelphia and your commitment to Philadelphia's students!