Fall 2023 Report Card Conferences on November 27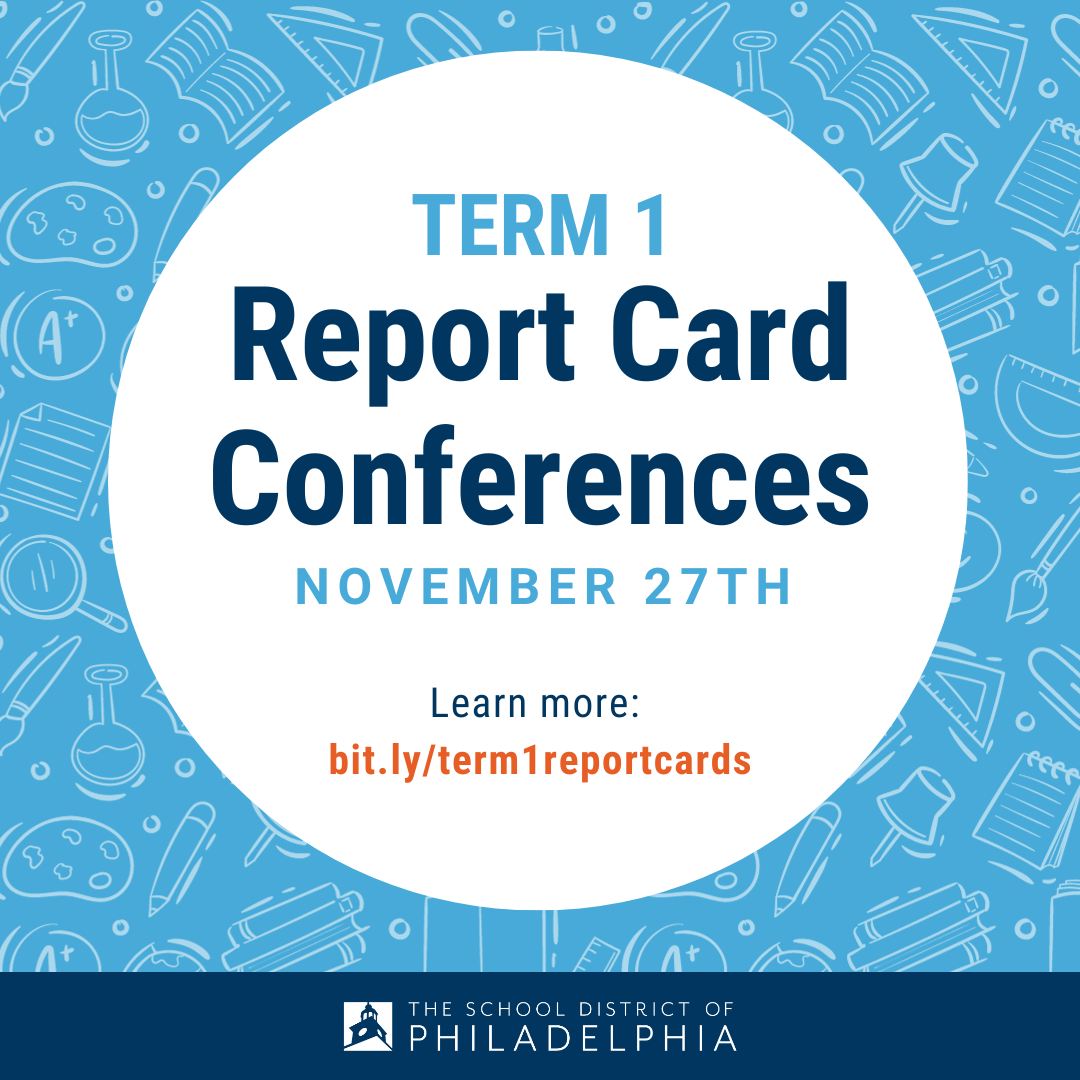 SHQIP | عربي | 汉语 | Français | ខ្មែរ  | Português | Pусский | Español | Việt
November 16, 2023
Dear School District of Philadelphia Families,
Term 1 report card conferences will take place on Monday, November 27, 2023 – the first Monday after Thanksgiving. Report card conferences are a dedicated time for parents and guardians to collaborate with teachers to evaluate the students' academic progress, understand strengths and areas for growth, and consider next steps or additional support for continued improvement, enrichment and graduation preparation.
This school year, report card conferences will look different than they have in recent years. Rather than conferences taking place over the course of three consecutive half days, Term 1 Conferences will take place on one full day – Monday, November 27. This adjustment to one day was made based on feedback from parents, families and school leaders. Many of you stated that half days present both scheduling and childcare challenges. At the school-level, we tend to see lower student attendance on half days. Instead, keeping report card conferences to one day allows schools to offer a greater variety of appointment windows while minimizing the amount of time that students are out of school.
We hope that this early reminder will be helpful, so that you may plan accordingly for report card conferences on November 27. Additionally, you are encouraged to use the below tips to prepare for a productive conference:
Talk to your child in advance. Listen to understand your child's perceptions of their strengths and growth academically, socially and emotionally.
For parents of high school students, use this Step-by-Step Guide to Accessing Student Graduation Status to pull a report and view your child's academic details.
With your child, review progress toward any plans or goals that were implemented as a result of interim reports (or previously). Discuss the big wins and any shortcomings in advance so you can ask the teacher for specific support.
For parents of high school students, use this Graduation Checklist to ensure requirements are being met and/or are on track to be met. Ensure your child's courses and program are aligned with one of the Pathways to Graduation. Use the conference as an opportunity to discuss necessary adjustments with the teacher.
Discuss the whole child. Don't focus only on academics, talk about your child's emotional, physical and social state as well. Use this checklist to guide the conversation.
Prepare any specific questions you have, or any topics you want to talk about, in advance (this resource may be helpful). Make sure to leave with a clear understanding of the next steps that you, your child and the teacher will take.
Click here for additional tips.
We are your partners in your child's success! Therefore, we encourage every parent and guardian to actively participate in report card conferences. Open dialogue and communication between parents and schools enhances the educational experience for all students. Our educators are excited to speak with you.
Thank you for your partnership!
Jermaine Dawson, Ed.D.
Deputy Superintendent of Academic Services
The School District of Philadelphia