If there's been any constant during this pandemic time, it seems to be the fact that things are constantly changing, and we all need to roll with the punches. At Jay Cooke Elementary School, the administration has applied this open-minded approach to engaging with their families. The school staff and administrators at Jay Cooke wanted to do everything they could to provide support and access for parents and guardians to ensure that every student could have the resources that they need.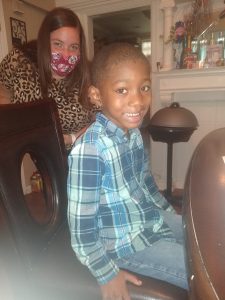 At the start of digital learning, Principal Christie Parfitt realized that many family members didn't have updated contact information at the school. The administration at Jay Cooke decided that the best way would be to go out into the neighborhood themselves. Principal Parfitt said that once school staff realized that there were barriers to contacting families, they "masked up and went into the neighborhood and did everything [they] could do to meet the families where they are." Masked up and socially distanced, Principal Parfitt, Assistant Principal Tracey Mitchell-Lawrence, and others physically went out into the neighborhood to literally meet families where they are. Once they saw family members, they were able to see whose contact information was not updated and get the most updated forms of contact. Because many families also relocated, getting out into the neighborhood was a direct way to see where families were.
Assistant Principal Mitchell-Lawrence also states that it was important for them to do these home visits because the Jay Cooke staff wanted "to leverage this COVID season and prevent any speed-bumps or hurdles that family members might be having." A big message that these home visits sent to family members is that they have access to the Jay Cooke administration. These home visits laid the groundwork for parents to build relationships with school staff members and to get connected over classroom apps such as ClassDojo. ClassDojo is now one of the biggest forms of direct communication with families, which has carried out through the digital learning season. Through ClassDojo, the school staff has been able to provide translations of messages and information in the primary languages represented by the Jay Cooke family community.
Other than ClassDojo, the administration at Jay Cooke has also used many other strategies to connect with families. Some of these strategies have included Parent Drop-in Sessions, text messages, live telephone calls, virtual office hours, and town hall meetings for families. The staff at Jay Cooke has made it an intentional point to also spotlight students during this digital learning time so that students can have the chance to share what they want as well. The staff has created opportunities for students to share and connect through sharing their project-based learning pieces, the school's virtual store, and virtual community meeting spaces. The staff has also made it a point to celebrate students and parents of the month in order to give acknowledgment each month and celebrate Jay Cooke's community members well.
Principal Parfitt and AP Mitchell-Lawrence know fully well that the efforts and creative strategies to engage with families could not have happened without their school staff team. Some specific shoutouts that they want to acknowledge include the SDP PBIS Coach Rashida Alexander, the Cooke PBIS team including Kia Brady, Sean Wilson, and Linda Knox-Ford, FACE Liaison Victoria Trower for her volunteered service to Jay Cooke, the Cooke teaching team members such as Ms. Marks and Ms. Rowland for using Dojo with integrity and fidelity, the Parent PBIS Point Person James Williams, and Scholar PBIS Cub Scouts Anthony Smith, Mariam Coulibaly, and Kyle Liu.
As Principal Parfitt, AP Mitchell-Lawrence, and the entire Jay Cooke team move forward, they hope that they can use the lessons they learned from this past season in order to make digital learning even stronger moving into the future. The Cooke administration says, "These are new territories and terrains that we are traversing together as a network of life-long-learners. While the platform has changed, the commitment has not!." The Cooke staff has been rolling with the constantly changing digital learning environment in order to meet their families where they are and create opportunities for growth and success for all Cooke students. We celebrate Jay Cooke's staff members' relentless efforts to engage with families and press forward through these months!