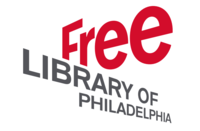 The Free Library of Philadelphia is open! Check the hours of your local library here to make sure your library is open. For the safety of library users and for the safety of library staff, visitors are required to wear a mask inside libraries regardless of vaccination status.
The Free Library also has a Helpline for you to call for information about any library-related topic.   The Library's Helpline 1-833-TALK-FLP (825-5357) is available Monday, Tuesday, Thursday, and Friday from 10:00 a.m. to 5:00 p.m. and Wednesday from 10:00 a.m. to 8:00 p.m.
Free Library Digital Resources
The Free Library also has free resources to help students with homework and research at home. All you need is your library card. Not sure if you have a library card? Apply for a card today!
Free Library's Virtual Reading Challenge – Fall Into Reading
This fall, readers of all ages can earn autumn-themed badges and points in the Free Library's virtual reading challenge, Fall Into Reading. Track your reading streak, write book reviews, and earn bonus points by completing fun learning activities. The Fall Into Reading challenge lasts through November 30th.
The Free Library is also launching two new virtual challenges specifically designed for the youngest readers and their grown-ups! The first challenge is in support of the Free Library's partnership with 1,000 Books Foundation.  The 1,000 Books Before Kindergarten virtual challenge is an opportunity to create a reading bond with your little one and keep track of the books you read together.  Information about the 1,000 Books Foundation can be found here.
The second virtual activity is the popular DIY Literacy Lab Challenge. Children in early elementary school can build confidence and have fun learning strong reading skills using materials found at home.
For a hands-on experience, take part in a virtual activity adventure! This month, you can become an alien expert in October's family-friendly escape room, Friend or Foe: An Alien Adventure, or flex your writing muscles in November with The Writer's Studio.
To participate in any of these virtual reading and activity challenges, sign up online at https://freelibrary.beanstack.org, or use the Beanstack Tracker app for iPhone and iOS Android. Look for the Free Library of Philadelphia when first signing in.
Contributed by the Free Library of Philadelphia's Youth Services and Programs.