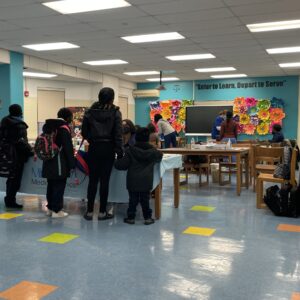 The COVID-19 pandemic has meant that school staff members have had to get creative and think outside the box around family and community engagement. That's no challenge for Family Engagement Liaison Victoria Trower, who supports 12 schools within the School District. One of those schools is Mary McLeod Bethune School in North Philadelphia, which has been hosting free COVID-19 vaccine clinics every few weeks for the past couple of months.
While many clinics exist throughout the city, they are not as common as when vaccinations became available in early 2021. People can certainly visit local clinics, their doctor, or a nearby pharmacy, but Victoria and the leadership at Bethune wanted to offer something even more convenient. The vaccination clinics they have been hosting are in collaboration with the Lewis Katz School of Medicine at Temple University and Miriam Medical Clinics. Parents, guardians, students, staff, and community members were able to get their 1st, 2nd, or booster shots of the Moderna or Pfizer vaccine.
The purpose of these events and initiatives was to create a "safe and nonjudgmental environment to talk about people's uncertainty around getting the jab," Victoria notes. The school hosted information sessions with Dr. Cornelius Pitts of Miriam Clinics and Katz School for the school community to learn more from experts and ask questions about their concerns. In November, they had 53 people receive vaccinations and just as many in December.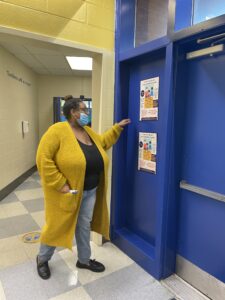 Two mothers that were registering themselves and their children for their second doses of the vaccine were asked why they came to the school instead of a pharmacy or clinic. The answer? It's convenient, they get vaccinated, and they can be beside their children while they're getting vaccinated. It's a win, win, win!
Bethune families, students, and neighbors can look for future vaccine clinic information in January and onward. The COVID-19 pandemic has taught us that we're all in this together, and the Bethune community has shown how schools can be a great hub to pull all a school's community resources together for the common good!