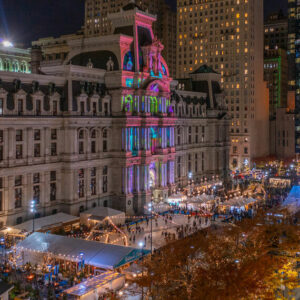 For the seekers of all things festive, free, and fun this Winter Break, we've got you covered! With so much to do and see in our city, you're sure to find something that will fit your family. Check out our short list of attractions and activities to explore below while schools are closed and stay warm out there.
You Can't Go Wrong with spending some time at Dilworth Park. 
Free? Fun? Accessible by SEPTA? Yes, yes, and yes. Dilworth Park is right outside of City Hall and has plenty of lustrous lights and winter wonderland activities for all. Enjoy sights and sounds like the Wintergarden– where you'll be able to walk around and feel the warmth of the city's love for the winter holiday season. Or maybe you'd prefer to watch the luminous Deck the Hall Holiday Light Show? Either way, you're bound to find something you enjoy and there are plenty of good photo opportunities too. Find out more about Dilworth Park HERE.
Discover some holiday cheer at Macy's Dickens Village. 
Just a few blocks away from Dilworth Park is the Center City Macy's in the historic Wanamaker Building. Tucked away on the third floor is an old fashioned replica of a Dickens Village, where you can feel like you're strolling around in Dickens' classic A Christmas Carol. While the tour is free for the whole family, it does require advanced registration. After seeing the Dickens Village, check out the first floor to see some of the stunning holiday lights and Macy's behemoth Christmas tree before you leave. Register to see the Dickens Village and find out more information HERE.
Check out the Electrical Spectacle Holiday Light Show at Franklin Square.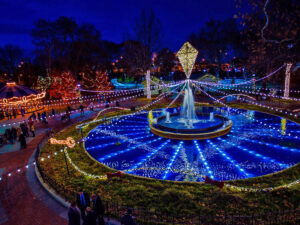 If light shows are you and your family's jam, check out the completely free Electrical Spectacle Holiday Light Show at Franklin Square. The shows, based on Benjamin Franklin's famous kite and key experiment, happen every half hour from 5 p.m. onwards. There's over 200,000 lights, and plenty of music as well.
To learn more about the Electrical Spectacle Holiday Light Show, check out the link HERE.
Brave the cold to watch the New Year's Eve fireworks display. 
For those that prefer a bit of flair to their holiday outings, you can't go wrong with attending a fireworks show. There are more than a few places to gaze up at the barrage of fireworks that happen at 6 p.m. and again at midnight on New Year's Eve by the Waterfront off the Delaware (near the Independence Seaport Museum). A good suggestion? Get there early and bundle up!
More details on the fireworks display are coming soon. Check out visitphilly.com for details in the coming weeks and find a good place to enjoy the show!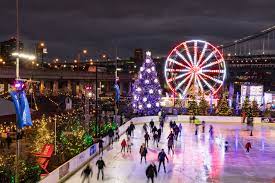 Join in on the buzz and hum of fun at Blue Cross Riverrink Winterfest.
Even if ice-skating isn't your thing, make a note to check out the Blue Cross Riverrink Winterfest. Of course, there is the NHL sized ice skating rink (which requires tickets), but there are also boardwalk games and rides to enjoy, as well as food and beverages available for purchase. Take a gander at the huge holiday tree before snapping a few pictures and enjoying the winter season at a destination that has been running for more than 29 seasons.
Want to learn more about Blue Cross Riverrink Winterfest? Check out the website HERE.