Class of 2020 Senior Stories: Quaasha Artis

School: Lincoln High School
Nominated By: Student Advisory Board
One could argue that among the most valuable of life skills are the ability to learn from experiences, the maturity to gain understanding from hardship, and the foresight to take advantage of opportunities instead of taking them for granted. Quaasha Artis is a young woman that possesses all three.
Quaasha is the sixth of eight children. For many, that itself would present hardship. But Quaasha, her siblings and their mother have endured so much over the past four years, seven siblings was the least of her concern. While they are a native tri-state family, Quaasha's mother moved them to Florida in 2017 to find better educational and professional opportunities. While it was a hopeful and noble prospect, opportunities in Florida were severely hindered by Hurricane Irma, forcing her family back to Philadelphia later that same year. Unprepared and unequipped for a sudden return, the family found themselves experiencing homelessness for most of 2018 during the end of Quaasha's sophomore year and the following summer.
Quaasha knew immediately that she would have to step up. Her mother, who she describes as "dope", did absolutely everything she could — caring for the kids, fighting for necessities, making connections — but sometimes more needed to be done. So in stepped Quaasha, getting jobs wherever she could and taking care of her two younger brothers, one of whom is on the autism spectrum and the other suffers from agoraphobia. "I don't use labels like homeless, autistic or agoraphobic," Quaasha explained. "I believe, and I tell my siblings, that labels lead to limits. These things shouldn't limit us! Instead I set an example of hard work and taking every opportunity. This can get you where you want to go, no matter the obstacles."
The family stayed tight throughout the trials of 2018. They supported and encouraged each other non-stop. According to Quaasha, they survived using a pack mentality. They were inseparable, they fought for one another and nothing could come between them. But Quaasha says they had some other valuable help as well. For her personally, the School District of Philadelphia's Teen Evolution Experience Network (T.E.E.N.) program offered her the camaraderie that she needed to stay motivated in school. The program is designed to connect youth experiencing homelessness or displacement with others in the same situation in order to support one another, learn together, and develop critical life skills. The friendships Quaasha made through T.E.E.N. have helped her push through.
In addition to the T.E.E.N. program, that family was generously helped by Families Forward, a Philadelphia organization dedicated to meeting the needs of homeless families by providing information, advice, guidance, protection and shelter. "The staff there made homelessness more bearable than it ever seemed it could be," said Quaasha. "They provided a room for all of us, hygiene tools, resources for things like financial assistance and housing assistance, and friendship. They helped my brother, my mom and I get jobs, without expecting anything in return. They helped us get on our feet." After 9 months of grit and determination, with a little help from others, they were selected for housing.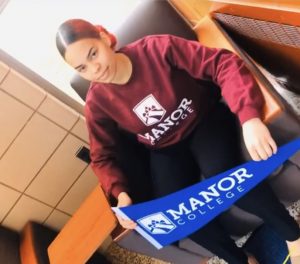 "I can't put into words how special graduation is for me," Quaasha exclaimed with a quivering voice. "I've been through it all, I've hit rock bottom. I wanted to give up, I wanted to drop out. But together we pushed on!" Quaasha understands the value of hardship, and is not upset about what she experienced. She believes she's better and stronger for it. She is deeply thankful for the staff at Families Forward, her friends from T.E.E.N., and the adults at Lincoln for helping her get to graduation. They all helped to instill a confidence that cannot be beat. "Nobody can go as hard for you as you can for yourself," she proclaimed. "Appreciate the obstacles and never give up!"
She's now jumping at the opportunity to go to college and continue growing into a better person. She'll attend Manor College to study Forensic Toxicology and Criminal Justice. But first, she'll enjoy the feeling of graduation. "I cannot wait to see the look on my mom's face when I show her that diploma! The tears, the hugs, and her being able to send me off to college…that will be THE moment!"
Congratulations on your graduation Quaasha!
Find more information about the Teen Evolution Experience Network (T.E.E.N.) program here.