Superintendent Watlington provides District's Strategic Plan Update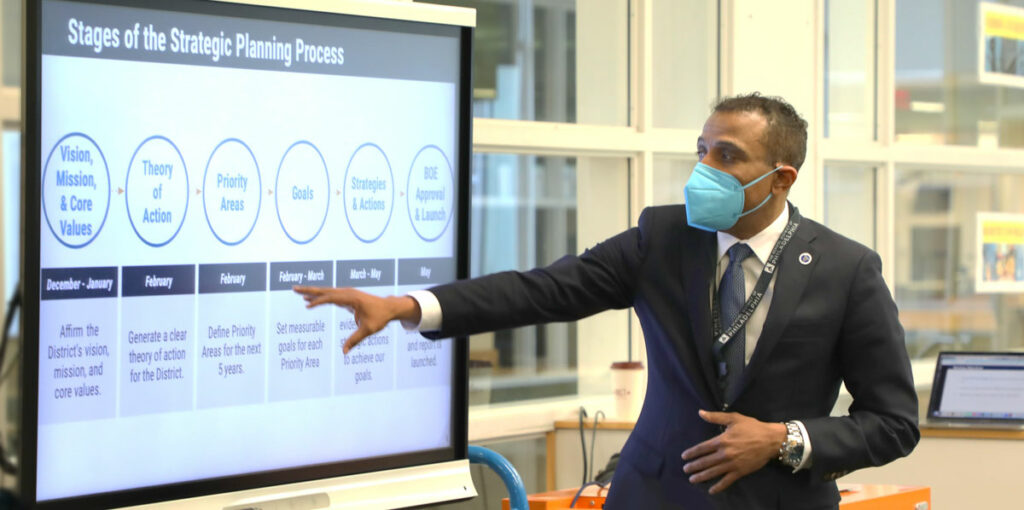 SHQIP | عربي | 汉语 | Français | ខ្មែរ  | Português | Pусский | Español | Việt
Dear School District of Philadelphia Parents and Families,
In December, I shared that we had entered the final phase of my three-phase transition, the development of the School District of Philadelphia's 5-year Strategic Plan. Strategic Plan development will be driven by several Advisory Groups, a Steering Committee, and a Leadership Team – three distinct bodies that represent the wide variety of perspectives and diverse expertise of our SDP community.
Today, I am excited to announce the Strategic Planning team members. Please click the links below to navigate to our new Strategic Plan website and find the names of our Leadership Team, Steering Committee, and Advisory Group members.
Leadership Team   |   Steering Committee   |   Advisory Groups
I also want to share some important dates that represent key milestones in the strategic planning process. I remain committed to keeping you informed throughout the planning process, so you can expect updates on or near these dates.
January 23, 2023: Mission, Vision, and Core Values Survey launch
March 23, 2023: Propose Theory of Action and Priorities to inform the final plan
April 27, 2023: Share Goals and Strategies to inform the final plan due
May 26, 2023: Board of Education approves final Strategic Plan
Establishing the District's Mission, Vision and Core Values is a critical starting point in the development of the Strategic Plan. Therefore the survey, which launches on January 23, will be an opportunity to build on everything you shared with me during the listening and learning tour in the fall, and to directly influence the direction of the School District of Philadelphia. I encourage you to complete the survey with candidness – your input is important to me. And I hope you'll follow the progress, and be on the lookout for additional ways to be involved, on our Strategic Plan website: www.philasd.org/strategicplan.
I am extremely grateful to each and every School District of Philadelphia employee, student, family member, and community stakeholder who has engaged in the transition process so far. I am especially thankful for the individual Strategic Planning Team members, and humbled by their desire to serve Philadelphia's students and families with excellence. I am excited about working together with these groups to create an ambitious and comprehensive plan that will chart our path toward achieving the Board of Education's Goals and Guardrails, and becoming the fastest improving large, urban school district in the country. Thanks for joining us on the journey!
In partnership,
Tony B. Watlington Sr., Ed.D.
Superintendent
The School District of Philadelphia