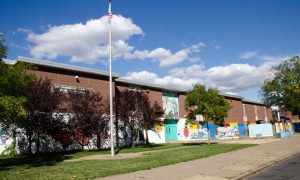 Teamwork makes the dream work! In few places can we see that more strongly than at Tanner Duckrey School, as families and school staff have partnered together to make the 2019 Outstanding SAC Winning school the best it can be. Principal David Cohen and the leadership team have worked alongside family members to increase family engagement at the North Philadelphia school. We've seen the hard work of the Duckrey community pay off as many parents and family members have gotten increasingly become more engaged over the past few years!
When asked what makes family engagement special at the school, Principal Cohen immediately said that he has been blessed with a hard-working group of parents who are not afraid to encourage other families to participate. He has weekly blocks of times when families come into the school as he realizes that people don't always want to do something too academic, but want time to get to know one another. Inviting them in for frequent meetings has helped shape this culture of families knowing they're welcome at Duckrey.
Another draw for family members has been the fun and engaging events that the school has hosted. Some of these events include 'Muffins with Moms,' 'Donuts with Dads,' 'Special Person Day' for students who have others involved in their education, school dances, and even more! There is a core group of about 10-12 people who come in and volunteer each week to help plan out events at school. These folks have been able to take ownership over these events to really make it their own and respond to what families find fun!
One of the big factors that contributed to increased family attendance at Duckrey was the administration responding to the needs and wants of family members. Principal Cohen understood that there were a few important components to drawing in family members to school meetings, like marketing and meeting logistics. Families voiced that mornings are the best times for them because they could stay right after dropping their kids off at school, so Principal Cohen made a switch to incorporate times that work better for the majority of families.
With diversified flyers, robocalls, and the advertising of School Advisory Council (SAC) meetings and school events, many more parents began to come out to the school. An added bonus was the presence of snacks and food during these meetings. But surely it was not only the snacks and modified meeting times that contributed to increased attendance. Principal Cohen and his staff realized that one of the most important things that is needed in a school is a welcoming and friendly environment where people feel warmly invited in.
Principal Cohen wants the school's families to know that their opinions and words truly matter. Some ways that he has solidified this sentiment is by school administration always being present at SAC meetings. Anytime feedback is given, either the principal, dean, or guidance counselor is there to hear the suggestions and they will try to make it clear what the follow-up actions will be. If possible, the leadership team has tried to act quickly on changes that they are able to enact right away. For example, a suggestion was given to have breakfast inside of classrooms rather than the cafeteria because of a stigma that existed amongst students about those who ate breakfast in the cafeteria. Because it was a change that the administration felt they could act on rapidly, they moved breakfast to be in classrooms rather than the cafeteria. After breakfast was moved into classrooms, the number of students who eat breakfast tripled, which has been a positive change for everyone. The more that parents have seen that their voices and opinions matter, they have been encouraged to bring other friends and family members to other school events.
Principal Cohen reflects: "There's no way a school can be strong without the parents." He wants to encourage families to take part and get engaged! He says, "Be a team to make it the best for our kids. We're only going to grow if we work as a group. We're on the same page to make it better for the students." We hope the family and school partnership will only continue to grow at Tanner Duckrey in the future.