People often ask – what is the key to strong family engagement? While it is hard to respond with one definitive answer for all schools, Juniata Park Academy Principal Marisol Rivera Rodriguez has used a great strategy: ask families what they want! Her commitment to parent and family input and programming led to her receiving the 2019 Most Supportive SAC Principal Award. She shares that it has been a gradual process and family feedback has been critical in making the school more family-friendly.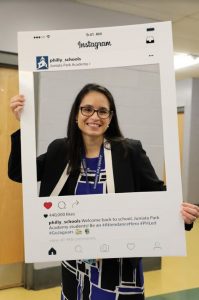 Because this feedback was valuable to her, Principal Rivera Rodriguez decided to give out her own parent surveys (in addition to the School District of Philadelphia's Parent & Guardian Survey) to ask parents throughout the year what their needs and wants from the school were. Families shared that there were not enough opportunities for them to come in to the school and participate in their child's education. Taking this seriously, Principal Rivera Rodriguez decided to make one of her priorities to create a more welcoming school so that parents would want to be connected and come into the school.
Parents and guardians at Juniata Park Academy further explained that they wanted to understand school processes and academics better. Many people said that they wanted to learn about the math that the students were learning, the process of Individualized Education Programs (IEPs), and resources for families within the school building. Family members also expressed a need for a family engagement calendar that would show the entire school year at a glance. This would allow working families to know about events in advance so they could plan to take time off work to attend. Principal Rivera Rodriguez took this advice to heart and she believes it has made a difference in family engagement in the school.
Along with this, the number of events and engaging activities at Juniata Park Academy has also greatly increased. There is at least one event every month for families. Principal Rivera Rodriguez's intention is to create events that allow families to engage with their child's classroom work as well as equip parents with more broad information or resources they may need. Such events include Board Game Nights with families and staff members and parent workshops on various topics that are informed by parent feedback. The school has also partnered with The Food Trust and a local produce company to host a farmers market at the school, so families and community members can buy fresh produce at affordable prices.
Principal Rivera Rodriguez speaks about how the School Advisory Council (SAC) at her school has been pivotal in shaping these family engagement events. In an amazing display of family leadership, all of the school's Family Engagement Nights are planned and executed by the SAC! This allows SAC members to think about how to bridge the academic gaps that families may have or academic skills that parents want to acquire in order to help their children at home. Members of the SAC have been working together to engage parents and see how to provide academic support for students.
It is evident that Principal Rivera Rodriguez values her parents and their feedback tremendously. In terms of future family engagement plans, she wants to work with school stakeholders to generate ideas about how to celebrate their diverse student and family population, as well as build on the success the school has had over the past several year. In a final Family Engagement Month note, she encourages all family members to try to make an investment into their schools: "I think everyone needs to know how vital family engagement in a school is…Parents sometimes don't become a part of the school because they don't know how to be involved. We need everyone to make sure they know how important family engagement is for the success of the school."