The Education Leading to Employment and Career Training (ELECT) Program is a statewide program through the Pennsylvania Departments of Human Services and Education. ELECT helps pregnant and parenting students earn a diploma or high school equivalency (HSE) certificate, become better parents and make the transition to employment, career training or higher education.
In February 2019, The School District of Philadelphia ELECT Program launched a breastfeeding initiative to support parenting students with their lactation needs upon returning to school after maternity leave.  This innovative approach to support breastfeeding students was made possible through a partnership with University of Pennsylvania's School of Nursing and Medela, an industry leader in breast pump technology.
Dr. Diane Spatz at the University of Pennsylvania School of Nursing teaches an entire semester course on human milk and breastfeeding for undergraduate nursing students. For over a decade, Dr. Spatz's students have collaborated with the ELECT Program to provide breastfeeding educational sessions for students.  Dr. Spatz was thrilled when the School District released the updated lactation provisions in the District's Policy 234-Pregnant/Parenting/Married Students. Dr. Spatz then connected ELECT with Medela to create a breast pump distribution program.  Through Medela's generous donation of five Symphony® hospital-grade breast pumps, ELECT is able to deploy pump technology and lactation supplies to schools for student use.  This exciting approach was featured in an article authored by Dr. Spatz in the July/August 2019 issue of the American Journal of Maternal/Child Nursing.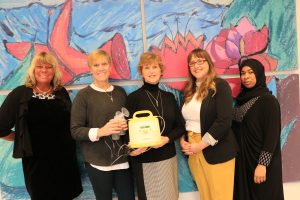 During the 2018-2019 school year, a cohort of ELECT Breastfeeding Champions participated in the Philadelphia Department of Health's 20-Hour Breastfeeding Management Training. The full ELECT Provider Network then attended breastfeeding support training with instruction on Symphony® pump care and use throughout the summer.  At the training, ELECT Case Managers were provided with breastfeeding plan templates, privacy doorknob signs, insulated bags and ice packs, and a wide array of breastfeeding educational tools.
This fall, the first students to participate in the pilot received coaching and encouragement from ELECT Case Managers as they work towards their breastfeeding goals using the Medela hospital grade Symphony pumps.  While Policy 234 ensures they can bring their own pumps and supplies into schools, having the hospital-grade pumps and resources on-site alleviates the burden of carrying items to and from school.  The sophisticated pump technology can reduce the time needed for expressing milk during the school day.  Offering a breastfeeding initiative in school to support young parents helps to ensure that students are supported in the choices they make around feeding their babies while continuing to reach their academic goals.