The new school year is here and the Free Library is ready to help Philadelphia students and their families find the resources and programs to help make the school year a success. Additionally, we will continue to offer programming virtually; check out our virtual calendar of events for the full schedule.
Here are some of the many ways the Free Library can help students soar into this September and succeed all year long:
LEAP (Literacy Enrichment Afterschool Program)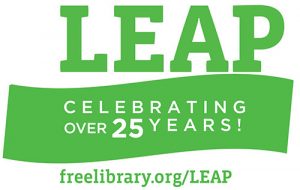 The Free Library of Philadelphia's Literacy Enrichment Afterschool Program (LEAP) will be a little different this school year. For the first half of the school year, LEAP will be sharing activities, DIY videos, homework help, and more via social media. With a digital binder full of Science, Technology, Engineering, Arts, and Math activities, LEAP is ready to make sure children and teens throughout Philadelphia are inspired and curious to learn more about things that interest them! LEAP will also provide employment opportunities for nearly 60 teens who will work virtually as Teen Leadership Assistants (TLA). TLAs will continue to play a vital and vibrant part in the success of LEAP and their creative work will be highlighted throughout the year.
Homework Help Online
A favorite resource for this time of year is Homework Help Online through Tutor.com. This resource is part of our digital collection and can be accessed from just about anywhere with a connection to the internet – you simply need your library card number and account PIN. Homework Help Online offers everything from live tutoring—in English and Spanish, from 10 a.m. to midnight, seven days a week—to test prep and English tutors who help students' essays shine. Homework Help Online provides resources for elementary to college students, and even adult learners preparing for their G.E.D. or U.S. Citizenship test.
Fall Reading Challenge
Participate in our online Fall Reading Challenge reading and activity challenge, which begins September 7! Log minutes you spend reading and how many books you read while collecting points and earning badges for participating in the online activities
Virtual Visits from Librarians

Educators interested in receiving a virtual visit from a librarian can submit a request here. Librarians can provide a story time, introduce students to the library's e-Resources that can support school assignments, and introduce digital resources that include music, movies, magazines, and books.
Start Reading!
Students have endless opportunities to engage in that core library activity: enjoying a great book. The Free Library's catalog includes 2.4 million titles, with 700,000 for younger readers!
Attendance matters!
Good attendance at school helps students become stronger readers and do well in school. Find more information and family resources from Read by 4th to help students become attendance heroes. Read by 4th is a citywide campaign bringing together a coalition of partners working towards a shared vision that all children will be reading on grade level by the time they enter the 4th grade. Find more family resources from Read by 4th and sign up to get free literacy tips sent to your phone for ages 0-5 from Ready4K. It's never too early to start building literacy skills and helping your child get ready for school!
We, at the Free Library of Philadelphia, wish all students, teachers, parents and caregivers the best of luck for a wonderful new school year!