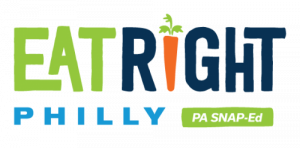 In addition to your family's health and wellness, it's important to take some time for yourself as a parent and caregiver to focus on your own. Celebrate fall with Eat Right Philly and check out their delicious recipes and tips to make the most of the season. Also, check out their new virtual, self-paced lessons to learn about setting goals and stretching food dollars!
The Gifts of Fall Produce!
Apples, grapes, pears, broccoli, carrots, greens, potatoes, and yams are just some examples of the delicious fresh produce fall brings us. Check out this Seasonal Produce Guide for a full list, and get in the fall spirit by trying these recipes:
This colorful and tasty Roasted Root Vegetable recipe is a great way to use up sweet potatoes, carrots, and the hidden gem – parsnips. Turn your oven up to 400 degrees, chop up any root vegetables you have, toss them in olive oil, and pop them in the oven for 1 hour.  It is that easy and also a great way to heat up your kitchen!
Cooler weather also means soup season is here! Check out this flavorful, nutrient-packed Sweet Potato Pumpkin Soup recipe that uses seasonal ingredients – and takes no time at all!

Quick Tip: Buy double the ingredients while they are cheaper in season and freeze half of the soup to enjoy later. Cool the soup and then gently scoop into gallon sized freezer bags, seal them, and lay them flat in the freezer.
Eat Right Philly @ Home – Adult Nutrition Lessons Are Now Virtual!
During this stressful period, it is important that we as parents and caregivers are also taking some time for ourselves. That's why Eat Right Philly is making it even easier to work on your health goals! Join them each month for 15-20 minute online lessons to focus on your nutrition and wellness. Each lesson is self-paced so you can do it in your own time. Check out their first "Stretching Your Food Dollars" lesson that covers:
Easy steps to create a grocery list
Tips for organizing your pantry to reduce food and money waste
How to enjoy in-season produce all year long
A fun Fall Fruit Salad cooking video by Chef Sarah
Once you complete the lesson, Eat Right Philly will send you a free cookbook with even more recipes to motivate and inspire you to be healthy. Click HERE to get started now!
For more tips around eating healthy and staying active, sign up for the Eat Right Philly family newsletter and follow them on Twitter and Instagram.