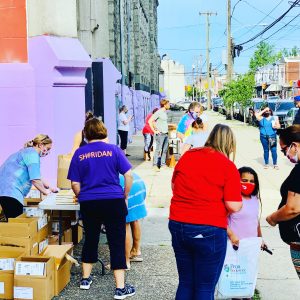 In October, we celebrated Family Engagement Month to acknowledge the many ways that school staff members have been engaging families during this digital learning time. This season of online engagement has required creativity to say the least, and we wanted to give congratulations to one of our winners of The Family Engagement Month Contest, Philip H. Sheridan School, for the innovative ways that they've been engaging families during digital learning!
The administration at Sheridan School stated: "Since the pandemic began…our school team knew it had to…prioritize other types of close and frequent contact with students and families." As remote learning unfolded, the staff members at Sheridan began to brainstorm new strategies to reach out to families and make sure that they don't disconnect from the school. Both Principal Awilda Balbuena and Assistant Principal Julio Nuñez greatly prioritize family engagement because of their own personal experiences growing up and the things they wished that their own families had access to at their schools. Because of these personal connections, they both care greatly that their families have access to information, tools, and resources to help their students succeed during this remote learning time. Principal Balbuena says that she likes to "see families as human beings first before seeing them as parents" because it helps build more authentic and impactful connections. She values engaging with family members to build these authentic relationships that can strengthen over time.
There have been many ways that Sheridan school has been reaching out to families. One consistent way has been through weekly parent town hall meetings. These weekly town halls have allowed Principal Balbuena and AP Nuñez to connect more deeply with their families and hear from them about the issues and questions that are most pertinent to families.  On top of these weekly town halls, the school team has been frequently using social media to spread knowledge and information, hosting online school events, distributing Chromebooks and school supplies, and checking in with students to make sure they have the equipment and knowledge to navigate various online tools.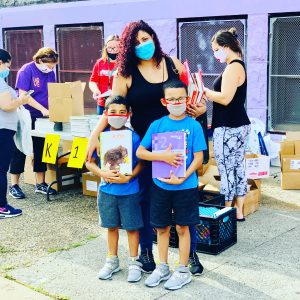 Both Principal Balbuena and Assistant Principal Nunez emphasize the importance of their team and the invaluable ways that each member of their team plays a role in engaging families. They have seen Sheridan staff members come up with creative strategies that are genuine to their own styles of communication. AP Nuñez says, "Parental engagement is personal–there's no one system that will reach every single parent. The team does a good job of reaching out to individual family members." Some teachers use phone calls, texts, emails, and class applications such as Class Dojo to reach out to individual families. Teachers have also hosted surprise guest appearances in their virtual classrooms including one from Franklin, the Philadelphia Sixers' mascot. Case managers, behavior specialists, and social workers at the school have also gone over and beyond to help families and figure out strategies to connect with them. And Ms. Dalila Bedoya, Family Engagement Liaison at Sheridan, also plays a role to build relationships with family members and aid the efforts to connect with families. Ms. Bedoya says that some of the greatest strategies of engagement that she's seen at Sheridan include "the availability of the principal to be there for the parents" and the way that the staff has built connections with family members. Ms. Bedoya added: "I think it's very important that the school staff knows the parents by name, and I think that's a great thing about this school."
Moving forward, the administration at Sheridan School gives this encouragement for all Philadelphia families to stay positive and enthusiastic about digital learning: "Online learning during a worldwide pandemic may be tough…But Philly families are tougher…We will overcome. No doubt." The Sheridan staff members also encourage all families to put in any and all effort that they can to also reach out to school staff members with what they need or what they would want the school to be doing so that there is a channel of two-way communication. Needless to say, we've seen many channels of engagement and communication open up between Sheridan staff members and family members during this online learning time. Congratulations to Sheridan School for showcasing so many different ways to engage with families and especially for a heart of persistence that has desired to stay connected even during this virtual time!