Established in 2021 in partnership with Mayor Jim Kenney, the Octavius Catto Scholarship provides first-time, full-time students at Community College of Philadelphia the opportunity to attend college debt-free. In addition to covering the cost of tuition, Catto Scholars also receive a monthly stipend, funding to cover the cost of books, meals, and transportation, as well as one-on-one coaching to ensure that they stay on track.
The Catto Scholarship has helped transform the lives of nearly 500 students in Philadelphia. Don't take our word for it, hear directly from one Catto Scholar:
Hi everyone! My name is Iraida (they/them), and I am 20 years old. I was born in Puerto Rico but was raised here in Philly. 
I graduated from Northeast High School – MAGNET in 2020, and I am currently a sophomore at Community College of Philadelphia (CCP) majoring in Digital Video Production. I originally did not plan to attend CCP, but due to some personal situations, I did end up choosing to attend CCP. It was genuinely the best decision I have ever made for my future.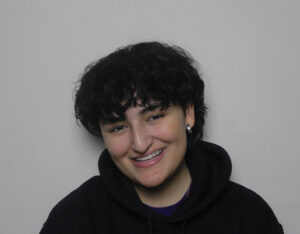 I, along with many other recipients, were part of the first cohort of the Catto Scholarship. At the time, I was not aware of all the extra benefits that would come with being a part of the scholarship. Everyone that I have met and talked to within the Catto community has been super friendly. My success coach has been extremely helpful when it comes to answering my random questions about school. He has helped me every semester, encouraged me to attend many of the workshops, and has motivated me to stay on top of everything.
The monthly stipends have also been a significant help, whether it has been used for school supplies and books, or rides to campus. Being part of the Catto Scholarship has been one of the best things that has happened to me. It has really helped me and my future with school.
If you are planning to attend CCP, and see your email being bombarded with emails about the Catto Scholarship, give them a chance. It is well worth it.
Additional information on the Octavius Catto Scholarship, including the full eligibility criteria, can be found by visiting ccp.edu/catto.
Please note that there is no application for the Scholarship and that students must enroll full-time at the College and will be contacted by a Catto Scholarship team member to confirm their eligibility in the program. Individuals interested in taking advantage of the Catto Scholarship can get started by applying to Community College of Philadelphia at ccp.edu/getting-started and completing their FAFSA.
There is no age limit to the Scholarship and accommodations are made for students who are undocumented. You can direct any questions you have to cattoscholarship@ccp.edu.