Choosing a meal that is both healthy and something your kids will enjoy can be difficult and frustrating for any caregiver. But that doesn't always have to be the case!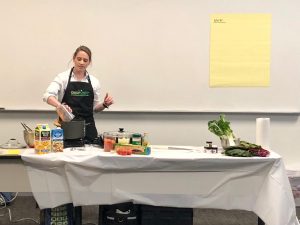 Last month, The District's Eat.Right.Now team (SNAP-Ed funded) hosted a cooking workshop where over fifteen caregivers came out to learn about healthy eating and try new recipes. Almost all the recipes are created with parents' busy and on-the-go lifestyle in mind. Most of the recipes can be cooked in 30 minutes or less!
At their March workshop, the Eat.Right. Now team showed FACT participants how to make a Bok Choy Noodle Bowl and a Swiss Chard Pasta dish. (YUM!)
As each dish cooked, caregivers learned new knife skills like dicing an onion, cutting a tomato, and preparing leafy greens. The team and caregivers also talked about tips for shopping on a budget like using coupons and buying in bulk. After both dishes were finished, caregivers were given samples to see how they liked each of the recipes. One mom even said the Swiss Chard Pasta was "better than Olive Garden."
Thanks to FACE, each caregiver who attends the workshop is given all the ingredients to make the recipes at home, making it easier for caregivers to try new healthy recipes without the hassle of making a trip to the grocery store and possibly wasting money on a meal their families may not enjoy.
The Eat.Healthy, Be.Happy series has a few more classes you can attend to learn about cooking and making healthy choices. To sign-up, visit https://www.philasd.org/face/fact/!
This programming was funded by USDA's Supplemental Nutrition Assistance Program (SNAP) through the PA Department of Human Services (DHS). This institution is an equal opportunity provider.