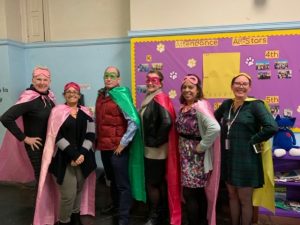 School Advisory Councils (SACs) have three major goals: supporting academic achievement, improving school climate and culture, and strengthening family engagement. A big academic goal for most schools includes advancing literacy skills for all students. This month's SAC Tip of the Month gives some ways that your SAC can discuss, promote, and improve literacy at your school.
Assess School Literacy Goals: Before knowing how your school can improve in literacy, your SAC can assess the reading levels and literacy rates at your school across all grades. Which grades need improvement or are behind on reading? What resources do teachers and classrooms need to enhance reading? Once you know where to improve, you'll be able to make goals together. Check out the School Progress Reports, which include some literacy data, here.
Share Literacy Strategies: Research ways that literacy skills can improve. Make a list together in your SAC meeting of ways that literacy can improve, and send that list home to parents so that families can participate in good reading habits at home.
Host a Literacy Event: The SAC can host a book fair, reading celebration, or literacy event of sorts in order to promote the importance of reading at school and home and ways to improve your reading skills. During the event, SAC members can also teach other parents strategies that can help reinforce literacy skills at home.
Spread the Word: Find ways that your SAC can encourage families and parents to make reading a regular habit at home. Reading needs to be reinforced both at school and at home, and the SAC can play a role in encouraging families to build good literacy habits.
Encourage Volunteering: Your SAC can discuss ways to bring in more parent volunteers who can help out with literacy time in classrooms, help volunteer in the school library, or lead extracurricular activities that can promote literacy skills.
Create a literacy campaign: Your SAC can partner with school administrators and staff to promote a literacy campaign. Consider a social media campaign using a hashtag to promote good reading habits, skills, and spread the word about the importance of literacy. Check out Read by 4th's website for all kinds of literacy promotion materials.
Your SAC can play a role to help reinforce the importance of reading both at home and at school! Discuss together things that your school needs and then help spread the word about the importance of improving literacy skills school-wide!