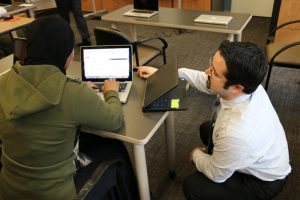 Staying connected to your child's education is more important than ever during digital learning. The Parent & Family Portal gives you access to valuable information about your child's education and school, all at your fingertips! Upon registration for Parent & Family Portal, you will be able to view your child's academic history, test results, attendance, and more. You can also request to receive text messages, emails and/or phone calls about important issues that might impact your child, (i.e. attendance alerts and upcoming events of interest to families). It's family engagement in an instant!
Here are some basic helpful tips for families around signing up for Parent & Family Portal:
If you need your student's ID number or need to make update to your email address, it is best to contact your child's school, but you can also call the District's Hotline at 215-400-5300 for guidance. Please make sure you have an appropriate ID to receive or update your information!
When registering for a Parent Portal account, make sure that your student school has all the updated information, such as:

Your name, spelled correctly
Correct home address
Correct telephone number
Correct Email address
You are marked as your child's guardian.

Only the schools can make these demographic updates to your information. By contacting the school, you are ensuring the information is correct, which can make the registration process much easier.
If you only have access to one of your children in the Parent Portal, contact your child's school to make sure you are marked in their system as their guardian. You can also contact the District Hotline at 215-400-5300 or send an email to ask@philasd.org for assistance.
We know that this process can be confusing! Need step by step directions for signing up for Parent Portal? We've got them!
Visit the website: signup.philasd.org.
If you do not have a confirmation code, you will need to click "No, I would like to look up my Confirmation Code."
You can enter your child student ID, student last name, student date of birth, then click "I'm not a robot." The next screen will allow you to select where you would like to have the Confirmation Code sent.
The system will send you the confirmation code. Once you have the confirmation code you can follow the steps to "Yes, take me to Account Registration"
You will type in your last name and your confirmation code, and then click "I'm not a robot." You will need to follow all the steps that the system asks in order to register. Please note: Allow 24 hours after registering to access Schoolnet, where PSSA scores are located.
Check out the list of resources below for more guidance and instructions on using the Parent and Family Portal. How has Parent & Family Portal helped you to stay engaged in your child's education? Let us know by tagging us on Facebook or Twitter @sdpFACE!
More Parent and Family Portal Resources: