As the weather grows colder and preparations for the holiday season are underway, the Free Library of Philadelphia is excited about the virtual programs for children, teens, and families.
Tell Your Story
Saturdays, December 5, 12, and 19 at 11 a.m. – The Virtual Storytelling Workshop invites children and teens to participate in an interactive dramatic arts series that will focus on Who, What, When, Where, and Why and the art of storytelling. This series will be hosted on the Free Library's Facebook Live page with the video available to watch later. No registration is necessary to participate.
Sunday Fun for Families
Sundays on Stage is the Free Library's long-running performing arts program, which brings quality, diverse, cultural performances for children and families for free on the Free Library's Facebook page. Performances will include:
Sunday, December 6 at 2 p.m. – "Burble, Fizz, Kaboom!" – A STEAM-based science show with a theatrical take on the sciences that combines chemical reactions, solutions, molecules, and phase changes with a great sense of humor. This virtual show will be available on the Free Library's Facebook page for five days.
Sunday, December 13, at 2 p.m. – "En Casa Con Sonia" – Enjoy an at-home concert of original songs and music, from celebrated and award-winning Latin Children's music artist Sonia De Los Santos. This video performance will be available for two weeks on the Free Library's Facebook page.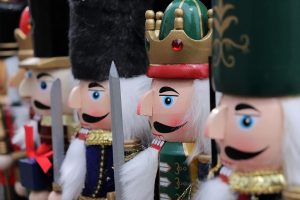 Sunday, December 20, at 2 p.m. – "The Nutcracker" by Pages to Pirouettes – This Sundays on Stage tradition brings the story of Marie and the nutcracker to life accompanied by the enchanting music of Tchaikovsky with a performance of selections from the Nutcracker, as shared by the local dance troupe Pages to Pirouettes. This holiday tradition has long been the most popular seasonal offering in real life and the Free Library is now thrilled to share a recording of the show so that families might experience it virtually. The video will be shared on the Free Library's Facebook page until the end of the week.
Please note: You do not need a Facebook account to participate in Facebook Live events.